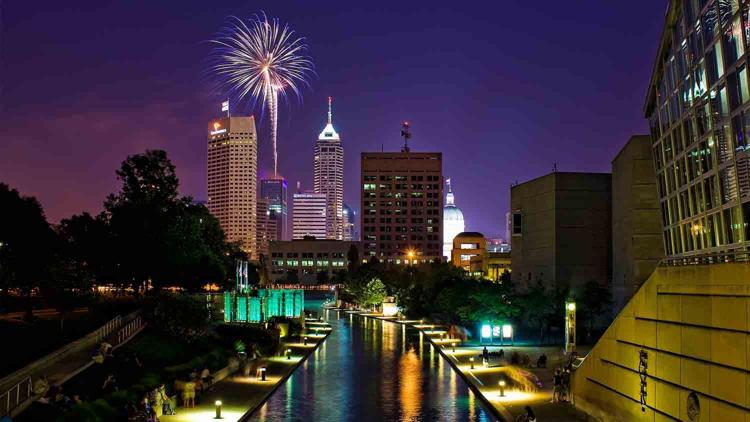 If you're looking for a way to celebrate the birth of America on Wednesday, July 4, around Indianapolis there's no shortage of options. From public pools to a party on the City Market plaza, there's something for everyone — including boycotters of the hoopla.
Here are 10 suggestions to get you started:
1. Indy Parks wants us to remind you that city pools are open on Wednesday, as are spraygrounds. Find a complete list of pools, prices and hours here. If you want something less wet and more rustic, Eagle Creek Park is open 7 a.m. - 9:30 p.m., admission is $5 per car. Garfield Park Conservatory is closed but the Sunken Gardens will be open 2 p.m - 10 p.m.
2. The Indianapolis Indians take on the Louisville Bats at Victory Field. Gates open at 4:30 p.m., game starts at 6 p.m. Tribe players and coaches will wear special Stars and Stripes jerseys , there's a Rally Towel giveaway, plus an incredible view of the downtown fireworks.
3. City Market hosts Party on the Plaza starting at 7p.m. Food and drink vendors will be on hand, Indy's favorite jam band Pushing Daisy's performs on the outdoor stage, and there will be a variety of games and kid-friendly activities plus a great view of the fireworks. Bring a lawn chair or blanket to sit on--but no outside food or drink. $6, kids are free.
4. Sun King Brewing hosts a 10 year anniversary party for MOKB with a family-friendly fireworks viewing party at their College Avenue location. Music by America Owns the Moon, Clint Breeze and Durand Jones. Free hot dogs and bomb pops to the first 500 guests. $15 (kids under 10 free with paid adult).
5. For the more rebellious, State Street Pub is hosting the Anti All-American BBQ. Starting at 6 p.m., a special menu and live music are on deck. Performances from Spandrels, Honey Cutt, Duncan Kissinger are scheduled, as well as poet A. Bowden. Drag queen Mary Fagdalane hosts. (21+)
6. The big event of the evening is, of course, the IPL Freedom Blast fireworks display headquartered at the Indiana War Memorial. Head down early for live entertainment, a kids' area, a marketplace featuring Indiana artists, and food and drink vendors beginning at 6:30 p.m.. Then grab a spot to watch the show. Tune your old-timey radios to 97.1 HANK FM or 93.1 WIBC for the official soundtrack.
Don't want to come downtown? Check out these celebrations in nearby communities:
7. The City of Lawrence hosts its Fourth Fest beginning at 10 a.m. with a parade from Harrison Hill and to Community Park. The fish fry begins at 11a.m. and the carnival rides start then too! Don't miss the classic car show, concert stage and fireworks display.
8. The Carmel Fest is another community celebration suitable for the entire family. The parade kicks off at 10:30 from Carmel Drive and AAA Way and ends at the High School. Marketplace and food vendors will open at noon, and live entertain starts then as well.
9. Noblesville starts its community celebration with a parade at 4 p.m. And festival starting at 6 p.m. Head over to the high school for live music, games, and food. Firework display starts at dusk.
10. And finally, our top pick, Symphony on the Prairie! Head out to Conner Prairie for the 37th season of outdoor ISO concerts. True to tradition, the evening includes Tchaikovsky's 1812 Overture and a gorgeous fireworks display. Gates open at 4:30 p.m. Adults $37, children under 12 are $13.