War and peace in Niger, West Africa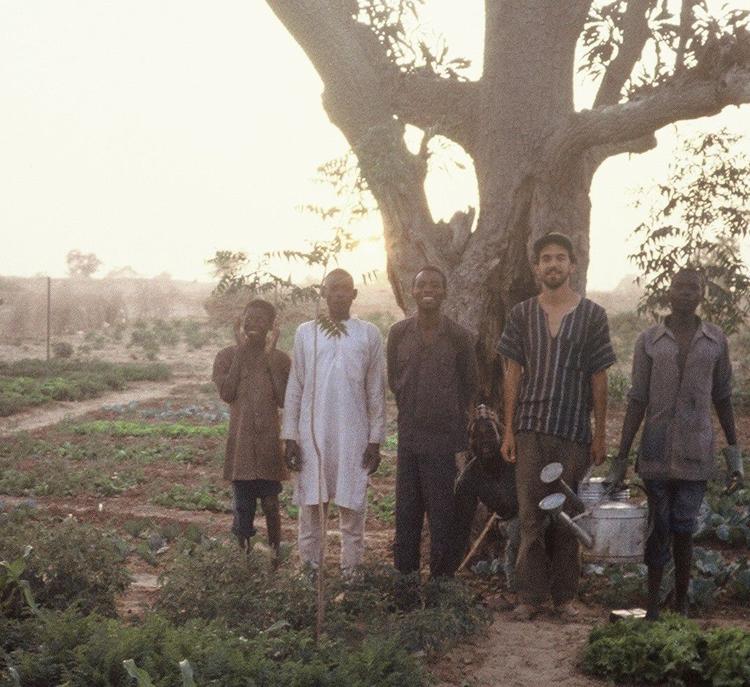 In the early '90s I served as a Peace Corps volunteer in Niger, a landlocked country in West Africa that has been in the news recently. That is because four U.S. servicemen were killed on Oct. 4, around 80 miles north of the Nigerien capital Niamey.
 Peace Corps volunteers no longer serve in the country. In 2011, Peace Corps was evacuated from Niger, after two French nationals were abducted at gunpoint by al-Qaeda operatives in a Niamey restaurant. They were killed shortly afterwards. That restaurant was frequented by American aid workers, Peace Corps volunteers among them.
If the abduction had occurred on a different night, it might have been dead American volunteers in the news instead of French aid workers. The writing was on the wall.
The Peace Corps immediately evacuated all volunteers. But the U.S. wasn't done with Niger. American armed forces entered the country in 2013 —  they entered Chad and Mali and other Sub-Saharan African countries as well — and never left. The troop presence in Niger, which has since become a regional surveillance hub for the American military, is currently around 800.   
The troops originally came to provide assistance to Nigerien forces fighting al-Qaeda and Boko Haram (an Islamist group based in Nigeria). Since then, factions of al-Qaeda have morphed into Islamic State. It was Islamic State forces, apparently, who murdered the U.S. soldiers in an ambush on Oct. 4.
Niger doesn't need armed conflict. Life there is difficult enough. Eighty percent of Niger, a country with a population of 19.9 million — three times the size of Texas —  is located in the Sahara Desert. Most Nigeriens live in villages located 100 miles or so of Niger's southern border. They live in a thin, arable strip of Sahel between the Sahara to the north and the grasslands to the south. A single rainy season each year makes it possible, except in years of drought, to plant and harvest a millet (and to a lesser extent sorghum) crop.
But growing conditions are getting tougher in the Sahel. Climate change has exacerbated the problems of desertification, which leads to "a widening collapse of small scale farming, the foundation of societies across Africa," as Thomas Friedman rightly notes in his Oct. 31, 2017 op-ed piece in the New York Times entitled Trump, Niger, and Connecting the Dots.  Such conditions create the breeding grounds for political instability and insurgency.
(Friedman also wrongly labels Niger a state in "Central Africa" and calls the place "remote," a term which depends almost entirely on whose shoes you're standing in.)
My volunteer post was the village of Mai Guero. In the Hausa language, the name of the village means "master of millet." Mai Guero is located in the south-central part of the country, 25 miles north of the border with Nigeria.  Hausa was the language spoken in the village, a language rich with  Arabic loan words. The entire village was Hausa in terms of ethnicity, Muslim in terms of religion.
 Halilou was my landlord. He was a subsistence farmer, like everybody in the village strong enough to scrape the earth with a hoe, male or female. I lived in his compound with his two wives, Hajera and Taure, and his son, Rabe.
He treated his wives well, or so I thought at the time.
Halilou once complained to me about the time Hajera and Taure were wasting studying Arabic, but at least he let them study Arabic, which was likely more than most men in the village would allow. Otherwise, the wives were usually working from the moment they opened their eyes in the morning to the moment they went to bed at night.
No one on earth works harder than a woman in the Sahelian zone.
There was no running water in Mai Guero, no electricity, and no school. (The well water water I drank during my first four months contained cow dung and mud, even after I tried to filter it.) There was extreme poverty, waterborne disease and sky high infant mortality. The threat of starvation hung in the air over everything.
A statistic I read somewhere before I became a volunteer mentioned that the typical Sahelian villager takes in around $300.00 per year, but this figure can be deceptive.
I didn't hear the term social capital a whole lot in the early '90s. But the expression "It takes a village" was starting to come into vogue in the U.S. Niger had plenty of villages and, thus, plenty of social capital.
There's no choice but to have social capital when the fire in your neighbor's granary can burn the village down. It takes a village to handle such conflagrations because there is no fire department. Try to find a Libertarian in any given African village in the Sahelian zone. Hint: you won't.
There were some very smart people in Mai Guero. The smartest guy of all, I think, was the village chief, Mai Gueri. He was a master of resolving conflict. He had to be.
Every year across the Sahelian zone in Africa, which stretches from Senegal in the east to the Sudan in the west, there is conflict. It arrives between farmers and herders. In Niger the farmers come from the Hausa ethnic group and the Fulani are the herders. After harvest, the Fulani bring their cattle down south from the margins of the Sahara to feed on the gleanings and stalks left by Hausa farmers in the fields after harvest.
But sometimes some Fulani herders bring down their cattle too early in the season, before harvest.
Imagine, if you would, that you're a Hausa farmer going out to harvest your crop in the morning and you see 15 cattle munching the millet that you're counting on to sustain you and your family for the rest of the year. You'd likely reach for your machete.
Every year there are hundreds of deaths, if not thousands, resulting from the conflicts resulting from confrontations between herders and farmers across the Sahel.
I once sat in on a village meeting in Mai Guero I sat down on the packed dirt of the village square with the itinerant Fulani herders and the Hausa villagers. Under the shade of neem trees, we passed around the bowl of hura (milk with millet) while he village chief worked out the pressing issues that were called to his attention: where the herders could bring their cattle through the village, when they could water their cattle at the village well, etc.
I was sitting there because of the garden project.  
The village chief told us we would couldn't place our community garden any closer than 30 meters to the village well, so Fulani herders could get their cows to water.  I wanted the garden much closer, as I recall. I was disappointed with this decision, because it would make it a lot tougher for us to water the community garden. But, like I say, the village chief was a wise man (and I was only passing through).
So, with the village chief's approval, the villagers of Mai Guero and I wove 300 meters worth of wire fence, slapped it around a space near the village well. Weaving fence by hand with chain-link-thick wire was hard work, but it was necessary to protect the garden beds from livestock. We got it done. This is mostly because I had the support of Laowli Dango, my counterpart in the village. We grew vegetables and tree saplings in that space, but it didn't work out in the end.
"Aikin banza ne," I overheard one villager say about the project after it was completed.
Work for nothing.
One reason is that we seeded our garden beds a week before Ramadan. During the Ramadan, in the 120 degree heat of the hot season, nobody wanted to water their garden beds. But there were other failures that I have to take responsibility for. In that regard I mimicked the work of many international organizations that have come into Niger and left nothing behind but wreckage.
Their M.O: come into a village, build up relationships with villagers to accomplish some big project, and then completely abandon that project —  and the trust of the villagers —  when the international organization abandons said project for whatever reason. Maybe, say, a new country director in an international organization like CARE International wants to make his mark by pissing all over the ideas of his predecessor.
This kind of thing doesn't just happen in the Oval Office.
There were successful organizations in terms of the projects they ran in Niger. But usually the staff of such organizations, running such projects, was committed to staying there for decades, or life to see their project through. Most Peace Corps volunteers, in contrast, are at their posts for only two years.
I worked so hard on my projects because, well... in retrospect, I had altruistic goals, sure. I wanted to help the village. But it was also my mission and I desperately needed a sense of purpose.
(I identified to a scary degree to Willard in the film Apocalypse Now after I got back to the States, recalling his unforgettable line, "I wanted a mission, and for my sins, they gave me one.")
If judged by our projects alone, Peace Corps might be judged as a failure. But I'd like to think that Peace Corps went beyond just the projects to projecting friendship and building relationships across political and cultural boundaries. I'd like to think that we were creating social capital.
The American military forces in Niger have a different goal, it is true, but I imagine that many Nigeriens are probably grateful for their presence. No one except Islamic State wants Islamic State established in the Sahel  —  this actually happened for a while in Mali for a brief period several years ago. I do hope, however, that the American military are diligent in distinguishing villagers from terrorists.
Something I read recently caused me concern in this regard.
It was report from CNN on Oct. 10 suggesting that American military forces now suspect local villagers of being complicit with the terrorists who killed their brethren.
I can only hope that the American military doesn't start destroying Nigerian villages in order to save them. It's a tactic that has been employed by the American military far too often over the years.
Dan Grossman is the arts editor of NUVO Newsweekly. He served in Niger from 1992 - 1994.