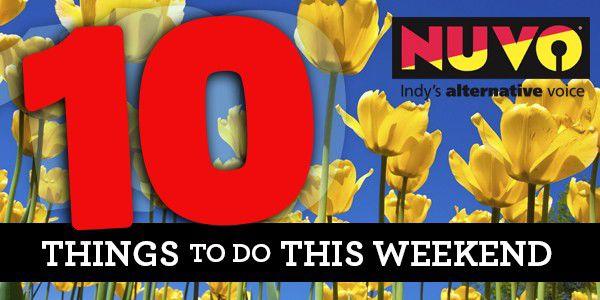 Summer might be over for some (sorry, kids), but we're doing our best to drag it out as long as possible. From the State Fair to burlesque revues, we're planning to spend the weekend soaking up all the great things Indy has to offer, indoors and out! Here's our top 10 list, but you can find a lot more choices in our online calendar.
And if you're looking for live music options, don't miss this week's edition of Soundcheck. 
FRIDAY, AUG. 10 
Black Panther at Garfield Park
The biggest movie of the year is showing for free in Garfield Park tonight. Bring your friends and family to the MacAllister Amphitheater enjoy music from Clint Breeze and Groove before the movie. Concert begins at 7pm, movie begin at sundown (around 9 p.m.) 
FRIDAY, AUG. 10 AND SATURDAY, AUG. 11
It's the second week of the State Fair and that means there's still plenty of time for you to enjoy the food, rides, agriculture and animals. On Friday night, Hanson performs at the free concert stage. If you need any suggestions on what to eat don't miss out list of 10 Favorite State Fair Foods while you're there.
Indianapolis Indians vs. vs Pawtucket Red Sox 
You don't have many weekends left to take in a ball game at one of the most beautiful ballparks in the country, so head to Victory Park Friday as the Indians face off against the Pawtucket Red Sox. Don't miss the fireworks display after the game. Gates open at 5:30 p.m., game begins at 7 p.m. Tickets range from $11-17.
SATURDAY, AUG. 11
Merchants up and down Mass Ave are taking to the streets for their first Sidewalk Sale. Find great deals at IndyReads Books, Homespun Modern Homemade, City Dogs, The Best Chocolate in Town, and many others. Lots of food and drink options as well. Free parking in lot at the end of the Ave (800 block).
Indiana Medical Cannabis Town Hall
As states around the U.S. legalize medical marijuana (30 so far), and others legalize recreational use, Indiana is starting to consider its options. Join activists, legislators, and community members for a discussion on where the legalization process now stands in our state.
Newfields hosts a great game night, and not just because there is lots of great beer to make winning or losing more palatable, as does the live music by Danni Al Mar. Admission is free for members and included in Newfields ticket price for non-members. While the event is primarily for those 21 and over, adults with kids won't be turned away. 5:30-8 p.m.
It's the 18th Annual Indiana Youth Group Summer Art Auction, the largest fundraising event of the year for the group that provides free services and programs for LGBTQ youth in Indianapolis. All proceeds will go toward keeping IYG services and programs free for the kids who need them. $75 ticket price includes open bar 7-10 PM, light hors d'oeuvres, and desserts.  
If you haven't visited the new home of The Cabaret, we can't recommend it highly enough. Nor can we say enough good things about singer-songwriter Susan Werner. Dubbed the "Empress of the Unexpected" by NPR, her surprising acoustic mix of folk, jazz, gospel, and pop, beautifully melds wry observations, insightful storytelling, and soulful delivery.
MFT Fundraiser at State Street
Musical Family Tree is an Indy organization dedicated to building a community of musicians, fans, and music industry pros who actively support and celebrate local music. You can do the same by heading to State Street on Saturday for a fundraiser to help keep MFT doing the great work they do. Performers scheduled include White Moms, FAF Collective, and Bedforms. $10 suggested donation, but feel free to give more. Show starts at 8 p.m.
Our favorite burlesque troupe performs at Indiana City Brewing the second Saturday of every month, and this is the night! Special guest Bettie Nuggs from Muncie joins the girls this time. Admission is only $5, but get there early because you'll want to sit up front for the full Rocket Doll experience. Show starts at 9 p.m., but they'll be serving up great ICB brews no matter what time you arrive.
Rocket Doll Revue: 3rd Annual Titty 500
Photos by Charlie Clark
The White Rabbit Cabaret in Fountain Square hosted the 3rd Annual Titty 500 May 4-5, featuring the lovely ladies and gentlemen of the Rocket Doll Revue Burlesque Troupe.