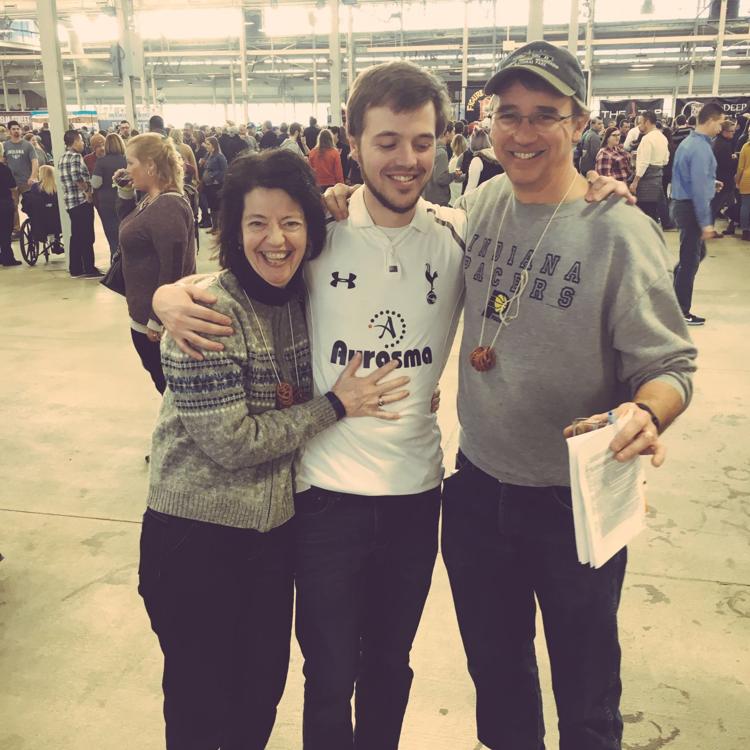 Feb. 3, 3 p.m. No one tell my parents I included the above photo in this roundup. That's us at last year's Winterfest, and as you can see, they were more prepared than I was (Shoutout to my mom who is celebrating her birthday on Monday). Get your pretzel necklace ready as they'll be more than 100 breweries on site and 400+ brews to sip on. Can't make it Saturday? Rita's got a list of other beer-related events taking place over the next few weeks. 
Indiana State Fairgrounds, 1202 E. 38th St., prices vary, 21+
Feb. 4, 11 a.m. It's the return of the Return of the Mac. Having taken the city by storm in 2017, and for good reason, this all-you-can-eat mac and cheese fest moves to a new venue this year. Sample creations from more than 20 restaurants/chef around Indy. The fest is still looking for volunteers, so if you want to get in for free, work one of the two sessions and then you'll be able to stuff all the mac and cheese you can into that beautiful face of yours. We're also giving away a pair of tickets here. 
Circle City Industrial Complex, 1125 Brookside Ave., $25-$40, all-ages
Feb. 2, times vary. Maybe next month we'll have warmer temperatures *crosses fingers* for First Friday, but the cold shouldn't deter you from enjoying one of the many happenings around the city. Dan has a great First Friday roundup that I'd advise taking a look at before venturing out. 
Various locations around Indy, prices vary, some all-ages, some 21+ 
Feb. 2, 6 p.m. Did you know there was pinball workshop and studio in Fountain Square? Neither did I, until this week that is. More than a dozen machines will be available for your flipping pleasure on this "super special pinball night." And if you're busy Friday, the group hosts open houses twice a month on first Fridays and third Saturdays.
Murphy Arts Center, 1043 Virginia Ave, $1-$5 donation, 21+ 
Feb. 3, 8 p.m. Having traveled to Dublin last year I can tell you that there's only one thing the Irish love more than music/dancing and that's beer. This group of world-champion Irish step dancers perform with an eight-member traditional Irish band and vocalist.
Palladium at the Center for the Performing Arts, 1 Center Green (Carmel), prices vary, all-ages
Feb. 2, 10:30 p.m. Like I stated above, can we get some warmer temperatures? Please, Punxsutawney Phil, please. B&B will be tapping a special brew for this extra special holiday. 
Books & Brews, 9402 Uptown Dr. Ste. 1400, FREE, 21+ 
7. Peter Taylor's Album Release
Feb. 3, 7 p.m. I love me a local album release. Listen to a single off Taylor's Find Solace Here below and then make your way to Fountain Square Saturday for the free show. Baby Ocho and Ross Hollow open. 
Square Cat Vinyl, 1054 Virginia Ave., FREE, all-ages
8. Jane Smiley
Feb. 3, 2 p.m. Smiley will discuss her Pulitzer Prize-winning book, "A Thousand Acres" as well as other works at this free event. 
Indianapolis Central Library, 40 E. Saint Clair St., FREE, all-ages
9. Redemption's 3rd Anniversary Party
Feb. 3, 7 p.m. Levi Driskell and Mitch Barker perform. Special beers tapped throughout the evening. You get a raffle ticket for each brew you purchase so get a designated driver if you're looking to increase your odds by of winning by chugging beers. 
10. Bring the Ruckus
Feb. 3, 7 p.m. I'm not exactly sure who any of the artists performing are, but there's seven of 'em so you're bound to enjoy at least one. Plus, you get a free CD with your price of entry. Savage Trinity, Zion Seven, Ben-Real, F.A.C.T.S and Wilson Kickitt, Cloud Overcast, Books, the SoulScholar and  Planet Boom Bap featuring Juan da Gawd all perform.
Hoosier Dome, 1627 Prospect St., $10, all-ages