1. 18th Annual Vintage Indiana Wine Festival
June 3, noon. One Wine Festival to rule them all. 
Military Park, 601 W. New York St., $10-$50, 21+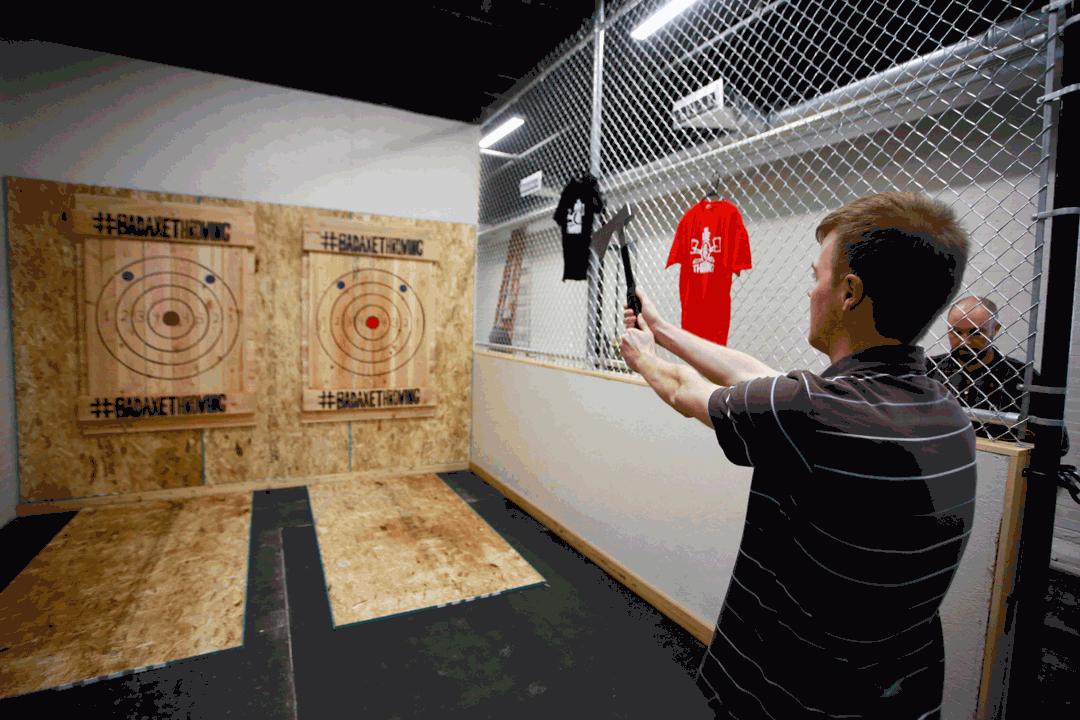 2. Bad Axe Throwing Open House
June 2-4, times vary. Look above. That's me being a badass axe thrower. And you could very easily replicate that awesomeness. Canadian-based axe throwing club Bad Axe Throwing has expanded to the Circle City and is hosting an open house this weekend. But before you go, read this list. 
235 S. Meridian St. Ste. 211, FREE, all-ages
June 2-3, times vary. Headlined by the likes of W. Kamau Bell, Colin Quinn, Janelle James, Fortune Feimster and more, making your way to Btown to celebrate Limestone's fifth birthday is easily worth the money spent on gas (and a ticket). Peep this before — or during — your drive. 
Various locations in Bloomington, prices vary
4. Future, Migos, Tory Lanez, Zoey Dollaz
June 3, 7 p.m. If you're a fan of hip-hop like I am, a show featuring two of the hottest names in the game needs to be on your weekend to-do list. Future released two albums in two weeks and the Migos' "Bad and Boujee" charted #1 on Billboard's Top 100. Watch the music vid below.
Klipsch Music Center, 12880 E 146th St, prices vary, all-ages
5. Indy Rama
June 2-4, times vary. Are you interested in living in the heart of Indy? Do you like being within walking distance of restaurants, trails and nightlife? Then this is the event for you. Organizers say eight custom-built, fully decorated homes will be showcased, so prepare to be convinced Downtown Indy is the place for you.
Various Downtown Indy locations, $12-15, all-ages
June 2, 6:30 p.m. From the organizers: This adults-only event will let you explore Conner Prairie's 1836 Prairietown in a whole new way while enjoying craft beer from more than 20 local brewers. Enjoy live music, take a sunset ride on the 1859 Balloon Voyage (weather permitting), see demonstrations from brewers & learn about the history of brewing, and sample a historic beer brewed on site. 
Conner Prairie, 13400 Allisonville Road (Fishers), prices vary, 21+ 
June 2, 8 p.m. You've undoubtedly heard "Pumped Up Kicks" at least 10,000 times over the course of the past six years, but the band released an EP earlier this year, composed of three tracks off their upcoming album. Rumors are floating around that it'll be released in the next month or so you might hear a few new tracks at this ONC show. 
Old National Centre, 502 N New Jersey St, prices vary, all-ages
8. Earth Friendly Festival & Summer Reading Kickoff
June 3, times vary. Libraries rule, yo. This is set to be a kid friendly day of activities to celebrate their Summer Reading program. Head here for all the deets. 
Garfield Park Public Library, 2502 Shelby St., FREE, all-ages
9. Mr. Mitch, Oreo Jones, Dilettante
June 2, 10:30 p.m. I'll let Kyle Long handle this one: Since his album's April release, UK grime producer Mr. Mitch has garnered universal praise for his new Planet Mu released LP Devout. In a genre known for hard-hitting beats, Mitch draws notice for his beautifully crafted minimalist sound.  Judging from my recent conversation with Mitch, the music is a reflection of his own personality: calm, soft-spoken, and immensely thoughtful in everything he does. 
Pioneer, 1110 Shelby St., $10, 21+ 
10. 14th annual Race Away from Domestic Violence
June 3, 8 a.m. All proceeds benefit the Indiana Coalition Against Domestic Violence, a non-profit organization whose mission is to prevent and eliminate domestic violence in Indiana.
Indianapolis City Market, 222 E. Market St., prices vary, all-ages