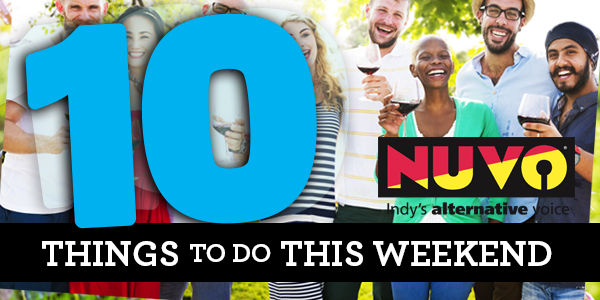 After last weekend's total washout, we're being rewarded with glorious weather this time around, and that's good news for two of the city's largest festivals--Irish Fest and Jazz Fest. Let's start there, shall we?
FRIDAY/SATURDAY/SUNDAY
Military Park transforms into an Irish wonderland every year as part of Indy Irish Fest and it's delightful. Now in its 23rd year, the festival features a packed lineup of musical performers, from Dublin folk singer-songwriter Aoife Scott to Celtic rock band The Narrowbacks. There will also be sheep herding exhibitions, Celtic canines land, and an Irish market. Check the website for list of bands and performance times. Tickets are $15 at the gate for adults, $10 for students and seniors, and $5 for kids and military.
From Freddie Hubbard to Wes Montgomery, Indianapolis' jazz roots run deep. In keeping this spirit alive, Indy Jazz Fest has once again put together an excellent lineup of acts spanning a wide range of colors in the jazz spectrum. In addition to many of the more renowned acts coming to town, several local heroes will also perform throughout the 10-day fest at venues across the city. Head over to indyjazzfest.net for complete information on who, what, where, when, and how much. And don't miss Kyle Long's interview with BIlly Childs, who performs at the Jazz Kitchen on Saturday evening.
Also running all weekend,
The Lion King at Old National Centre
Whether you've seen it or not, The Lion King continues to amaze, with astounding visuals, an excellent cast, and songs we all know the words to. The breathtaking spectacle of animals brought to life by an enormous company of international performers, whose detailed costumes, carved masks, and intricate makeup really does transport you to the African savanna. Tickets and times vary, the show runs through the end of the month. oldnationalcentre.com
FRIDAY, SEPT. 14
Ok, Jersey Shore fans, here's your chance to meet, greet and dance to the beats of the one and only DJ Pauly D. Yeahhhhh, buddy. The infamous DJ will be providing the music with support from DJ Gno and DJ AMP at the Pavillion from 8 p.m. to 1 a.m., tickets range from $30-80.
Indianapolis Oktoberfest on the Circle
Monument Circle turns into a giant bier garten tonight as the Columbia Club hosts an Oktoberfest celebration. With German (and American) foods, beer, wine, plus giant pretzels, there's plenty to eat and drink. PolkaBoy takes the stage starting at 7 p.m. Free admission.
SATURDAY, SEPT. 15
Celebrate culture and community through food, music, art, and play at this outdoor event taking place at 45th and Central. The Global Stage features Chinese shadow puppets, Brave Youth Society, Sweet Poison Victim, and Latin-fusion band Grupo Bembe. For the kids, there's Australian Aboriginal dot painting, Swiss sack gumpen, and global games by Playworks. For the hungry, enjoy global flavors from Asia, India, England, Italy and a wine and beer garden, including local brew from Sun King. Noon to 10 p.m. Free.
This is one of our favorites, and it should definitely be on your list of things to do this weekend. You can shop from more than 100 local artists, enjoy local food and drink, watch and/or participate in the giant art parade and generally enjoy Fountain Square at its finest. If you're an artist yourself, sign up for the masterpiece in a day competition.Most of the activities take place along Virginia Avenue and behind the Murphy Building.
An art-focused talk show in a venue that reminds us of nothing so much as a set piece out of the Martin Scorsese movie After Hours, Putty is one of the best things happening in town right now.  In this particular edition, host Erin Drew will talk to Detroit artist Chelsea A Flowers, artist Liz Weirzbicki, 10th West curators Tony Quintana and Maria Behringer. The musical guest is Death Valley. Cover is $5, drink up and don't forget to tip your servers.
Celebrate and help support one of the city's most important and active non-profits: Keep Indianapolis Beautiful. Hang out at KIB's new warehouse for a behind-the-scenes look at the people and places that keep our city clean, green, and beautiful. Enjoy interactive exhibits, culinary creations, and an after-party featuring live entertainment from Indianapolis saxophonist Jared Thompson. Cocktail attire encourage. It's a fundraiser, so tickets range from $50-$125 per person, with other options available for groups. Find more info here.
SUNDAY, SEPT. 16
Ever wish you could spend more time listening to one of the greatest symphonies in America and help people at the same time? Well, here's your chance. Volunteer training and orientation takes place on Sunday at the Hilbert Circle Theatre at 3 p.m., registration opens at 2:30. To reserve your spot, click here and sign up. Or contact the ISO Volunteer Services Department at 317-231-6792
Still looking for more suggestions? Try Ian's picks for the best in live music in his weekly Soundcheck column, and head over to Screens for our latest movie reviews. We've got several for films opening this week, including Lizzie and Juliet, Naked.