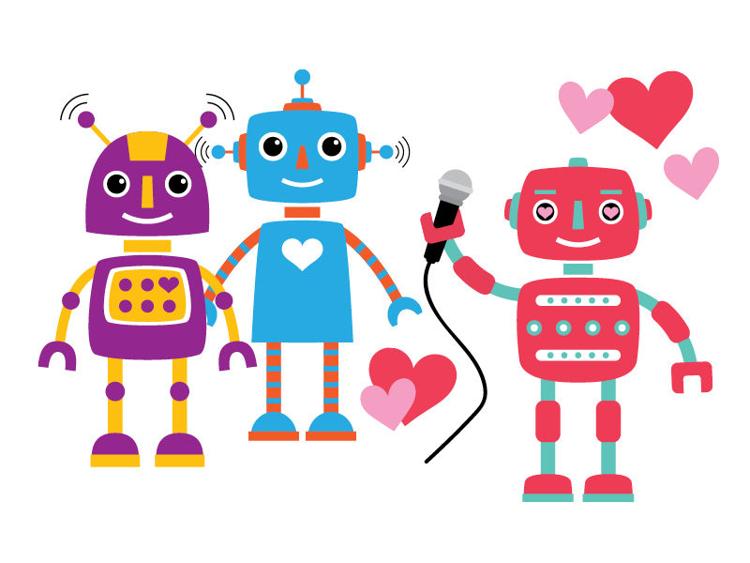 There are no shortage of fine dining choices and traditional romantic gestures for the Holiday of Love. We'll leave you to find those on your own. For us, the city offers some great options for a more intimate and enjoyable evening. Here are some of our favorites:
The IMA is a great art museum, and great art museums are great for dates — full of visual stimulation. The Asian collection and world class collection of post-Impressionist work from France are both good places to begin. The museum's stellar European Modernist collection is also something to behold, featuring work by Chagall, Modigliani, De Chirico, and maybe our favorite in the museum, Fernand Léger's "Man and Woman." This painting portrays a man and a woman being overwhelmed and perhaps even replaced by technology. And considering that wifi connectivity inside the IMA really sucks, you actually have no choice but to communicate with your significant other (or at least have an awkward silence with them) without being distracted by your smartphone as you walk through the galleries.
Okay, so Indy isn't Rome, and the Ruins at Holliday Park don't really compare with the Colosseum. (They came from the demolished sculptural facade of one of New York's first skyscrapers). Perhaps it shows how desperate Indianapolis was for a little culture in the late '70s when Indy Parks took this salvaged material. But in the end, it was a sort of homecoming, since the facade had originally been constructed out of Indiana limestone.
For many years, however, the transported Ruins actually appeared to be ruins. The whole thing was fenced off, and the reflecting pool fell into disrepair. Recently The Friends of Holliday Park and their $3.2 million capital campaign made restoration possible. The Ruins were redesigned, rebuilt and reopened in 2016 — accessible to all who want to gape at the weird neither-here-nor-there beauty. And now you can walk through it hand in hand with whomever it is you want to impress with this uniquely Hoosier history. 
American Legion Mall/Veterans Memorial Plaza
The Downtown park bordered by the auxiliary buildings of the American Legion to the east and west, and by Central Library to the north is known as American Legion Mall. If you walk south, soon you'll find yourself in Veterans Memorial Plaza. If you like war memorials, you're definitely in the right place, with the black granite obelisk shooting up 100 feet above you and the ziggurat-crowned War Memorial directly to your south. There's apparently more war memorials in Indy than any other place in the U.S. aside from Washington D.C. But you don't have to be a lover of war memorials to enjoy this open space in the middle of Downtown Indy with your lover.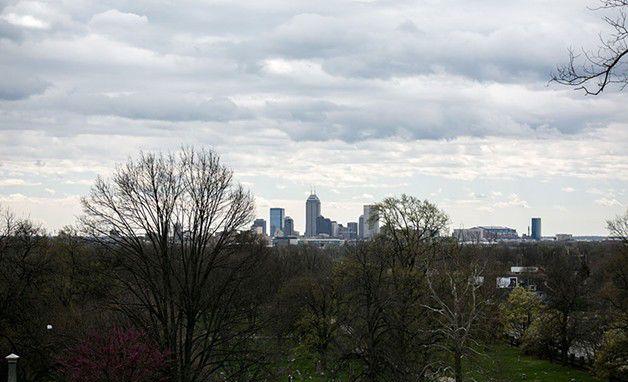 Take a walk up the crown of Crown Hill Cemetery to the gravesite of James Whitcomb Riley for one of the best views in the city. The cemetery itself hasn't changed a lot since it was opened in 1863 (although there are 190,000 more bodies buried there), but the skyline of Downtown Indy certainly has. Make your way to the highest point in the cemetery, which also happens to be the highest point in the city. There you'll find the final resting place of the city's most beloved poet and the remarkable view. A great place for a blanket, cheese, bread, a bottle of wine, and a conversation about the impermanence of life.
The State Museum has a great building with a high ceiling and a glass facade that lets in sunshine. There's been some great exhibitions at this museum as of late, including the groundbreaking 200 Years of Indiana Art exhibition. And there's certainly some exhibitions like Nikon Small World through March 18, showing the complexity of life through the eyes of the world's best micro-photographers. This exhibition just might serve as a segue into a discussion with your certain someone about how babies are born. It may not be the conversation you want, but it's there for the offing.
Why deliver chocolate yourself when you can have someone much cuter do it for you? With ICAN's Puppy Love program, your Valentine gifts can be delivered by some floofy pups who are in training to be service dogs. 
The service has been going for seven years and while your kisses are nice, there's no doubt your s.o. loves puppy kisses, plus the puppies and dogs are just one aspect of the gift. It also comes with ICAN's 2018 Calendar, a Dog Art Painting by an ICAN dog, Andy's Candies, Chocolates from DeBrand Fine Chocolates, Handmade Quill Earrings and a lot more. [Editor's Note: Check out ICANdog.org to order, the only stipulation is all orders have to be in by 11:59 p.m. on Wednesday, February 7.]
Don't feel like making reservations, getting all dressed up and going out for Valentine's? Let Goose the Market make sure you have the best V-day at home. This year you have the option to order online, including the seafood, charcuterie and cheese platter royale made for two. 
The royale in the name is because it's undoubtedly fit for royalty. You get: a whole poached lobster, six crab claws, cured Ora King salmon, duck liver pate, wild boar summer sausage, wagyu bresaola, wabash cannonball cheese and more. Plus, they offer discounted wine pairings to go along. 
And if seafood isn't your meat of choice, they're also offering eight-ounce Merlot marinated steaks from Fischer Farms in La Porte. To finish it off, throw in a cherry crumble pie from local bakery Pots & Pans. 
Having been gifted Goose's Valentine's special last year, we can attest that it will be more memorable than any meal out.
What are you craving this Valentine's Day? We normally do our best to steer clear of pushing people to chain restaurants, but sometimes something happens and you just can't pass it up. So, when White Castle decides to do reservation only, white tablecloth and candle lit dinners for Valentine's Day, well, we have to see what it's all about. 
This is the 27th year for this event and it typically sells out at most locations around the country. There's something special about being dressed up and hearing and smelling the sizzling of onion-y, greasy White Castle sliders while sipping on a Coke.