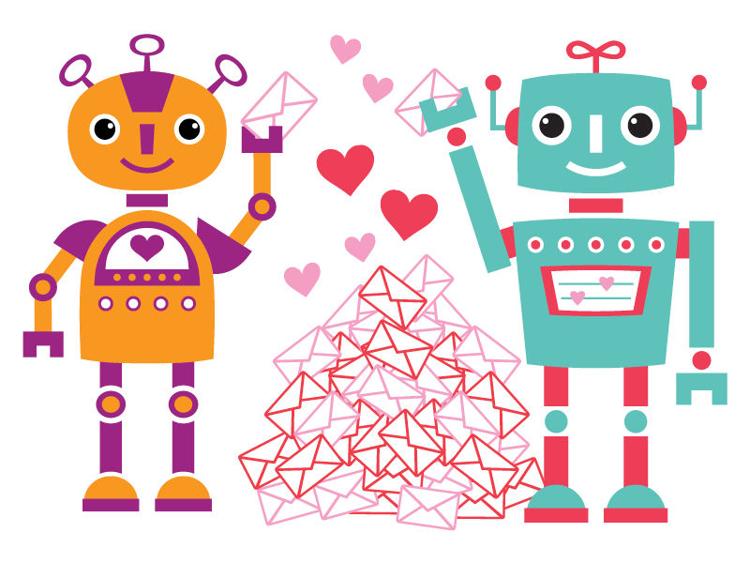 NUVO has intense feelings of love for our readers, so we asked them to send in love notes for Valentine's Day. And you answered the call. From puppy love and mom love, to an ode to Yats' cheesy bread and Indy weather, here are the notes you and your fellow Hoosiers submitted. 
Tony P.
What matters most is how well you walk through the fire. You have walked tall beside me in the worst of times. I will never forget it. I love you so much and I am amazed every single day by you. That's not always a good thing, but you are cute enough to overlook it. I will love you and be strong for you, for us. You have inspired me to be so much more than I thought I could be. I'm never gonna give you up, never gonna let you down (except once in awhile)
— Sarah F. P. 
Chuck
What an amazing first year we have had. It has been an unforgettable ride. Can't wait to share many more with you and see what the future holds for us. I love you!
— Natalie
Nollie (my dog)
Keep on waggin' pup.
— A proud owner
Porter
Love you to the moon and back!
— Mom
Jessica H. AKA Mommy/Stepmonster
To a most loving, nurturing and caring partner in crime. Often I'm left speechless as I creepily gaze in your direction. Wondering how I got so lucky and how your still in the bed as I wake up each morning. Your love to all in our exceptionally loud and crazy family gives me all I need each day to set out daily to attempt mimicking the great example that you are. Often I'm falling short and yet I know I'm a better husband and father because the love and patience you have for me fuels my desire to be the best man I can be in any capacity always. I can't fully put into words how much I love you. Just know I do. Happy VD!
— Ron C. AKA the husband you snagged on Match
Amy Lou Who
Thanks for the best 30+ years anyone could ask for! Love you.
— Ed 
Alison Rene
"You're a real goober, but yet, so rad.
Because of you, I'm your husband. And a Dad."
— Michael D 
Sammy D.
A grown up, my son. You've done this on your own. Your journey, your life. Please, never forget your home. 
— Love always, Dad
Michael D. Mona
POKE
— Matthew
Clark
You're my Lerb, Tlart! I love you.
— Nick 
Luke, Roman, and Jude
We're so happy to get to share our Valen-versary with you for yet another year! Love you forever, like you for always.
— Dad and Má
Jessica
To My Beautiful Wife,
These past few months of marriage have been nothing short of amazing! You planned the perfect wedding and quite the party! You mean everything in the world to me and I cannot wait for the rest of our days together. 
Love you forever!
— Sean
Kevin Simonton 
You passed away in October, and I miss you more and more every day! I love you with all my heart & soul! May you keep watch over me and know that you were the best thing that ever happened to me! 
— Leonora Simonton 
Charles Huckleberry
Words can't express how I feel for you. You are my world; my heart; my soul. Thank you for loving me on the good days and bad. I hope this never ends. I want to share my life with you until my very last breath... but I'm still an a-hole so I may be complaining. Ahahahaha. Real life; I want this shit forever. Don't f that up. You'll never find someone that loves you as much as I do. I know I'll never find someone as close to my heart as you. Happy V-Day baby! Your wife and pain in the a. 
— Shawna F.  
SuChu
You are my best friend first and always. Second but most certainly not any less, you are my husband, mate, partner on this roller coaster called life. I wouldn't have it any other way. Love you more every day. Always. 
— Your Square 
Nina
Ever since I saw you with that glass of red wine I knew something was there. It took me a few asks but you finally relented and we dated. Didn't take me long to realize there was more than something. Thanks for sharing the last 18 years with me. 
I love you.
— Simon 
Carla my beautiful wife
I love you to moon and back!!
— Your wife Angie!!
Shannon
You are an amazing VJD and my favorite jerk-face! 
— Mary 
Indy's weather
Indy's weather is ever changing; unpredictable extreme heat, tornadoes, rain, snow, sleet or hail. Just wait a few minutes, it'll get better, well maybe. That's why I love this city.
— Angela
Pete
Loving you whether... times are good or bad, happy or sad. Valentine - I love you even more after all these years!
— K.K.
John Kates (Johnny Bear)
You have made my life complete! Thanks for sharing your talent with me; I am now empowered to explore my own greatness! You are my "Daddy Bear," and I love you for it. You have made life with Punky complete, as well.
— Margo
Tommy on the southeast side 
You made me hopeful and maybe that was my mistake. Either way, I'm glad we met (even though we never formally met). I think you have a beautiful soul and you're probably lucky I wasn't around long enough to taint you, lol, but seriously. 
— B 
Alisha Taylor
You are the absolute best thing that has happened to me and these past seven months have been amazing. I love you with all of my heart.
— Zach 
Sweet Man
I am so happy to have you as my friend, my partner, my lover and my husband. I love our life together with all its ups and downs. We have so many plans for our future but here and now, that's what matters most. Love you!
— Your Better Half
Calas M Burse
To my one and only true LOVE ... The moment we met I knew you were meant for me. The first kiss was so innocent, I felt like a school girl all over again. Butterflies fill my stomach still to this day. You have me sitting on top of the world. Sweetheart, I promise to love you a lifetime, the day past 4-ever.
— Mrs. Burse
Rayce Thomason 
You are not only beside me as my best friend...companion... "greatest and most adored...respected...and unselfish" man I have ever met...YOU are like XFINITY:  Everyone's ON DEMAND! I love you and everything about you!
— Mandi (Mandalynn)
Big Daddy Cruze
Hey Baby! Thank you for you. You are still the love of my life and I am so very exciting to see what the future holds for us.
— Hot Mama Michelle 
Ben
"You need a drink or something?" was one of the first questions you ever asked me. That was also the first time you made me laugh. There have been so many other first experiences I have shared with you, I hope that never ends.
— Lesley 
Victor M.
Always remember, I Love You
— Mom
My Sweetie
We've been through so much together and, even though we yell at each other about quarter round (which you really did install wrong!), I still pick you as my number one person to always be around. I love you always and forever! 
— Stacy
Jill
Out on a rock, I saw you smile at me, your eyes were blue, they were true. I knew all along that someday, it would be you and me.
— QTpie
David L.
You are the most beautiful, kind, and loving soul I have ever known. I love you more than all the waves in the ocean. You make my heart happy. 
— Henna 
Ladies of Indy
Listen to your body and show it some love all year long, not just during "resolution season."
— Cassandra 
Him
A Haiku For Homos:
Three years in secret
Maybe this year we'll be "out"
Fuck the heteros
— Me
Carrie
And we be bringing, each of us,
the music of ourselves to wrap
the other in
— Rob
Daniel H.
It seems life was determined to hit me hard these past two months, but through thick and thin you were there with foot rubs, chocolate bars, kind words, and many hugs and kisses. I want to thank you so much for everything you have given me in the past year and a half. I still can't believe that I found such an amazing man on my first try! I love you to the stars and beyond!
— Kayla H. 
Yats' Cheesy Bread
We all know who's really the cheesiest. Kraft ain't got nothin' on you.
— Sarah
Dave
I love you to the moon and back.
Forever yours.
— Libbi 
My girl
I love you more than the sky is blue, more than the ocean is deep, and with my whole heart. Forever and always.
— Your sweet love 
Coach Potter
From the moment I set eyes on you
I was blind-sided. My guard was down.
I did not run for safety. I did not want a quick out.
There were no red flags.
Your swagger and your strong side were a definite draw.
You were successful in reaching my weak side.
I could not resist your pass attempt.
I am so happy that you were a fair catch!
I fumbled a bit, when you took a knee.
I was hooked and we got hitched.
25 years later, we are still bliztfull!
— Mrs. Potter
Adam
Here is something very sappy,
I love your kisses,
They make me happy 
— Jodi Jo 
Ben
Roses are gray, violets are gray-blue, I will always share my bone with you. 
— Regina
Megan
From the time I met you (10 minutes late), I have been in awe of you! Here's to many more years. =)
I love you!
— Nathan
Bill
Travel buddy - let's plan a trip. I love exploring the country/world with you.
— Your girl
John
To the love within that goes without saying anything... but I'll say it anyway, I love you! 
— Beth
Freya
You are the best pup pup I could ever have. You brighten every day and I love you lots (even if you do like to eat Spam). Thanks for having sense and never eating your own poop like your friends, xoxo. 
— Dad 
Miranda
I believe we were meant to go over the wall together. 
— John 
James E Melis 
(aka 'Handsome') 
When you kiss me like that, the way you do,
It feels like my head is falling into a hundred pillows,
Falling back,
And I am in outer space.
That's what you do to me.
Happy Valentine's Day to you, love 
— April Charisse (aka 'Boofay')
Sean
I'm glad it was your closet I fainted in. You're pretty ok. 
— Lumpy Space Princess
My Dogs Other Mother
I appreciate your human-ness, love of potatoes, and how you mostly keep a smile on your face. In the midst of your 74827 jobs, you always make time for my sorry ass. Thanks for bringing the light in.
—  Your Chocolate Queen
Keann and Quentin
Love you boys 💕💕 the best love comes from sons. Happy Valentines Day!!
— Mommy 😘
Zachary
Happy first married Valentine's Day!
—  Paige
Jacob Maurice
Thank you for giving me all your love for the last year and a half. Here's to what's on the horizon. Happy Valentine's Day. The 2nd of many.
—  Josephine Simone
Rebecca
Babirps! you are my one and only since 1982! you are very pretty and I still love your freckles!!!! lets do some silly fun stuff tonight!, love Richie Boy ( Ill tumble for ya )
— Richie Boy