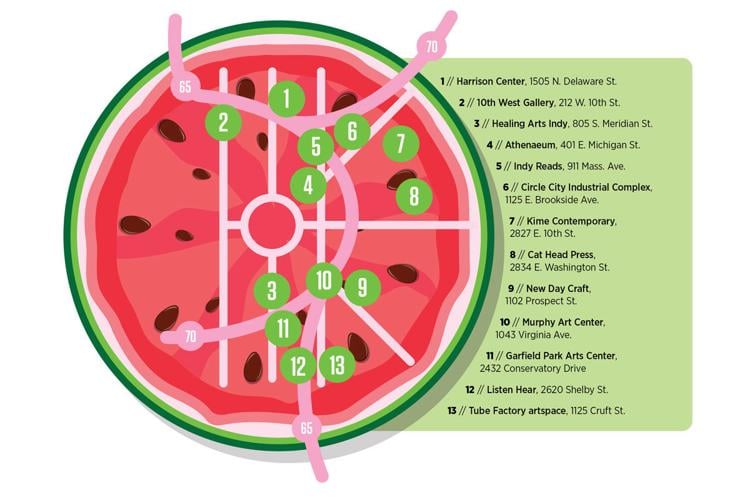 [Editor's Note: Sign up to receive '10 Things' in your inbox on Friday mornings + more rad content in Slash — a daily newsletter curated by yours truly.]
July 7, times vary. Remember how I complained for months about it being cold on First Fridays? Well, that's certainly not the case this month. Temps have been in the 90s for what feels like an eternity, but luckily for art fans it'll drop down to the low 80s on Friday. Per usual, Dan's got a roundup of opening exhibitions if you haven't made up your mind on what to see. I've also got my eye on Roll Call, an exhibition of mobile works and moving images by Katie Norman, Violet Forest, Nathan Braunfeld and more. See you around town. 
Various locations around Indy, FREE, all-ages
July 7, noon. A one-day event packed with zines, books and comics with the goal of educating and inspiring Hoosiers to think outside the mainstream publishing box. Seth's got more on the annual local fest here. 
Fay Biccard Glick Neighborhood Center, 2990 W. 71st St., FREE, all-ages
3. Indianapolis Indians vs. Columbus Clippers
July 6, 7:15 p.m. Didn't get enough fireworks on Wednesday? Stick around after the final pitch on Friday for the Indians' post-game fireworks show. 
Victory Field, 501 W. Maryland St., prices vary, all-ages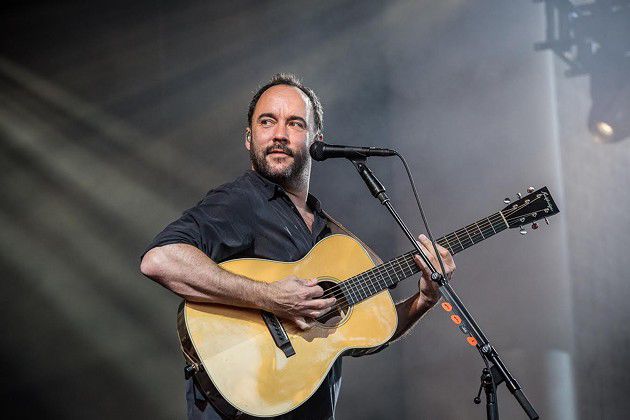 July 6-7, 7:30 p.m. Few things have changed since Dave last performed in Indy. The venue has a new name, and the group has a new album. Come Tomorrow was released a month ago, so expect to hear several tracks off it, as well as plenty of fan favorites over the course of his two-night stand. 
Ruoff Home Mortgage Music Center, 12880 E. 146th St., prices vary, all-ages
5. Indianapolis Classic Car Show
July 7, noon. My brother has been fixing up a '73 Nova over the past several years, and I've been lucky enough to snag a few rides in it over that time. They just don't make cars like the used to, says me, the guy who bikes to work and hasn't owned a car in nearly two years. 
East block of Georgia St., FREE, all-ages 
July 7, 7 p.m. Indiana's premiere hip-hop event is back for year number four and organizers promise a very special headliner. The one-day fest is set for August 25, and will feature most if not all of the top artists in the city. DJs TXTBOOK and Ghost Mutant will spin, with complimentary cocktails being provided as well. 
Social, 245 S. McCrea St., FREE, 21+ 
7. Silent Sky
July 7-9, times vary. This play by Lauren Gunderson is based on a little-known female astronomer, Henrietta Leavitt, who fought for equal recognition for her work while she also balked against social convention, single-mindedly immersing herself in a career at a time when most women were relegated to being wives and mothers. It's the first production from the new women-based theatrical group Summit Performance Indianapolis. Lisa has an in-depth review here. 
Phoenix Theatre Cultural Centre, 705 N. Illinois St., prices vary, all-ages
July 8, 7:30 p.m. The indie-rock nostalgia thermometer is nearly bursting with this lineup of bands. Both with cult classics of their own. The Pixies scored back-to-back hits in 1988 and 1989 with the releases of Surfer Rosa and Doolittle. Similarly, fans still obsess over The Blue Album and Pinkerton, Weezer's first two releases. Expect to hear plenty of selections from all of the above on Sunday night. We've got more on the Pixies in this week's music section. 
Ruoff Home Mortgage Music Center, 12880 E. 146th St., prices vary, all-ages
9. First Friday Food Truck Fest
July 6, 5 p.m. More than 25 of Central Indiana's best food trucks will be on site for you to enjoy before, during or after your First Friday art adventure. 
Old National Centre parking lot, 502 N. New Jersey St., $5, all-ages
July 7,  2 p.m. Experience the White River on a paddle board. Paddle along at a relaxed pace with the current, stopping at various locations along the way. 
Broad Ripple boat launch, Indianapolis Art Center & the Monon Trail, prices vary, all-ages