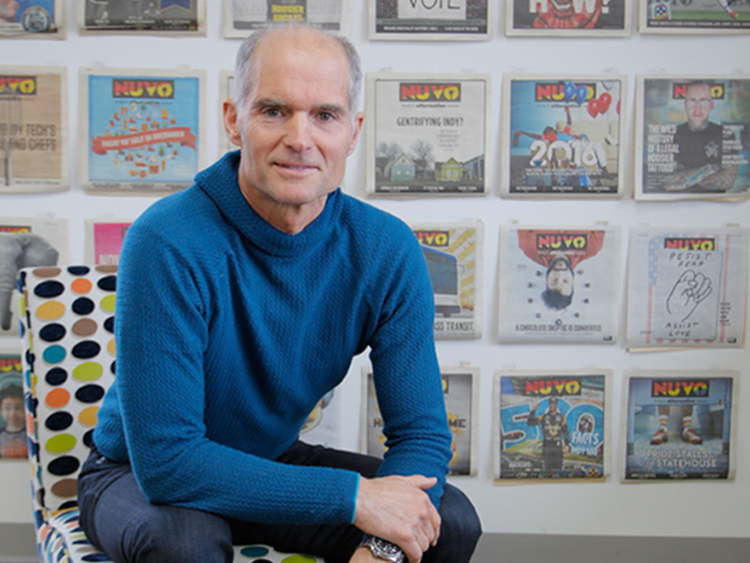 As we approach our 30th anniversary next March, I have an exciting announcement to make about our response to the challenges facing media and our role in Indianapolis.
NUVO is now ready to move more aggressively into digital media as the tools are within reach for us to do so effectively and sustainably.
To pivot towards digital, we are re-allocating some of our resources away from print. Our print frequency will be reduced from weekly to bi-weekly starting with the November 7th issue.
Our weekly print model has served the community and us well these past 29 years. But since 1995, when we first went online, we have seen a slow migration of readers from print to the digital world although retaining a similar total readership.
Our intention is to increase our press run, since the paper will be in circulation for two weeks, and provide more content and advertising with each issue so that your engagement with our print product is even more rewarding.
There are many reasons why now is the time for NUVO to allocate more resources to digital. Society is becoming increasingly polarized while facts are falling out of favor and most news organizations have cut editorial staff due to their failing business models and exacerbated by a click-bait culture that fans the flames of tribalism. Our response is a movement towards a more community and solutions-based reporting and the best medium for this is digital.
We believe that you, collectively as our readers and representing a wide socio-economic cohort, know more than we do about the most critical problems facing our community and have the expertise to help us find the solutions. This process will naturally seek common ground from which to move forward and will by definition help to reduce polarization and improve transparency.
Our most valuable asset is your trust and the best tool for building trust is transparency. We can make statements all day about our intentions to be transparent, but the best way to do so is to create this visible and functional check to our power. The tools are now within reach to make that happen.
Supporting this movement towards transparency is the emergence and success of the membership model. Your membership investment will align our interests even more and is the key to making our checks and balances strategy financially viable. As a member, you will be asked to give of your time, money, expertise and questions. We will be rolling out the renewed membership program towards the end of this year.
New digital tools are also being rolled out for our advertisers. Clients can now create content on nuvo.net through our directory services and enjoy the benefit of improved search results through a linkage to our SEO. They can link to our stories about them, post events and build a fan base of our readers to communicate with directly. There are also more opportunities to improve visibility by upgrading event listings, classified ads or company profiles through our automated premium offerings.
It is going to take some time for this transition and some retraining for us and for you.
Please let us know how we are doing. We will be listening.