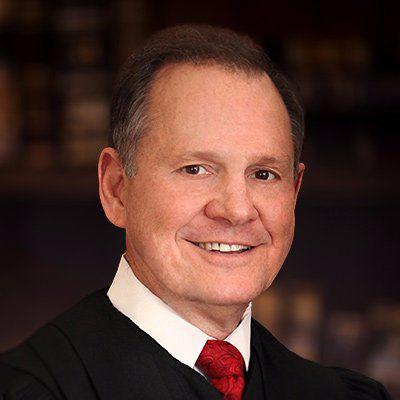 Maybe Harvey Weinstein, Kevin Spacey and Louis C.K. should run for public office.
If they did, chances are they'd be able to avoid paying the price for their predatory sexual practices.
They'd be able to skip away, consequence-free, like President Donald Trump and, possibly, Alabama Republican U.S. Senate candidate Judge Roy Moore and go their merry ways.
Most of the moral responsibility for the transgressions of Trump, the self-proclaimed groin grabber in the Oval Office, and Moore, the accused molester of young girls, lies with the men themselves.
Some of it, though, must reside with the people who support, enable and shield them.
For at least three generations, social conservatives have gloried in what they have proclaimed America's culture wars. They have railed against liberal licentiousness and media-driven assaults on basic decency.
But the brutal fact is heathen Hollywood has imposed higher standards of moral accountability than the God-fearing heartland has.
Weinstein has been ousted from the company that bears his name. He also likely will face civil suits and possibly criminal prosecution for his serial sexual assaults and harassment of scores of actresses and other women working in the film industry.
Spacey has been fired from "House of Cards" – the hit Netflix series in which he plays an amoral and egocentric president of the United States – and been removed from at least one movie for his longstanding pattern of allegedly harassing and molesting young men.
And Louis C.K. has been fired from just about every movie and TV job he has for his history of indecent behavior with women who wanted to work with him.
Contrast these hard falls for Hollywood folks with the way things go for conservative politicians.
Trump famously dismissed his recorded boast about groping women against their will as "locker-room talk." When more than a dozen women stepped forward to accuse him of either harassing or assaulting them, the president resorted with a series of diversionary tactics.
First, he said the whole thing was a partisan smear.
Then, he said the women involved were too ugly to merit his attentions.
Finally, he threatened to sue everyone involved.
More than a year later, we're still waiting for those suits. We'll likely keep waiting, because the last thing Donald Trump wants is for his accusers to be able to compel people to testify about his actions under penalty of perjury.
Moore apparently figures that what worked for Trump could work for him.
Like Trump, Moore first responded to a meticulously reported Washington Post story detailing his relationships with a series of underage girls when he was in his 30s by calling it a partisan hit job. He said this even though his most damning accuser, a woman who says he undressed before her and molested her when she was just 14 and he was 32, is a lifelong Republican and a devoted Trump supporter.
Following that, Moore said what he did was okay because he had the girls' mothers' permission to take them out. He and his defenders point to Bible stories of older men being involved with young girls.
Finally, he, too, promised to sue.
Moore doubtless will take steps to put everyone under oath and place himself in jeopardy of committing perjury at the precise moment hell freezes over.
Given their histories and character, we can't expect moral leadership from Donald Trump and Roy Moore.
Other public officials – such as, say, U.S. Sen. Todd Young, R-Indiana – should set a higher standard.
Young, like many other leading Republicans, initially said Moore should leave the race – but only if the allegations were true. Young took the stance many Republicans did – that of allowing Trump and Moore to be their own judges and juries.
When a fifth woman stepped forward to accuse Moore, with evidence in hand, Young belatedly did the right thing and called for Moore's withdrawal.
Two former GOP presidential nominees – Mitt Romney and John McCain – were admirable exceptions to this pattern of moral evasiveness. They said Moore should go from the start.
Conservatives love to lecture people about moral equivocation.
When they let guys like Donald Trump and Roy Moore skate, though, the rest of us know that they just don't mean what they say.
And that Hollywood has higher moral standards than they do.
John Krull is director of Franklin College's Pulliam School of Journalism, host of "No Limits" WFYI 90.1 Indianapolis and publisher of TheStatehouseFile.com, a news website powered by Franklin College journalism students.