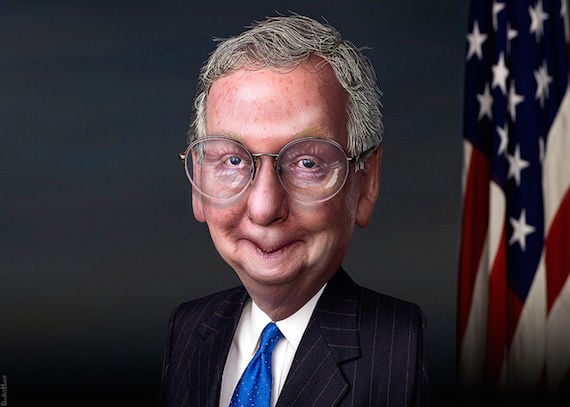 The restaurant where U.S. Senate Majority Leader Mitch McConnell was heckled is one of my favorite places to eat.
But not because he was treated bad.
On Saturday, activists angry about the separations of children from their families at our southern border confronted McConnell outside the Bristol Bar & Grille on Bardstown Road as he finished lunch with a defeated Kentucky state legislator. They shouted at McConnell as he walked away, even yelling that they knew where he lived.
(He also was accosted Sunday evening at another restaurant in the area. The man may want to stay home and grill for a while.)
I've been going to the Bristol for more than 20 years. Whenever work or life brings me to Louisville, I always find a way to stop at Carmichael's – the lovely independent bookstore just a couple hundred yards away – and then settle in for a fine meal and a good book.
I like the Bristol because the food is good and not insanely priced. The ambience is relaxed and convivial. I've spent many a pleasant hour there.
In fact, my son and I ate there just a couple of days before McConnell did. A baseball tournament brought us to town.
My boy and I chowed with satisfaction on the Bristol's famed green chili wontons, tender steaks and superb vegetables. As always, it was a fine time, an hour passed in a civil and civilized fashion.
That's what disturbs me about this new fad of taunting public officials when they step out to dine.
It's not because I have much sympathy for Mitch McConnell.
His pattern of again and again and again putting the ambitions of party ahead of the needs of country is appalling. His determined willingness to ignore established precedents, invent new rules and embrace hypocrisy in the process is a disgrace.
And his abdication of any sort of responsibility – moral, legal or political – for the crisis that brought the protestors out is shameful.
But….
I'm not a fan of shaming public officials in private moments for a couple of reasons.
The first is that, even in these hyper-partisan and increasingly mean-spirited days, there have to be some places in which decency and consideration still reign. Making every sphere of American life political – and political in the most ugly and inane ways – degrades us all as people, as fellow citizens, as neighbors and as presumed friends.
I don't think we can expect McConnell or Donald Trump to elevate the tone of our public discussions, so it's up to the rest of us to set a better example.
I'm old-school about some things. The fact that someone else is rude doesn't excuse or justify rudeness on my part.
The second reason I oppose this fad of heckling public officials as they dine out is that it isn't effective.
Consider this case.
The protestors wanted to make a point about the immorality and inhumanity of tearing families apart just so the president could gain some political leverage.
That point was lost.
Worse, it reduced the dispute to a level McConnell loves.
His spokesperson dismissed the protestors as socialists and cranks.
Because the activists threw dignity and decorum aside, they allowed McConnell to sidestep the fact that many Christian denominations (including traditionally conservative ones), just as many businesses and many traditional U.S. allies have condemned the family-separation policy.
The activists meant to sink the Senate leader.
Instead, they threw him a life line.
Doubtless, I will go back to the Bristol on Bardstown sometime in the next few months. Once again, I'll enjoy a good book and a fine meal in a convivial place.
If by chance I see Mitch McConnell in there, I'll offer him a pleasant nod of greeting.
I'll also look at what he's ordered.
Then I'll ask my waiter to deliver him a note.
The note will say that I'm making a contribution equal to the cost of his meal in his name to an organization helping families separated by my government.
Then I'll thank him for giving me a chance to do a decent thing and encourage him to enjoy his meal.
John Krull is director of Franklin College's Pulliam School of Journalism, host of "No Limits" WFYI 90.1 Indianapolis and publisher of TheStatehouseFile.com, a news website powered by Franklin College journalism students.