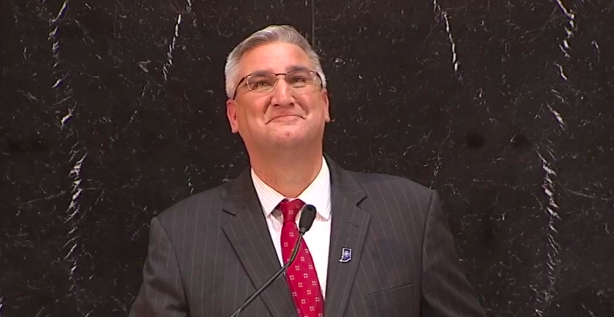 Gov. Eric Holcomb's second State of the State address didn't pack many fireworks.
Delivered in conversational and occasionally muted tones, Holcomb's 28-minute speech was interrupted more than 25 times by mostly perfunctory applause. There were no standing ovations, no memorable sound bites, no red meat for rabid partisans on one side or the other.
Rousing, it wasn't.
And that may not be such a bad thing.
After the governor finished talking, I chatted with Indiana Rep. Ed Clere, R-New Albany.
"It was more muted than some State of the State addresses," Clere said. "And there's nothing wrong with that."
Clere said that at least part of the reason for the subdued quality Holcomb's speech had was that the issues confronting Indiana don't lend themselves to quick, easy or even partisan solutions. Many of the problems, Clere said, the governor inherited. Others are persistent challenges that have bedeviled the state for years.
"There are no easy issues left," Clere said. "No more low-hanging fruit."
Clere's got a point, but there's more to it than that.
This governor is not a flashy guy and he doesn't seem to want to try to be something he's not. He also seems smart enough to understand that a quieter, gentler approach to governing may be a nice change from the combination circus and train wreck that is the national political scene.
If there was a theme to Holcomb's speech, it was that Indiana must continue to be more and more and more attractive to business. In fact, his address may have been the most business-focused and business-friendly State of the State in Hoosier history.
More than 60 percent of it focused on workforce development. Even other issues, such as education and prison reform, found themselves folded into an argument for developing a better-trained workforce.
Holcomb buttressed his case with numbers.
Lots and lots and lots of numbers.
He said 85,000 jobs in Indiana remained unfilled because employers couldn't find Hoosiers with the right skill set to do them. He said 700,000 had attended but not finished college – and another 475,000 don't have a high school diploma. And he argued that 1 million new workers would be needed over the next 10 years as the state's baby boomers retired.
Then he tossed out still more numbers to show that some progress – even small progress – was being made in dealing with each of those challenges.
While the abundance of figures made for a pleasant change from the vague, insubstantial flights of rhetoric Holcomb's predecessor, current Vice President Mike Pence, tried to take Hoosiers on, it wasn't exactly poetry.
But it also wasn't divisive.
There's something to be said for that, too.
The applause may not have been thunderous, but, when it came, it came from both Republicans and Democrats.
Even the most hot-button issue – the ongoing controversy regarding the Indiana Department of Child Services – was addressed in a soft-spoken way. Late last year, Mary Beth Bonaventura, the head of DCS, resigned in protest over budget cuts and mismanagement of the department that she said would result in the deaths of children.
In his speech, Holcomb said, "There's no one who cares more about Hoosier children than I do, and I'll do whatever is necessary to ensure the success of our agency and its mission."
He said an outside group would be reviewing DCS practices. He pledged transparency during the review and said his office would issue regular progress reports.
Given the seriousness of the issue – the deaths of children – the quiet approach was a wise choice.
So was the conclusion, which paid tribute to Holocaust survivor and civility advocate Eva Kor.
Holcomb said he was going to try to make civility one of the cornerstones of his plan for Indiana.
The governor's implied argument here and throughout the speech was that we Hoosiers will accomplish more if we spend less time shouting at each other and more time talking with each other.
As messages go, that's not one that will motivate people to storm the gates.
But, again, that may not be such a bad thing.
John Krull is director of Franklin College's Pulliam School of Journalism, host of "No Limits" WFYI 90.1 WFYI Indianapolis and publisher of TheStatehouseFile.com, a news website powered by Franklin College journalism students.