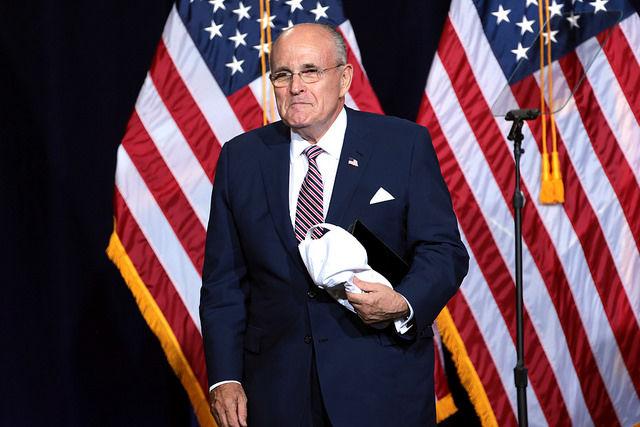 Someone had a brilliant idea.
Put two modest, unassuming and thoughtful guys such as Donald Trump and Rudy Giuliani together to solve a complex and subtle legal problem.
What could go wrong?
A few days ago, Giuliani talked with the amen chorus at Fox News about President Trump's troubles with porn star Stormy Daniels. (Daniels says she and Trump had a sexual encounter, one that the president paid her $130,000 to try to conceal.)
In his conversation with Fox, Giuliani undercut and maybe destroyed Trump's previous legal argument regarding the Daniels dispute. Giuliani said the president repaid Trump attorney Michael Cohen – who himself is now in great legal jeopardy – for the $130,000 Daniels received.
Trump's position up to that point had been that he not only hadn't paid Daniels to keep her mouth shut, but that he didn't even know about the whole thing.
Giuliani's revelation raised at least two questions.
The first is: If Trump wasn't paying Daniels to keep quiet about a sexual relationship, then what was he paying her for?
The second is: Is anyone in the Trump White House ever going to learn that places with live microphones, even when those mics are held by people with friendly faces, aren't the best spots to brainstorm and spitball legal strategy.
Giuliani's little bombshell caught the White House flatfooted and sent Trump into another Twitter frenzy, one that at times seemed to contradict Giuliani and at others simply lashed out at almost everything that wandered into his line of sight.
In a subsequent interview with NBC, Giuliani said he revealed Trump had repaid the money because Giuliani knew Special Counsel Robert Mueller would find the information and leak it. Giuliani also suggested he wanted to take the charge that the payment represented an illegal campaign contribution off the table.
Both are questionable assertions.
The bulk of the evidence suggests any leaks emanating from Mueller's investigation have come from Trump's White House and legal team – often because the president and his defenders want to use the revelations to motivate his political base and to discredit Mueller and his investigators.
And it's hard to see how an undisclosed loan designed to hide an unsavory revelation that might have affected the election's outcome is much better than an outright gift.
But that may not have been what Giuliani really was trying to do.
Donald Trump is a lawyer's nightmare, a completely unmanageable client who listens to and heeds no one, not even those who want to protect him, even from himself.
Most of the damage done to Trump's legal positions – whether it's with Daniels or the Russia investigation – Trump has done to himself. Mueller has just patiently spooled out the rope Trump will use to hang himself.
Rudy Giuliani is a boor and an egomaniac, but he's not an idiot.
He knows the first thing he, as the president's lead counsel, must do to solve his client's legal problems is get his client to restrain himself and stop handing opponents ammunition to use against him.
Giuliani may have been trying to send Trump a signal that things have progressed beyond – well beyond – the point where the president could lie his way out of trouble.
Better to make it clear that the president, his attorney and his communications staff have been lying to the press and the American people for weeks than to take a chance on having the president lie under oath or to the Federal Bureau of Investigation.
Both of which would be crimes.
Now that it appears that Mueller may subpoena President Trump, these no longer are trivial questions.
That's why, at the same time that he revealed Trump had been lying about paying off a porn star, Giuliani also went to work on limiting the scope and nature of any interview the president might do with the special counsel.
It's no easy task Giuliani has, trying to save an undisciplined man from himself.
Desperate times.
Desperate measures.
John Krull is director of Franklin College's Pulliam School of Journalism, host of "No Limits" WFYI 90.1 Indianapolis and publisher of TheStatehouseFile.com, a news website powered by Franklin College journalism students.