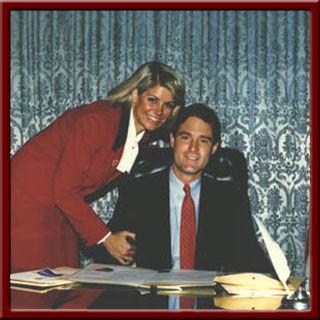 Susan Bayh turned the tables on me.
This was long ago, early in her time as Indiana's first lady. Her husband, Democrat Evan Bayh, had ended a 20-year-long run of Republicans holding the state's top office by winning the governorship in 1988.
The Bayhs were young and beautiful. He was just past 30. She was just shy of it. Susan was a former Miss Southern California. Evan looked like a male model.
Together, they seemed like Indiana's answer to Jack and Jackie, a heartland Camelot myth in the making, a Hoosier couple destined to dance among the stars. Detractors and political opponents dismissed them as the state's version of Barbie and Ken, synthetic figures without souls.
I wanted to do a piece on what it felt like to be that youthful and at the center of so much attention and speculation.
The young Mrs. Bayh and I met for the interview at Shapiro's, a deli on Indianapolis's Near Southside.
As we munched on sandwiches, I asked her questions about what her life was like. She answered each one forthrightly and often with a great deal of wit.
But, after she'd answered, she'd pose a question of her own, one similar in tone and scope to mine.
Then, she'd smile and wait for me to respond, refusing to address any more of my queries until I'd dealt with hers.
Finally, I shook my head and laughed.
She asked why.
"I'm trying to figure out the precise moment I lost control of this interview," I said.
She smiled.
Point made.
The lives she and her husband led were lives like those of other human beings, not the stuff of some fairytale. Their marriage had its joys and stresses, just like everyone else's.
The important thing to remember, she argued, with charm and grace, was that it was their marriage.
And no one else's.
I can't claim to know Evan and Susan Bayh as well as some people do.
But it's always seemed to me that the key to understanding them was to understand the nature of their reserve. Because so much of their lives had to be exhibited to the public, it was important to them to keep the private parts as private as they could.
They needed some space that could be theirs and theirs alone.
That became clear during the gubernatorial years. The Bayhs wanted to start a family. Their first attempt ended, as it does for so many young couples, in a miscarriage.
The Bayhs had not wanted the public to know Susan was pregnant, but the story leaked. When the pregnancy ended, the young couple had to deal not only with grief and loss, but a sense of violation.
I wrote a column at the time saying it was easy to understand why they felt violated, but that I hoped they could take some comfort from the knowledge that many people grieved with them. Sorrow is something we all experience, a part of life that unites us as people.
After the piece ran, Evan Bayh called me. He said the column brought comfort to both him and Susan.
So much time has passed since those days.
The Bayhs did have a family, twin boys who graduate from college this spring. Evan Bayh's political career stalled after a couple terms in the U.S. Senate, then crashed in 2016 when his comeback attempt failed.
The fairytale that never was ended.
And now comes the news that Susan Bayh battles brain cancer of the same sort that U.S. Sen. John McCain, R-Arizona, fights. It's the same cancer that took the lives of U.S. Sen. Ted Kennedy, D-Massachusetts, and Beau Biden, former Vice President Joe Biden's son.
In a statement, the Bayh family said Susan, her husband and her sons plan to face and fight this cancer with dignity and determination.
Doubtless, they will.
And much of that fight will be hers and theirs alone.
But it is my hope that Susan Bayh and her family will forgive the rest of us for sharing our concern, our prayers and our heartfelt best wishes.
And that she turns the tables on this disease, just as she did on me oh so long ago.
John Krull is director of Franklin College's Pulliam School of Journalism, host of "No Limits" WFYI 90.1 Indianapolis and publisher of TheStatehouseFile.com, a news website powered by Franklin College journalism students.