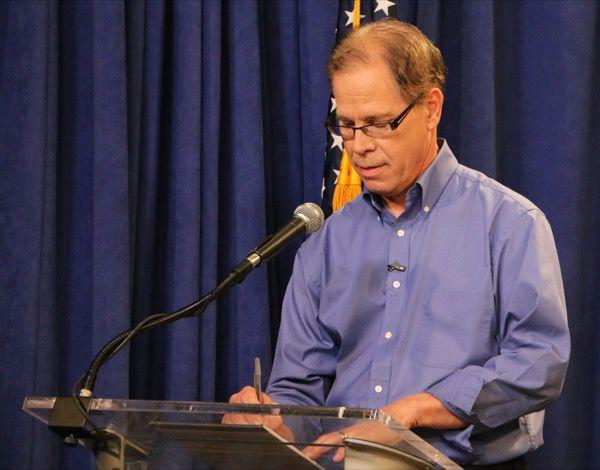 At last, the Hoosier dubious distinction awards – otherwise known as the Republican U.S. Senate primary – came to an end Tuesday.
Former Indiana Rep. Mike Braun emerged, bespattered and filthy, from the mud-wrestling match.
Braun defeated his opponents – U.S. Rep. Luke Messer, R-Indiana, and U.S. Rep. Todd Rokita, R-Indiana – by spending $6 million of his own fortune on the campaign and practicing the dark art of character assassination more deftly than his opponents.
Their contest was a dispiriting race to the bottom.
No candidate covered himself with glory.
Rokita set a new standard for surliness and seamy ethics. He lied about his opponents, the state and his own record. At one point, Rokita's conduct was so outrageous that Donald Trump's operatives – who are far from paragons of virtue – told him he had to clean up his act.
Messer seemed lost in the savagery. He debased himself by pledging unquestioning fealty to President Trump and lashed out at Rokita and Braun as "liberals."
Braun prevailed not just because of his money but because he cut up his opponents with precision. He wielded a stiletto rather than a broadsword.
His campaign commercials cut to the bone.
Rokita hoped to turn himself into Indiana's answer to Donald Trump by adopting a campaign slogan – "Defeat the Elite" – aimed at aping the president's pseudo-populism.
Braun punctured his opponent's pretensions with one campaign spot that featured Rokita wearing a digitally manipulated Trump campaign ball cap that read "Todd the Fraud" rather than "Make America Great Again."
Both Messer and Rokita tried to hit Braun by pointing out that he had spent most of his life as a Democrat, but Braun counterpunched by pointing out that at least he wasn't a career politician.
Nowhere during the campaign did any of the candidates discuss ways we as Hoosiers or Americans might move together to meet common challenges or solve common problems. All the rhetoric was aimed at scapegoating or stigmatizing.
Apparently, our priority really isn't on making America great, but rather on finding someone else to blame for our failures.
That's one reason the race was so depressing.
Another is that it doesn't have to be this way.
In the middle of the day, while Hoosiers were trooping to the polls, I talked over the air with former U.S. Sen. Richard Lugar, R-Indiana.
Lugar held for 36 years the seat Braun will vie to occupy during the coming campaign. I asked Lugar if he could offer any counsel to the Republican candidate.
That advice was on target and not hard to follow.
Talk about ideas, Lugar said. Be constructive. Figure out ways to make life better for the people you're supposed to serve and then work with others to turn those ideas into reality.
Lugar's words make a lot of sense.
In a sane time, they would be heeded.
But we don't live in a sane time.
Braun opened fire Tuesday night on his Democratic opponent by blasting incumbent U.S. Sen. Joe Donnelly's vote against last year's tax cut bill.
Therein lies part of Braun's problem.
Polls show the tax cut is just a bit more popular than potholes. Most people realize that the pennies they might see – temporarily – from the "reform" are offset by the millions and billions realized by the rich and shameless.
Worse, if they own calculators, they know that the cost of allowing the billionaire class to keep luxury yachts at the ready on every cove of every continent involves shifting massive long-term debt onto the shoulders of our children, grandchildren and great-grandchildren.
Braun's other problem is more basic.
He's spent a massive amount of money and several months depicting his Republican opponents and all who support them as little more than vermin. He prevailed, but at a high cost. Half again as many Republicans voted against him as for him.
Now, to defeat Donnelly, he will need to convince those GOP stalwarts that he really didn't mean it – or he'll have to practice the same sort of character destruction on the Democratic candidate.
Option two – more character assassination – is likely to be the more cost-effective option.
That means we've got another six months of this sordid ugliness.
Oh, joy.
John Krull is director of Franklin College's Pulliam School of Journalism, host of "No Limits" WFYI 90.1 Indianapolis and publisher of TheStatehouseFile.com, a news website powered by Franklin College journalism students.