Fog on the Ground—Fog in My Head
Nine rows from the front of Greencastle Community Schools' bus No. 27, I watched the fog lift as we turned left onto The National Road, bound for Indy. We took the slower route because that morning, I-70 was logjammed—plugged up by a jackknifed semi-truck. Some eight hours earlier, the thoroughfare was again clogged up, this time because a man leaped from a Hendricks County overpass, killing himself with gravity and high-speed traffic. Such is the metaphorical chaos that is life in this century.
My head bobbing to the rhythms of the ride, shaking off the mists of sleep clouding my brain, I sensed the subdued electricity around me. My colleagues sat sharing their excitement: Whispers near South Putnam, gentle conversations in Stilesville, and full-throated discussions in Plainfield. 
I envied them. I have always struggled with the "team game" part of education. The "Rah-rah-ing" exercises have never been enough to diffuse the nagging layer of cynicism, which glazes every idea I generate. On this morning, that glaze was an almost deliberate mixture of anger and frustration.
Rage Set on "Warm"
The anger stemmed from the night—and days—prior when social media and local newspaper trolls leveled their best shots at the teaching profession. Hate-filled, vituperative insults were calling us greedy and selfish and craven and worse. My 30-minute tussle with the angry Terre Hautian drained me…sure. But the incessant hostility from Rob Kendall—a media whore constantly in search of his next click-bait climax…his comments gnawed at me.
As much as my anger seethed, it was more the frustration that kept me out of sorts. As the state capital drew closer, I kept asking myself the same questions: "Who are we kidding?" "Is this really going to matter?" "Will this make an ounce of difference?" When Mitch Daniels won his GOP clown show in 2010, we thought, "Surely they won't do it…" They did. When Glenda Ritz won in 2012, we thought, "Surely, she'll stop this…" She didn't. When Mike Pence Keystone Copped his way through his first term as governor, we thought, "Surely this is the end…" It wasn't.
Complicating my thoughts were the ISTA's bulleted talking points. "Raise our pay, hold us harmless, and end charter funding" resonated well everyone on the bus, but not so much with Butch, who assembles and fits axles in a massive, fluorescent hellhole from 7:00 PM to 3:00 AM. Guys like him don't give a shit about our injustices. And waiting for us in Indy were all the Rob Kendall's of the world, more than happy to stoke Butch's resentment.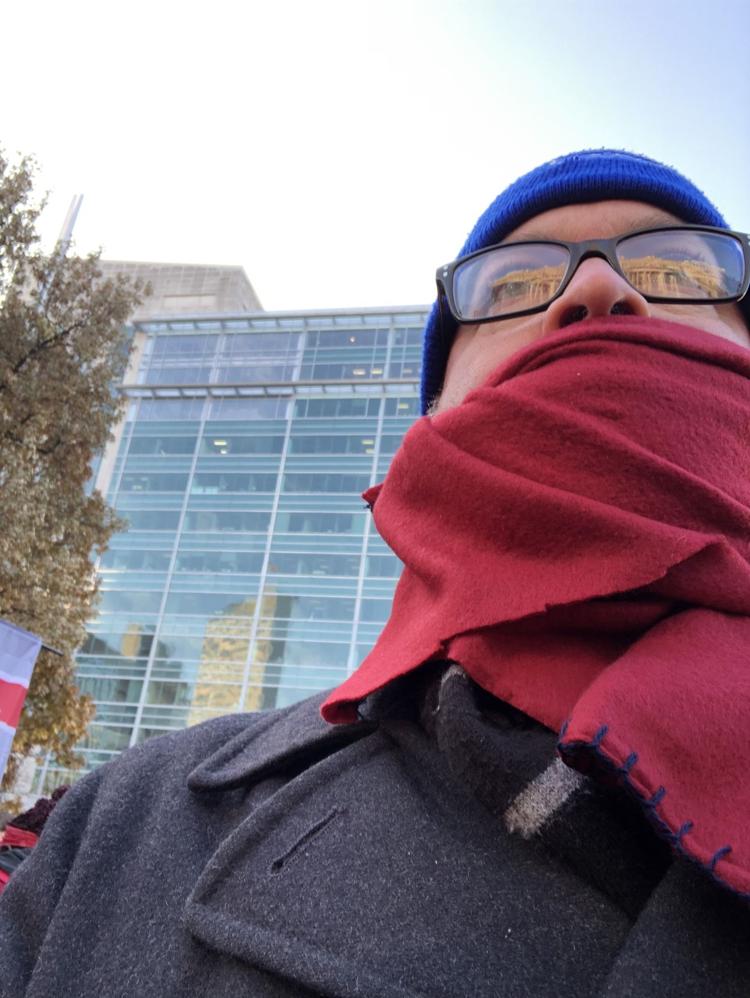 A Bit of Red in the Cold
Standing in the middle of the South lawn, I wrapped a red scarf around my face—a covering which both stifled the cold shooting up my nose and offset the clashing royal blue ISU cap on my scalp. George Washington's statue some fifteen paces to my back, I spent the next 80-90 minutes listening to my friends and co-workers chatter.
My friend Glenn swore that Channel 13 called for freezing rain for the express purpose of driving down attendance at the rally. Everyone laughed. It wasn't so much a dismissive, "you're crazy" kind of laugh as it was a lonely, "everyone really does hate us" kind of chuckle.
Moments later, a host of beach balls caromed off heads, gloved-hands, bare-hands, sock-hat tassels. A young, blonde teacher pulled herself onto the concrete abutment in front of us, snatched a homemade sign from the hands at her feet, held it aloft, pirouetted a few times, and switched it out for a new one. 
As the conversations cascaded around me, I stood quietly, trying to stay warm and wiping the fog off my glasses every five minutes. Somehow, the loose, sparse crowd around us had mushroomed into the thousands. Somehow, I found myself standing smack in the middle of it. Mesmerized, I turned my eyes back to the makeshift stage. More educators had climbed upon the sides of the State House's enormous south stoop. The makeshift band of music teachers assembled on the steps offered a medley of everything from Twisted Sister to Woody Guthrie.
An Epiphany in the Grass
As the sea of red slowly crowded me in, something about the ordinariness of this particular group touched me. Abruptly, I saw my profession in a very different light. Scale was a factor.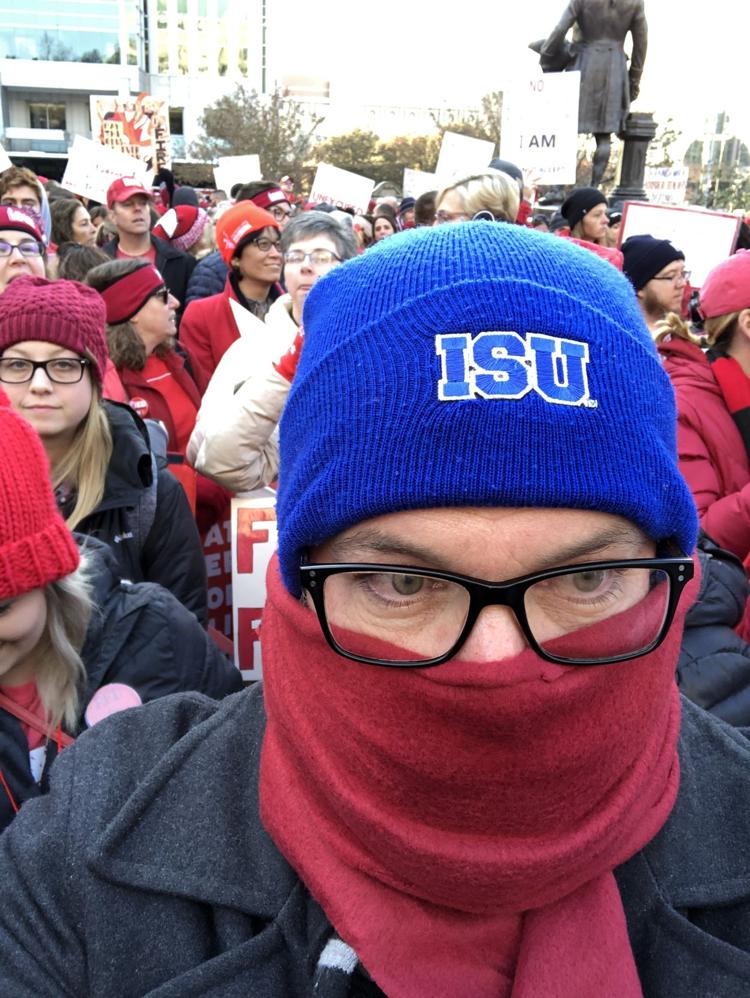 In the closed-quarter intimacy of the daily school setting, our colleagues function as emotional fixtures: Their idiosyncrasies, their preferred subjects of conversation, their work habits, their hang-ups. We see them largely according to how they affect our own day at work. It's the lens that fosters judgment and jealousy and even joy and hilarity.
But on that lawn, I saw that mass of strangers as my kin. Here the "the teacher" was somebody's mom. Someone else's brother. Another's uncle. Here were teachers who spent their wages on Saturday night at the movies. Over there was a cluster who dropped well-earned money for craft beers at the locally owned brewpub. 
Slideshow: Red for Ed
Teachers and educators representing over 130 Indiana school districts converged on the South Lawn and Main Entrance of the Indiana Statehouse in support of the "Red for Ed" Day of Action.
The rally, organized by the Indiana State Teachers Association and expected to be attended by 15,000 supporters, was in support of teacher pay raises and overall school accountability.
These "greedy monsters" whom guys like Rob Kendall want the world to hate…? These pariahs who are sucking the life out of the state's budget…? These are the folks who share church pews with insurance brokers and garbage collectors. They play rounds of golf with real-estate salespeople and restaurant managers. They go on vacations with small business owners. They walk their kids along the midway at the county fair next to the beautician and her kids. They plop their little ones in the seat of the John Deere at the State Fair, just like the retired farmer with his granddaughter. And they pull their hair out over Adam Vinatieri field goals with the same ferocity as a construction worker.
Support from the Windows
After the speeches (both of them moderately feisty but decidedly "safe"), we sifted our feet and worked our way off the lawn and onto the street. There was a plan. It involved a 90-degree turn on Senate and staying on the sidewalks along Capitol. But while 16,000 seated at a basketball game seems semi-orderly, the same number amassing on a city street is a veritable flood. For a while, a handful of officials kept us off Capitol Street, but by the time we'd reached the Oliver Morton statue, the intersection belonged to us.
It was never Hong Kong. And even though virtually all of us had never participated in a rally of this size, we didn't mimic the kind we saw on TV. We walked, found gaps between cars here, and around stoplight apparatus there. All the time, we acted like teachers. When the office workers in the TCU building waved to us in support, cheers broke out, then subsided. By the end of Capitol Avenue, most of the crowd rounded the corner and headed west. The rest of us turned sharply for the port-a-pots.
Inside the Grand Palace
I've been inside the State House almost 20 times as a chaperone for our annual senior class field trip. It's a beautiful building, a testament to the ostentatious genius of Art Nouveau. Stand there on a quiet Friday afternoon and soak in the splendor of the design, the artwork, the way the echoes swirl around the pillars, and become a sort of beautiful, thrumming, ambient hum.
Slideshow: Red Day
Educators from across the state filled the Indiana Statehouse lawn today for Organization Day and to advocate for "Red for Ed" Day of Action organized by the Indiana State Teachers Association (ISTA).
With more than a hundred Indiana districts calling off school today, educators from every corner of the state rallied in support of pay raises and school accountability. An anticipated 15,000 supporters attended the event. Photos by Lora Olive
But on a rally day, the statehouse has about the same functionality as an early 70's multi-purpose stadium. Get a good spot, grab your lower back, and hold on. After 70 minutes waiting in line for our chance to stroll through security (think "O'Hare but much, much slower), we found a great spot. But when ISTA chief Keith Gambill announced that the speeches would be postponed so that more folks could enter, we abandoned our third-floor rail, found a quiet corner, and played a few exciting hands of UNO.
At 2:05, the first of the speeches started. The sound echoed. Badly. We couldn't make out a word. We moved to the ground floor, some thirty feet behind the stage, where it somehow sounded worse. It didn't matter, though. Our text messages had come, and our bus was leaving. As we walked out, hundreds still waited in a line extending the length of the South Lawn, then fanning both ways along the Washington Street sidewalk.
Had we been able to overwhelm the State House in a flood… Had we the chance to amass the sort of physical presence inside that we had put together outside… That would have been something to see.
A Quiet Ride Home
Rolling home, I thumbed through my Facebook feed. There was Rob Kendall, stalking teachers. He found a handful who'd ducked out after the march and headed out for burgers and beer. He took his photo, wrote his caption, cranked out his instant meme for his fans, and baffled the flames whenever the hate started to cool down in the comments.
Ask a dozen other teachers what they thought of the day, and you'll probably get two dozen different answers. For me, RedForEd was the best and worst about this moment in history. Tomorrow—or maybe later next week—I'll return my thoughts to all the ways the world hates us and all the ways we shoot ourselves in our collective feet trying to defend our work.
But for now, I take solace in the fact that the folks with whom I shared that frigid Tuesday are people who chose to walk into the cultural, social, and political melee that is the modern American classroom. They could have chosen life in a quiet office. They could have opted for the solitude of the semi-truck. They could have decided upon a life among other adults. They chose the life of the teacher instead. They are my brothers and sisters. Maybe…hopefully, this was the moment all good families have. Maybe this was the moment when we all sat in the living room and decided that our top priority was looking out for each other. 
We'll know for sure next November.