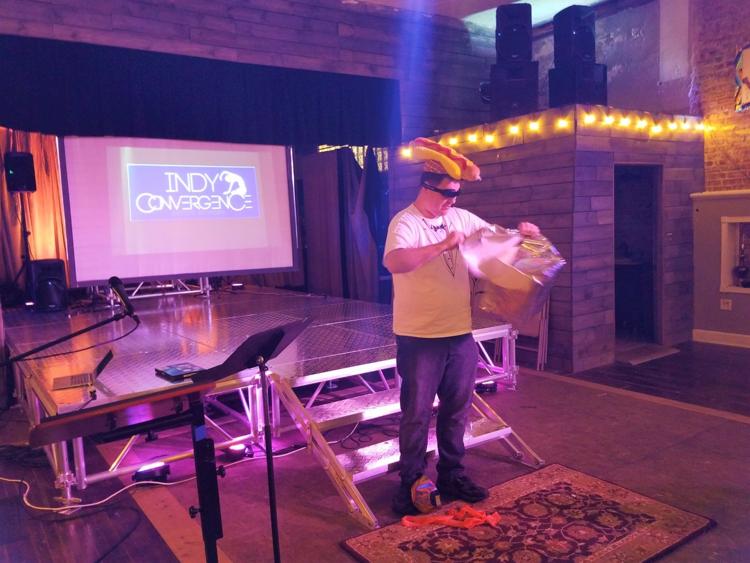 When I'm driving in my car —  when the TED Radio Hour comes on NPR  —  I'm very likely to change the channel. With apologies to the Rolling Stones, TED (Technology, Entertainment, Design) Talks too often give me no satisfaction.
Hearing U2 frontman Bono wax messianic on poverty or Matt Walker proclaim that my testicles will shrink if I don't get enough sleep is the sort of chatter I have trouble processing as I go about my daily business.
That is, I suffer from information overload as a journalist and otherwise. Sometimes I need to shut it all off. But the lack of irony and the hyper-urgency of so many of the TED Talk presenters makes me feel so bad about it when I do. I wind up questioning myself. Why shouldn't I learn to spot a liar like Pamela Meyer? Why shouldn't I feel more empathy like Monica Lewinsky?
So when I found out at the last minute that Indy Convergence was holding Godawful TED Talks on May 18 —  asking Indy residents to pitch their "worst" business and design ideas — I decided to pay a visit to the Near West nonprofit performance space. After all, I thought, the organizers of this event probably feel the same about TED Talks as I do! Even better, as I was soon to find out, the proceeds from the event would be going towards a good cause.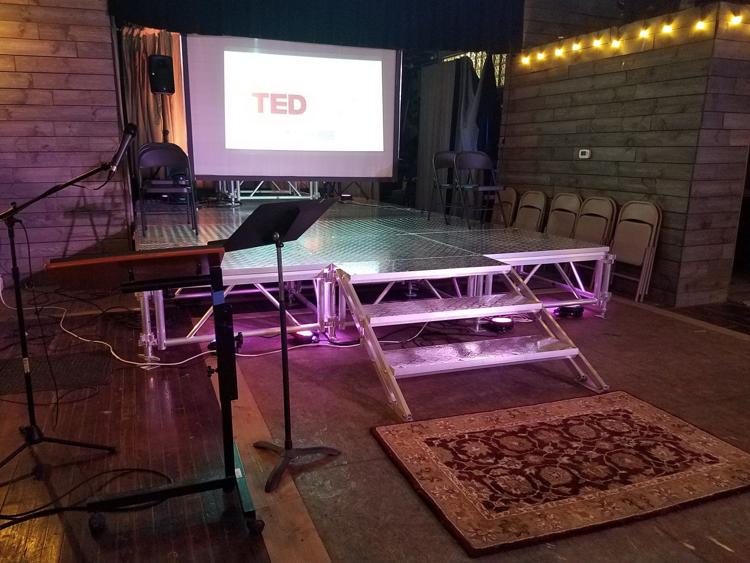 Indy Convergence board president Kimberly Milfort was the first presenter. Her big idea is certain to promote more sedate Thanksgivings when family members arrive from across red and blue state lines. At the heart of her proposal is the replacement of various problematic family members with people more amenable to your family's disposition. But it's important "to get some kind of consensus as a family" about this decision, she said. Milfort also cautioned about the possibility that you might be the asshole who needs replacement.  
Lindsey Mark encouraged us all to put a deadline on our lifespans. By doing a modicum of pre-planning, locking in our age of death at 60, say, we could spend down all our funds by living it up until then in the most hedonistic way possible. Living it up until the moment that we mindfully fall backwards into our graves is, according to her logic, actually paying it forward.
"There are far too many millions on this planet," she said. "I don't know if any of you have seen the news lately but it's getting hot in here.  It's getting really hot in here. And if we all just choose to reclaim our relationship with death, we could all do the future a good service."
The big idea that Gwen Sunkel presented was one that, if presented in the right way, Rush Limbaugh might even like.
"It's 2019," she said. "And boy, do men have it rough! Between the Me Too Movement, losing elections, and people demanding equal rights, men might be the most persecuted group in the world."  
The name of this "revolutionary new group," she said, is Feminists in Support of the Rights of men. "This idea is so solid we call it FIRM."  
But perhaps the most outrageous idea was that of Mark Cashwell, who presented last. Describing himself as "Indianapolis's only mobile [phone] deejay, ("I'm trying to earn a laptop" he said.) His big idea, he said, is the swag funeral, that "puts the F.U. back in funeral."
"So what does swag funeral do for you sharks?" he asked us. "Well I'll tell you. We have all the best deejay lighting services ever. Why do funerals have to be boring and dull, boo hoo grandma's dead … everyone that you don't know will be there and they will be dropping it like you're dead ... just like you died, you dropped ... dead."
After this presentation was over, an audience member pointed out that Mark's idea of the drop dead expiration date and Cashwell's swag funeral might work well together as a tag team TED presentation. A swag funeral just might be a great way to cap off your own personal date of expiration, But it was Cashwell's big idea that ultimately won the audience over in the end.
It was good to have a laugh or two at the expense of TED, whose presentations can be engaging and informative at their best, and come off as self-parody at their worst. But if TED seems to bring out the messiah complex in so many of its presenters, maybe it's because we live in an age in desperate need of messiahs.  
Indy Convergence did have an ulterior motive in getting Indianapolis to give their worst, with their ticket sales and event voting —  done in the form of monetary donations — going towards programming.
"We're raising money for an artist residency," executive director Caitlin Negron told me. "[It] brings together professional artists from Indianapolis and around the country. And they focus on interdisciplinary collaboration."
Indy Convergence is also spearheading the new initiative "A Rising Tide" which will bring performances to the White River with two outdoor stages, including a floatable stage. This year Indy Convergence, together with its partners, will produce five performances. And twenty performances are in the works for 2020, when Indy celebrates its bicentennial. The project was made possible by a gift from Reconnecting to Our Waterways through the Nina Mason Pulliam Charitable Trust Fund.  
The nonprofit organization also encourages relationships with Near Westside business owners and has a longer-distance relationship with a community center in Jacmel, Haiti. You can see evidence of this relationship in the selection of paintings on Indy Convergence's interior walls, by Haitian artists.  
Now if someone were to expound on all this great programming with a TED Talk, I wouldn't change the channel. I swear.