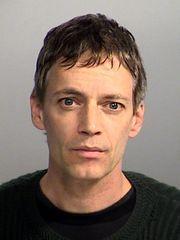 When child molestation charges against Republican City-County Councillor Jeff Miller were reported on Friday, we also reported -- based on statements made by Marion County GOP Chairman Jim Merritt -- that Miller had (or shortly was to) resign from his seat on the council. 
This is, as of this afternoon, apparently not the case.
Miller, who was booked and released on Friday, has not given up his seat, although his fellow Republican City-County Councillors, Merritt and others in leadership have called openly for his resignation. 
Councillors cannot be removed from the City-County Council, unless they are convicted of a felony or move. 
Fallout from inappropriate and illegal conduct with young girls is playing out on a national level, as well. Currently, U.S. Senate candidate Roy Moore is vigorously rejecting multiple accusations that he pursued sexual relationships with teenage girls as an adult man. The New Yorker reported last week that his predatory behavior toward young girls was so well-known he was banned from the Alabama mall in his hometown of Gadsden.
Earlier this afternoon, Republican Caucus members on the Council issued this brief statement: 
We, the members of the Republican Caucus, call upon Jeff Miller to immediately resign from the Council in the best interest of the citizens of District 16, the institution of the City-County Council, and all the people of Indianapolis.
Councillor Michael McQuillen
Councillor Janice McHenry
Councillor Marilyn Pfisterer
Councillor Scott Kreider
Councillor Jeff Coats
Councillor Jason Holliday
Councillor Colleen Fanning
Councillor Susie Cordi
Councillor John Wesseler
Councillor Brian Mowery
Jim Merritt has called several times for Miller's resignation, saying on Friday that he had spoken with Miller, who at that point said he would resign. Merritt expected the resignation to come Monday -- but Monday has come and gone. 
Marion County Republican Chairman Jim Merritt called on Miller to immediately resign after news broke of the charges on Friday. 
.@Jim_Merritt responds to the shocking resignation of Indy City-County Councilor Jeff Miller. https://t.co/YNi1RVOX57

— Rob Kendall (@RobMKendall) November 17, 2017
We've reached out to the Indiana GOP and Councillor McQuillen for further comment and will update this post if and when that comment is made.
UPDATE: 
Indiana Republican Party Chairman Kyle Hupfer issued the following statement to NUVO this afternoon: 
"We join Chairman Jim Merritt in calling for Jeff Miller's resignation. The acts he has been charged with committing are beneath anyone, let alone an elected official. Jeff Miller should fulfill the commitment he made to Chairman Merritt and resign his position so that the citizens of his district can be represented by someone they can trust."