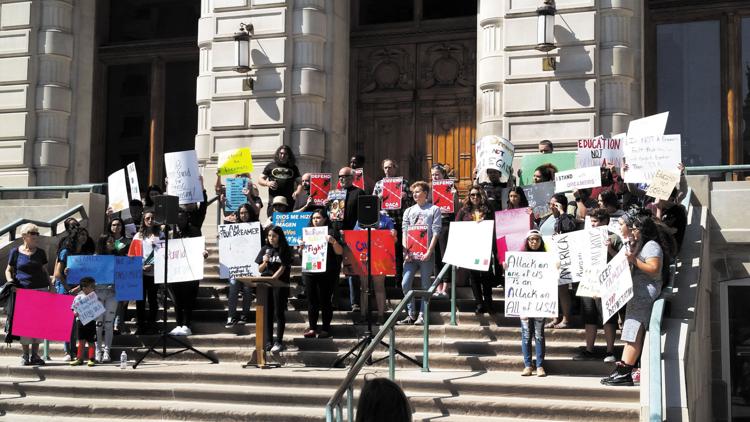 Last week, President Trump turned his back on hundreds of thousands of fellow Americans who have only known this country as their home. His decision to end the Deferred Action for Childhood Arrivals (DACA) program will tear Hoosier families apart, make our families and communities less safe, and deal a devastating blow to our nation's economy.
It is the wrong decision, and it hurts us all.
For the past five years, DACA has provided relief to undocumented immigrants who entered our country as children. Under this program, immigrants across the country, including nearly 10,000 Hoosiers, have the opportunity to request deferred action from deportation and authorization for employment for up to two years.
Indiana immigration attorney Kevin Mu
ñoz reacts to the U.S. Supreme Court's indecision about President Obama's deferred action executive orders.
DACA recipients are low-risk, upstanding members of our community. They have been required to pass strict background checks, meet residency and educational requirements, and have no felonies. While I have long supported both comprehensive immigration reform and the DREAM Act, which would be a longer-term, permanent solution for our broken immigration system, I know that DACA is critical for immigrants and their families until Congress finds a more permanent solution. DACA has allowed hundreds of thousands to live in and give back to the country they grew up in and love. Ending the program and putting these men and women at risk of deportation is the wrong answer.
I have had the privilege of meeting many of these young people. They are students and young professionals contributing to our economy, service members in our armed forces, and parents raising U.S.-born children. Like our immigrant ancestors who came from all over the world, DACA recipients are Hoosiers in every sense of the word. They are members of our community and deserve a chance to live without fear in the only country they have ever known.
I have received countless calls and emails opposing President Trump's announcement. From our conversations, I know that Hoosiers want to maintain DACA but also understand the need for comprehensive, lasting immigration reform that secures our borders, includes a fair but rigorous path to citizenship, and protects a strong economic future for our country. As I have been told time and time again, Congress's inaction on immigration hurts our economy and our communities.
In the meantime, ending DACA is the wrong answer. While the program's termination date is set for March, the Trump Administration's decision is already having devastating consequences. New applicants are stuck in limbo, and current recipients and their families face fear and uncertainty. We have no time to waste: Congress must immediately put politics aside and stand up for the DREAMers in our communities.
About 10,000 Hoosiers are protected under DACA. 
We can't allow policies fueled by hate and fear to marginalize hardworking people who only want to contribute to work, live and serve the United States. DACA has allowed children to come out of the shadows and build a better life in America — they represent the American Dream: the idea that through hard work, anyone can seek opportunity and be successful.
It is our moral responsibility to welcome and protect young people who were brought here years ago, through no fault of their own. Not only because they are our friends, neighbors and loved ones, but because it's right thing to do. We are the land of opportunity that welcomes anyone seeking a better life and access to the American dream.