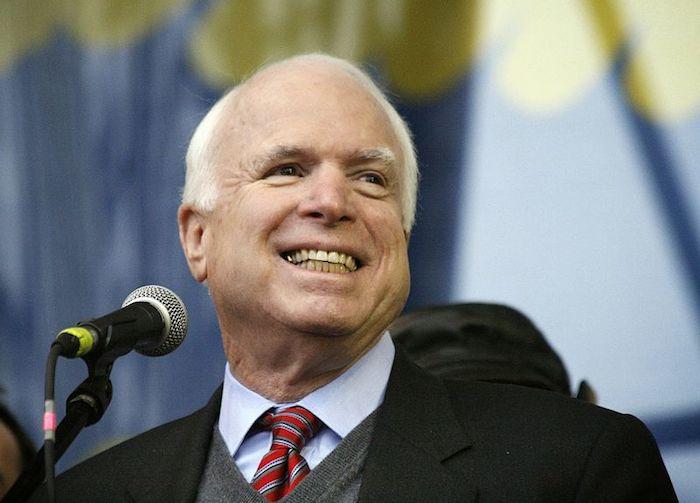 John Sidney McCain III — Arizona senator, decorated POW, and former presidential candidate — died of brain cancer on Saturday at the age of 81. He will forever have the word "hero" attached to his name for good reason.
McCain established his mettle early in life while serving in the Navy during Vietnam. After being shot down Oct. 26, 1967 during a bombing mission, he was beaten, stabbed, and taken to the "Hanoi Hilton." There he was refused medical care, placed in solitary confinement, starved, and tortured. He wasn't released until March 14, 1973 because he refused to be released before all the other prisoners captured before him were also given their freedom.
When I think back on McCain's legacy, I am so deeply conflicted. This was a man who often exemplified what we expect from our leaders. Yet, in so many instances he came up short.
How could the same man who rightly saw an enemy in Vladimir Putin, also view Sarah Palin as an acceptable major party vice presidential candidate?
When McCain delivered one of his most memorable lines Oct. 10, 2008 at a town hall meeting in Lakeville, Minnesota, it served as a perfect example of this duality.
"I've got to ask you a question," said a woman in the crowd when handed the mic. "I believe I can't trust Obama. I've read about him and believe he's an Arab."
McCain was quick to snatch the mic back.
"No, ma'am. No, ma'am," said McCain. "He's a decent family man, citizen that I just happen to have disagreements with on fundamental issues. And that's what this campaign is all about. He's not."
Defending Obama as a good person by saying he's not a Muslim is problematic.
But, even when McCain suffered missteps, he often found time for self-reflection and allowed himself to change for the better.
The same man who voted against making Martin Luther King Jr. Day a federal holiday in 1983, also supported an Arizona ballot measure establishing a state holiday in 1990.
The same man who was criticized by the Senate Ethics Committee for displaying "poor judgment" as part of the Keating Five scandal in 1991, also co-authored the Bipartisan Campaign Reform Act of 2002, also known as the McCain-Feingold Act.
The same man who somehow still endorsed Donald Trump for president after he mocked McCain's own service because he was captured, also later rescinded his support after the Access Hollywood tape was released.
The same man who fought for years against Obamacare, memorably cast the decisive "thumbs down" vote  July 28, 2017 against his own party's so-called "skinny repeal" bill. 
Even with all his contradictions, America and the world is a dimmer place without McCain's leadership. As one of the few congressional Republicans who seemed able to simultaneously locate his heart, brain, and spine, he will be sorely missed.