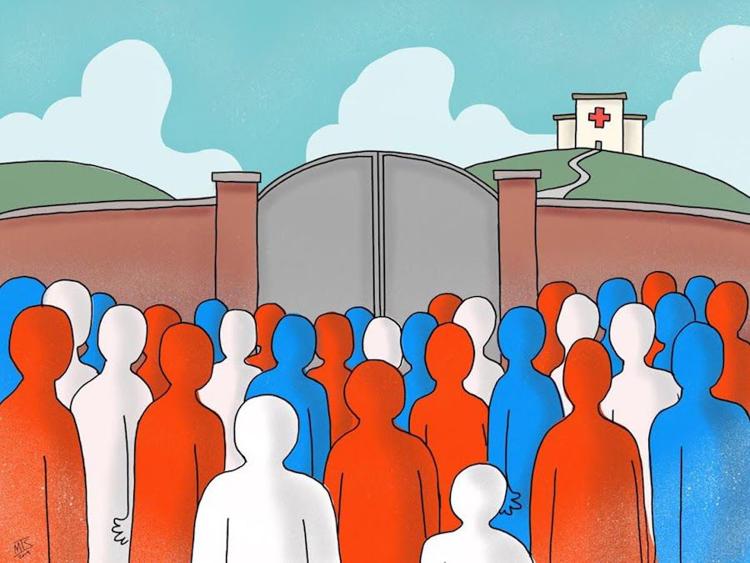 The hundreds of thousands of Hoosiers who rely on the Healthy Indiana Plan may not realize it yet, but the state's Gateway to Work program implemented work requirements for enrollees starting Jan. 1. 
This insidious initiative has been years in the making.
It was publicly rolled out Feb. 2, 2018, when Gov. Eric Holcomb and Alex Azar, U.S. Health and Human Services secretary, announced the Trump administration's approval of a three-year extension to HIP. A similar requirement was placed on recipients of the Supplemental Nutrition Assistance Program, also known as food stamps, in 2015.
Along with Arkansas, Kentucky, and New Hampshire, Indiana was among the first states given approval. Republican Kentucky Gov. Matt Bevin was sued in federal court Jan. 15 over that's state's program. After being given approval Jan. 18, Arizona became the eighth state to add such requirements.
Gateway to Work's slow-moving implementation means that starting July 1, enrollees will have to work 20 hours a month unless they are exempted or meet the requirements through an approved alternative. That will jump to 40 hours per month starting Oct. 1; 60 hours per month starting Jan. 1, 2020; and, ultimately, 80 hours per month starting June 30, 2020.
This is exactly the opposite of the direction we should be heading in this country. We need more access to health care, not more obstacles. Americans' life expectancy at birth is the lowest among comparable countries.
For the second time in three years, our life expectancy actually fell, the worst such trend in a century. The last time the trend was this bad was during the 1918 influenza outbreak.
The mentality behind these sort of requirements is, in a word, cruel.
The message is loud and clear: If you do not contribute to society at a rate we determine is acceptable, you don't deserve to live.
These Republican governors can put whatever spin they want to about the value of work, and self-esteem, but this is the baseline truth.
Ayn Rand, eat your heart out.
And, what's extra galling is that this mean-spirited campaign is emanating from the so-called "pro-life" party. What is "pro-life" about denying people access to health care? This sort of policy is "pro-death," if anything. In Arkansas—the one state where this has been chugging along at full steam since June 2018—nearly 17,000 residents have already lost coverage.
"Boy, these conservatives are really something, aren't they? They're all in favor of the unborn. They will do anything for the unborn," said the late, great George Carlin on his 1996 comedy album, Back in Town. "But once you're born, you're on your own. Pro-life conservatives are obsessed with the fetus from conception to 9 months. After that, they don't want to know about you. They don't want to hear from you. No nothing. No neonatal care, no day care, no Head Start, no school lunch, no food stamps, no welfare, no nothing.
"If you're preborn, you're fine; if you're preschool, you're fucked."