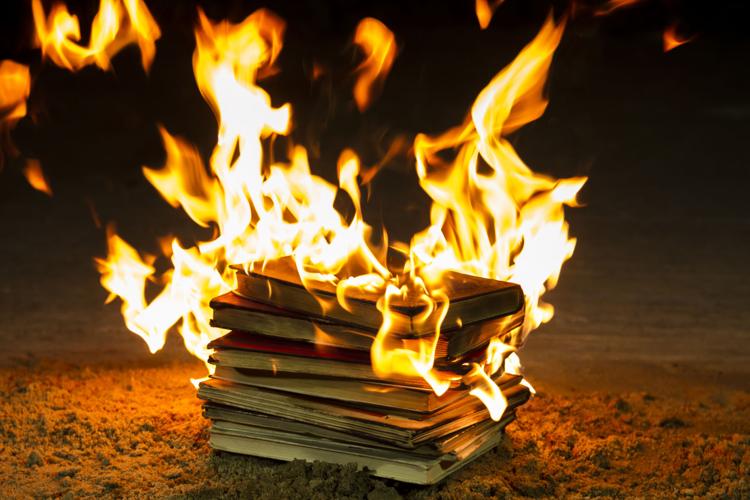 Saturday, April 13 is the final day of this year's National Library Week. In commemoration of this annual observance, the American Library Association has issued its State of America's Libraries 2019 report. This annual list showcases the ALA Office for Intellectual Freedom's most challenged books of 2018.
In 2018, the ALA's OIF tracked 347 challenges to library, school, and university materials and services. Overall, 483 books were challenged or banned in 2018, with the following comprising the top 11 most frequently challenged:
1. George, by Alex Gino
Reason: for including a transgender character
2. A Day in the Life of Marlon Bundo, by Jill Twiss, illustrated by E. G. Keller
Reasons: for LGBTQIA+ content, political and religious viewpoints
3. Captain Underpants series, written and illustrated by Dav Pilkey
Reasons: for including a same-sex couple, perceived as encouraging disruptive behavior
4. The Hate U Give, by Angie Thomas
Reasons: for profanity, drug use, sexual references, deemed "anti-cop"
5. Drama, written and illustrated by Raina Telgemeier
Reason: for LGBTQIA+ characters and themes
6. Thirteen Reasons Why, by Jay Asher
Reason: for addressing teen suicide
7. This One Summer, by Mariko Tamaki, illustrated by Jillian Tamaki
Reasons: for profanity, sexual references, certain illustrations
8. Skippyjon Jones series, written and illustrated by Judy Schachner
Reason: for depicting cultural stereotypes
9. The Absolutely True Diary of a Part-Time Indian, by Sherman Alexie
Reasons: for profanity, sexual references, religious viewpoint
10. This Day in June, by Gayle E. Pitman, illustrated by Kristyna Litten
Reason: for LGBTQIA+ content
11. Two Boys Kissing, by David Levithan
Reason: for LGBTQIA+ content
The list is usually 10 books long. But, they added an extra slot this year.
"Numbers 10 and 11 in the list were tied for the final position. Both books were burned by a religious activist in Orange City, Iowa, in October to protest the city's OC Pride event," according to the report.
After reading this, I became curious as to what books had been challenged locally. So, on Wednesday, April 10, I reached out to the Indianapolis Public Library, and a few hours later I received a response from Deb Lambert, director of collection management.
"We typically do not get challenges for a particular title more than once, and lately many of our challenges have been for DVDs," she wrote. "However, in the last three years, I can tell you that the following books were challenged: Pussy: A Reclamation, by Regina Thomashauer; Why We Get Fat, by Gary Taubes; Broken Prince, by Erin Watt; The Story of the Middle Ages, by Samuel B. Harding; and It is About Islam, by Glenn Beck.
"Sometimes patrons don't want to file a formal request for reconsideration, but want to let us know their disapproval. One example was with Calorie Accounting: the Foolproof Diet-by-Numbers Plan for a Skinnier New You by Mandy Levy (which is a humorous and sarcastic take on dieting), where the anonymous patron placed dozens and dozens of post-it notes flagging every page with what she considered an inappropriate (e.g. swear) word for this kind of book."
Say what you want about the patron who marked up Calorie Accounting, at least they took the time to crack the book open. I have no hard data to back this up, but I strongly suspect the vast majority of those who decided to challenge or straight up burn the books on this list never personally read them, but have decided no one else should, either.
To that end, I have decided to challenge myself by reading one of the challenged books mentioned above. Take the poll between now and Friday, April 19 and I promise to read whichever book is the winner.