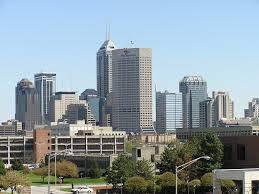 I'm just going to leave this right here:
UN Report: Indianapolis Nears Bottom for Sustainability
Just in case you're too lazy to click the link, we came in 97 out of 100 U.S. cities, down one from last year. Only Bakersfield, California, Baton Rouge and New Orleans are ranked worse. (Read full report here)
This has left me scratching my head, wondering a) why we can't do better, b) why does every single city have a poor performance ranking in Climate Action, and even a little c) how on Earth did Indy rank as good performance in Responsible Consumption and Production.
You can read more in depth about the goals that were evaluated on the UNDP web site.
The City's Thrive Indianapolis program is intended to address a lot of these issues, setting sustainability goals and creating a plan for execution – it even includes a climate action plan.
They are in the People's Planning Academy: Resilience Corps phase, creating projects and actions, right now. Will this be enough to improve not only our ranking, but our actual sustainability?
Attend an upcoming event to share your ideas (or, if you can't attend, complete their online survey):
July 18, 11 a.m. - 2 p.m. Thrive Indianapolis Pop-Up at Indianapolis Marion County Central Library
July 19, 4 - 8 p.m. and July 20, 10 a.m. 5 p.m. – Indiana Black Expo Celebration at the Convention Center
July 21, 2-4 p.m. – This is Zero Hour Climate March at 222 E. Market Street
July 22, 1-3 p.m. – Sunday "Fun"days at the Farm at 9240 E. 46th Street
What are your sustainability questions? What sustainability issues concern you the most? How does this ranking make you feel and what do you think Indianapolis needs to do to improve? What are you willing to do to help make it happen?
Those aren't rhetorical questions – please reply with your question and thoughts! 
Piece out,
Renee