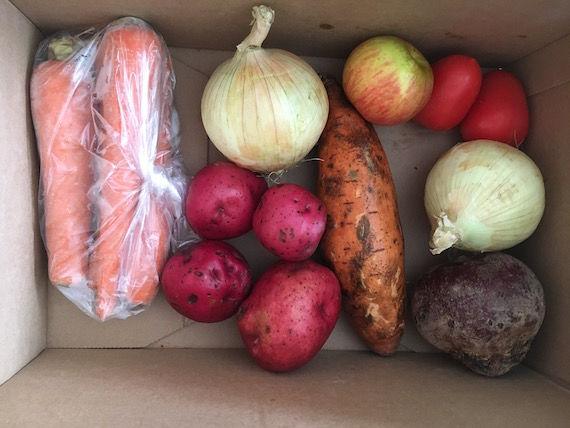 Renee,
How can we get more grocers, restaurants, shoppers and even farmers themselves to sell/buy/use imperfect fruits and vegetables? I finally started selling some of my less than beautiful produce and was glad that some customers didn't seem to mind at all. Many said that the absence of chemicals more than made up for a few scratches and dents. 
Maria
Maria,
I get it. I mean, who doesn't love finding the perfect heart-shaped strawberry, round and smooth tomato, or shiny apple-shaped apple? But you're so right, imperfect fruits and veggies are just as delicious and nutritious as their model-esque counterparts. And passing them over does not benefit us as individuals or as a whole food system. 
For those who are wondering, Maria and her husband own and operate Valentine Hill Farm. They follow organic guidelines, using "sustainable methods of cultivation that preserves the land and natural resources helping to reduce our carbon footprint." And their produce – along with that of other fellow farmers – isn't always perfect looking. 
I would venture to say, Maria, that your ugliest tomato still tastes better than a "perfect" one from the grocery store that was picked hundreds, if not thousands, of miles away before it was ripe. Readers, find her perfectly imperfect produce (along with beautiful baked goods) at Farm to Fork Market at Normandy Farms, 8602 Lafayette Rd, every Friday from 4-7pm.
Imperfect produce is such an important topic to our food system that there's now a business with the same name. Imperfect Produce will deliver a box of ugly fruits and/or vegetables to households in Indianapolis and you can even customize your delivery. They source from farms as close as Ohio, Michigan, Illinois, and Wisconsin. This is a great option for those items you can't find at a local farmer's market, like lemons and bananas. 
"By eating 'ugly,' you're helping build a more sustainable and effective food system. You're helping fight food waste. You're ensuring farmers are rewarded for their full harvest with less wasted land, fossil fuels, and water. You're improving access to healthy food." ~Imperfect Produce
Piece out,
Renee