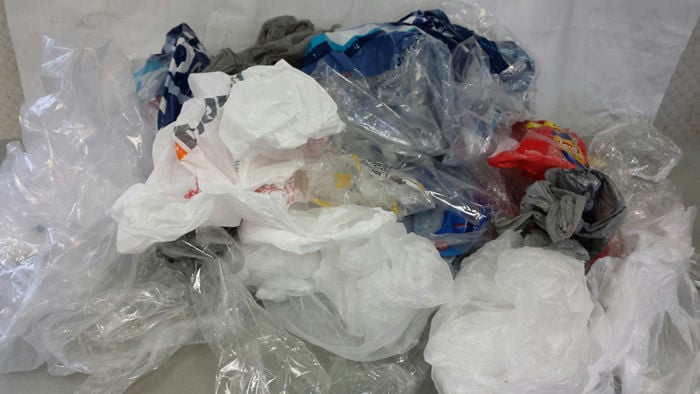 Renee, I'm confused on recycling film vs. plastic bags vs. bubble wrap or other bubble type packing that has the recycle sign with a number on it. Which goes in recycling and which gets taken back to grocery stores?  Also will our grocery stores take all sorts of shopping bags, or just their own?  I've been taking all kinds in.
Thanks!
Deb
Deb,
It's no wonder you're confused. There are a lot of different types of plastic film and the rules have changed a bit over the years. Unlike a piece of plastic in a landfill, I can break it down for you.
To start, ALL plastic film should go to a store or recycling facility that accepts this type of material. It should NOT go in your curbside recycling bin. Stores that accept plastic film include (but may not be limited to) Kroger, Lowe's, Target, Wal-Mart and Meijer. These stores will accept any film, not just their own. Other facilities that accept film include Indianapolis Recycled Fiber and RecycleForce.
Recyclable Plastic Film IS:
Plastic grocery bags

Product wrap (like the plastic covering toilet paper)

Bread bags

Plastic cereal bags

Produce bags

Newspaper bags

Dry cleaning bags

Zipper food storage bags

Bubble wrap and packing air pillows

Plastic shipping envelopes
Only recycle clean, dry plastic film and be sure to remove all receipts and other non-film materials. And, remember, it's always better to reuse items as many times as possible before recycling.
Do NOT Recycle:
Biodegradable or compostable bags

Pre-washed salad mix bags

Frozen food bags

Candy bar wrappers

Chip bags

Six pack rings
Piece out,
Renee