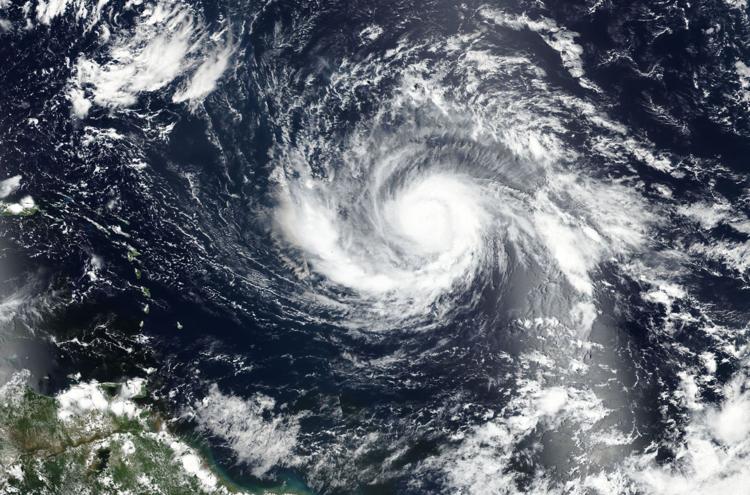 I am safe.
For those who may have been wondering, our family of two humans, two cats and two dogs weathered Hurricane Irma in our home of St. Croix, United States Virgin Islands, last Wednesday. The storm blew over our island with tropical storm level winds and rain, causing relatively minor wind and water damage. 30 miles north of us, our sister islands, St. Thomas and St. John, were devastated. We were without power for four days, other homes nearby are still without – St. Thomas and St. John will likely be without for four or more months.
For what it's worth, climate change does not cause hurricanes. But it does intensify the force of these natural events, making the winds, rainfall and storm surge more powerful and catastrophic. Increased sea surface temperatures = more energy to fuel a hurricane. 
Historically speaking, we aren't necessarily seeing more hurricanes. But their intensity and rate of intensity is most definitely growing. According to the US National Hurricane Center, from 1900 to 1949, an average of .8 category 4 and 5 storms were recorded in the Atlantic each year. 1950 to 1999, the average increased to 1.2 storms of this intensity. That number has the potential to tip 2 major storms a year at the rate we are going in the first part of this century. Yet, there are still those who question the correlation between increased population, increased greenhouse gas emissions and extreme weather events.
Many climate change deniers are now coming around to the scientific facts of climate change. It's hard to ignore higher sea levels, global temperatures, and such. Unfortunately, we still disagree on one major thing: how it's caused.
Perhaps the biggest climate change denier of them all, the administrator of the Environmental Protection Agency, says it's "insensitive" to discuss climate change in the midst of Hurricanes Harvey and Irma. Ironically, Pruitt also says the EPA should be focusing on access to clean water for those affected by the storms. I'm guessing he means plastic bottles of water flown or trucked in, rather than taking action to protect our actual waterways. 
And if you don't think what you do in Indiana affects hurricanes or other extreme weather in other places, think again. Factory farm pollution from Indiana is a major contributor to contamination in all waters downstream, including the Gulf of Mexico. The cars you drive, products you buy, electricity you use … all of it impacts the environment.
Anyway, this is more of a rant than a look at the solutions – and I'm really trying to be more positive these days! So, let's talk about the solutions – and let's start with something big. What will you do? You think you already live a pretty green lifestyle? How can you take it to the next level?
Ask me questions. Shoot, ask me the same questions I just asked you! We're all in this together and if we don't talk about it when it's smacking us upside the head, then when?
If you're interested in supporting relief efforts in the U.S. Virgin Islands, here are a few options. 
St. Croix native and San Antonia Spurs superstar, Tim Duncan, wrote a powerful essay and started a fundraising campaign for USVI relief efforts.
An Irma Relief for our Sister Islands GoFundMe was started to fund boatloads of supplies being sent from St. Croix to St. Thomas and St. John. The original $120,000 ask was raised within days and several loads have been delivered.
St. John Rescue is a volunteer group providing aid directly to St. John. Relief supplies are being shipped from Philadelphia.
An Adopt A Family sign-up is being organized to send care packages once USPS resumes service. 
Piece out,
Renee