Kia and Trey Wright share a passion for working with some of Indy's most vulnerable youngsters. Through their VOICES program, the husband and wife are enhancing the lives of youth through an expression of self, community involvement, and providing options that will empower them to change their lives.
"I just realized these kids stories and their lives are so much different—they don't have the support that I had," says Trey, who previously worked in the field of engineering. "Realizing that I could affect more kids other than just my kids was a win-win."
Founded in 2010, VOICES works to change the narrative of Indy's most vulnerable youth and families. Located at 1415 Shelby Street in Indy's Fountain Square neighborhood, the organization offers a wide range of programming, including art therapy integration, day treatment, tutoring, and after school/in-class programming.
According to Kia, the initial inspiration to start VOICES came from a genuine place of dissatisfaction with Indianapolis' juvenile probation system.
"My background is in juvenile probation," Kia says. "VOICES really just came out of frustration of not being able to give kids expression over the treatment they were receiving and the programs I was referring them to."
While VOICES differs from other juvenile probation programs in its overall approach, another major contrast is the amount of time Kia, Trey, and their staff spend with youths.
"There are tons of mentoring-type agencies, but none are spending close to 40 hours a week with a child. That's a lot of intensive work, and we're just fortunate to be in a position to facilitate that type of program," Kia says. "The state mandates that 12 hours a month is the best practice for mentoring and tutoring. So we're excited to be able to spend almost 40 hours a week [with them] because you get to learn so much."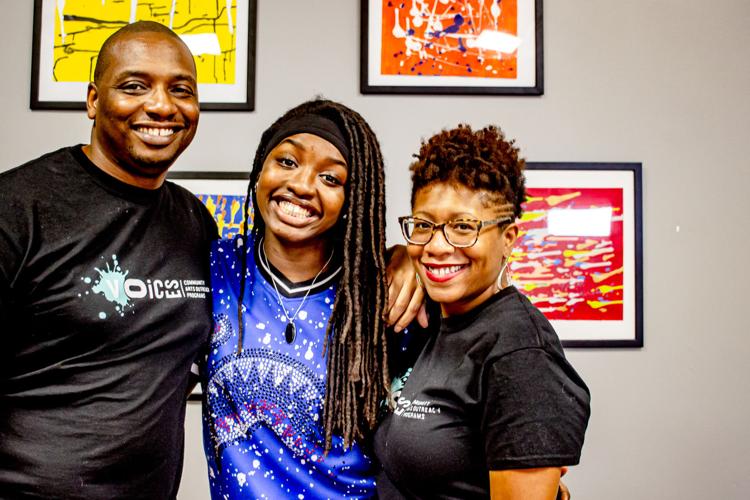 Oftentimes, the youths at VOICES come from very troubling homes. When they're in VOICES programs, however, Kia and Trey try to make them feel like they can be themselves.
"We get these cases, and it says armed robbery or possession of a handgun, and he's literally the goofiest kid ever," Kia says. "We have created this safe space where they can actually be kids. When they're in their neighborhood, they gotta put on that shell and protect themselves. So when they're with us, they get to be the goofy 14-year-olds that they actually are."
As part of their court-based, system-impacted services, Kia and Trey serve youths between the ages of 13 and 17. For their after-school programming, however, they go all the way down to age 9.
With their arts and music programming, Kia and Trey aim to meet the youths where they are. For example, VOICES has coordinated things like "trap karaoke" and a "trap and paint" night.
"We're just trying to make them realize that you can have all the fun in the world and still handle your business," Trey says. "We have some kids do a complete 180 from when they came in."
As an offshoot of their arts and music programming, VOICES has also built a recording studio, where youth will be able to record in exchange for accomplishing tasks.
"There will be drop-in hours for our studio," Kia says. "Our kids will be able to do stuff like earning credits and getting their GED for free studio time."
Like other educators, Kia and Trey often have to grapple with the fact that the youths at VOICES will eventually go back to being on their own.
"We can talk all this great stuff, but at the end of the day, they have to go back to whatever their reality is," Trey says. "We plant seeds we never see grow."
All in all, Kia and Trey just hope to leave a lasting impact on the youths they serve through VOICES.
"We hope they get to some point where the switch flips, and they're like, 'I want to do something different. I'm tired of the B.S.' And when they get to that point, hopefully they have enough tools in their tool belt to draw from," Trey concludes.