May 1 is the day that thousands of community members gather at their spiritual headquarters, located an hour outside the Brazilian capital, Brasília.  They gather to observe the Day of the Indoctrinator, one of the valley's biggest rituals.
They would be gathering there this May Day, that is, if COVID-19 hadn't forced a change of plans.
Kelly Hayes, associate professor of religious studies at IUPUI, has been studying this community since 2012, and has interviewed the principal members. She recently wrote about the rituals of the Day of the Indoctrinator in a new article just published in The Conversation: 
"As the Sun's first rays appear over the horizon, the members, in fairy-tale-like garments, chant their personal "emissions"— a ritual invocation of cosmic forces that fills the air with a collective drone. Valley of the Dawn adherents "manipulate" cosmic energies to heal themselves and others. They describe themselves as members of a spiritual tribe called the Jaguars, who are the reincarnated descendants of highly advanced extraterrestrials sent by God some 32,000 years ago to jump-start human evolution." 
But the Valley of the Dawn rituals address more down-to-earth concerns. Adherents come from all over Brazil to the Valley of the Dawn's spiritual headquarters to restore their health, heal addiction, and deal with grief.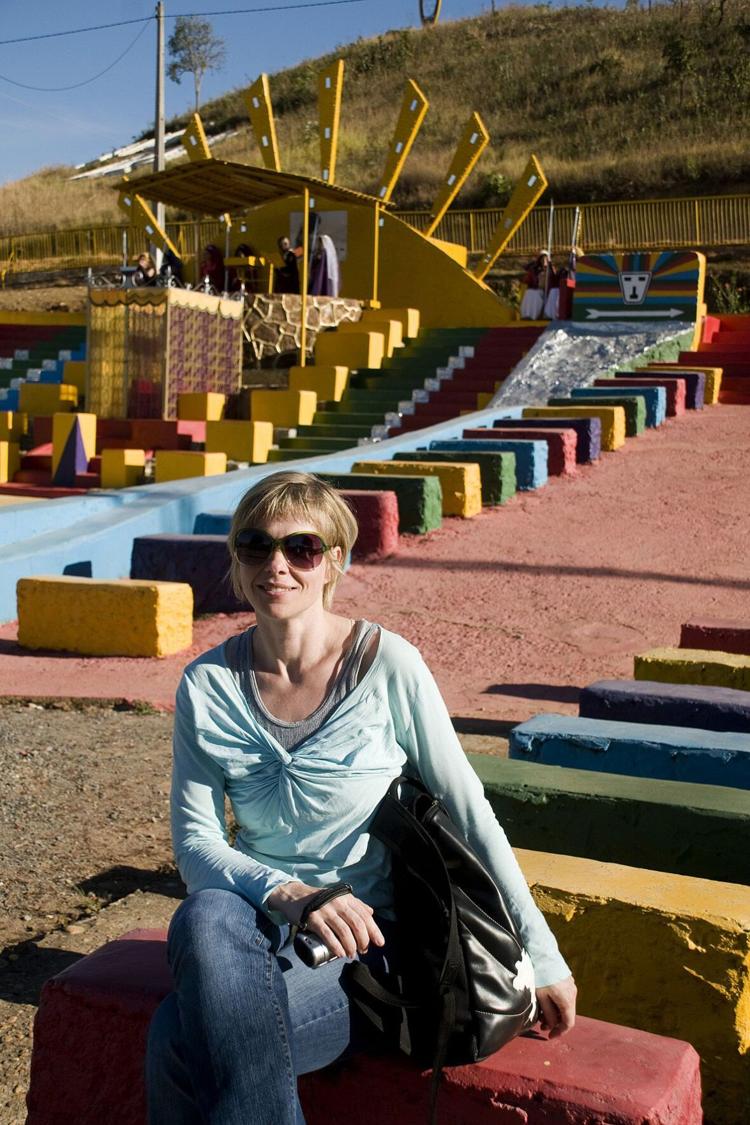 "What I heard from a lot of people who joined is that the Valley of the Dawn allows them to synthesize a lot of their own experience," she said. "With many people they start out ... raised Catholic: Along the line something doesn't make sense. And for a lot of people it was sin. Why would a good God allow suffering?"
Hayes, author of Holy Harlots: Femininity, Sexuality, and Black Magic in Brazil —  a study of religious practices relating to the Afro-Brazilian spiritual entity Pomba Gira —  has always been drawn to what's excluded from the dominant religions.  "In studying these kinds of non-normative forms of religion, I realized that they create these imagined worlds. And in seeing that operating in those religions,  it became more clear how the religions that we don't question —  and are dominant — are also doing the same thing. 
By "imagined worlds", Hayes is not referring to the texts of outlier religions. "In the case of Christianity that might be a universe in which there is a heaven and hell," she said. "And there is a figure who has been dead 2000 years but yet somehow is still alive and people enter into these very vivid imagined relationships with him, in which they feel his presence and they talk with him and they believe he intervenes in their lives …  This whole concept of imagination is important in religion, she said, and various religions are going to materialize that in different ways. And so it's really very comprehensive at the Valley of the Dawn."
Due to the coronavirus pandemic, the Day of the Indoctrinator rituals have been delayed, and may not happen at all this year. Hayes notes that there is much confusion in Brazil absent a federal response to COVID-19, noting that president Jair Bolsonaro denies the gravity of the situation, and that he recently fired the country's health minister.
"It seems like most decisions are being made at the local level, which makes things chaotic," she said.