Susan Neville is a beguiling wordsmith. Through a chainlink of tales, she parses despair back to its Latin root, tricking you into dropping the prefix 'de' so you're clinging onto sperare— as ersatz hope. What we have with The Town of Whispering Dolls is a verbal collage of landscape despoiled for a built environment where ordinary people exist for someone else's gain; gain taken elsewhere, not invested here.
In the name of GNP, people and places become dispensable. Use them up and move on. What's left is a barren dream of sperare in a sleep world where belittled laborers are duped [?doped?] into believing generational putdown is their rightful inheritance. Striving, exhorts the pulpit voice, is sinful. Stay put. Power, you're told, is yours to bestow willingly on others for their heavens on earth. And what's in it for you? Why, you get to play-act the pawn protecting the bishop, knights, nouveau riche royalty skipping blithely onto other boards, as stockholders rightfully flicking your sweat off their dividends. It's not not bluntly told as a Sinclair Lewis glyph. Neville is subtle, folksy. She charms addiction as metaphor. Game Night is pure hometown-trickster.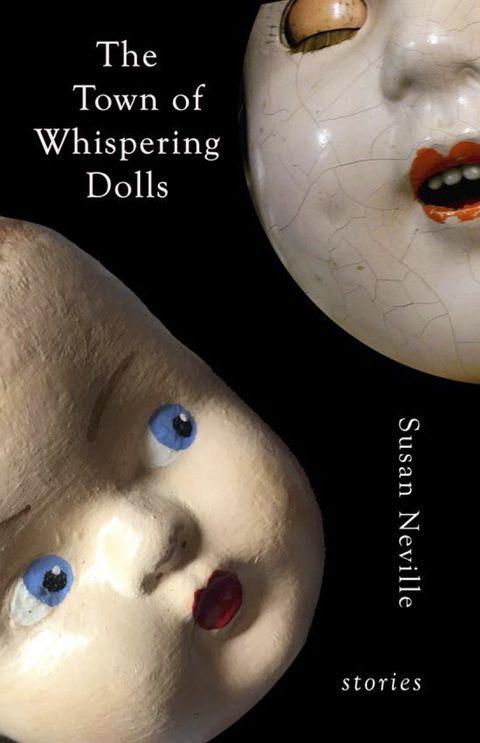 Susan Neville knows how to rage with finesse, condemn with poetic caress. She's cunning with encircling events you kind of remember from two-minute bites on the ten-o'clock newscasts a couple of years back. She doesn't name names, but you know who they are all the same. Each new story became 'the favorite' only to be so replaced by the next, until I turned to emptiness—a blank last page. Where is the replacement for 'Hunger'? With no place else to go, I turn back to the beginning; 'Grotto'—where the singing 'falls and twists in the air, peppery and sad…"
Neville knows this place. She sings its song of water still shaping the land, and she sings the trope of longing to be here before hope went elsewhere… else…where, when who wasn't looking?
If only the facts were different…but they are not.
Read The Town of Whispering Dolls with caution only on a bright sunshine day.