In recognition of Earth Day –  celebrating its 50th year – Scott Deal has spearheaded an event called Earth Day Art Model where art and technology meet online. It will take place for 24 hours straight, starting at 8 p.m. Tuesday, April 21.
You can check out the performances here.
Deal is a professor of music technology with the Purdue School of Engineering and Technology at IUPUI. He is also the director of the Donald Tavel Arts and Technology Research Center based at the school.
If you had the opportunity to check out Scott Deal perform at last year's Fata Morgana Music Festival, you would have been able to get a sense of what he talks about when he talks about telematic art. At Fata Morgana. Deal performed a piece by composer Christopher Biggs on vibraphone and interactive electronics. Other musicians integrated their performances with video and dance elements into a high-tech hybrid called telematic art. 
 "Telematic art synthesizes mediums such as music, dance, drama, and visual arts with internet-based media and performance content," says Deal. 
Earth Day Art Model will feature the Poland-based Trans-for-Matha ensemble and approximately 60 other performers and groups. Deal, who will perform a piece titled "Immeasurable Distance" by composer Elainie Lillios, didn't let COVID-19 get in the way of this online event.  
"All music performances on the planet have been canceled," he said. "But this one actually got bigger as a result of it being online. My big fear is that people will think that I dreamed this up as a result of the pandemic where I've been working on this thing for two years."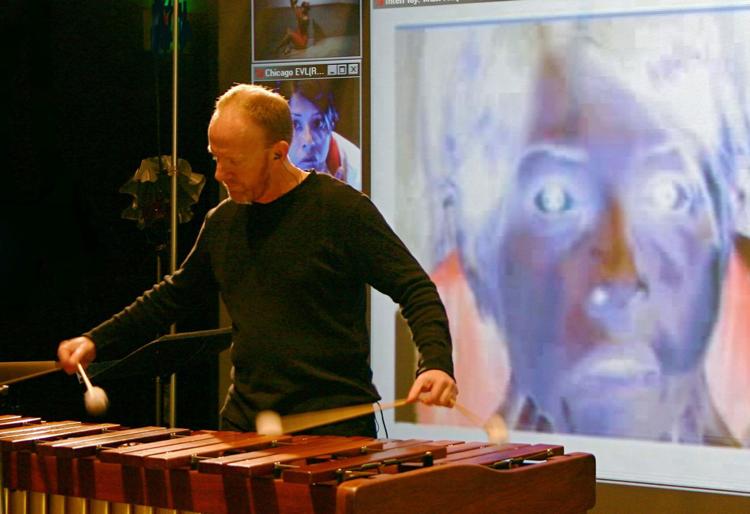 While most of the live, fixed-in-place performances for Earth Day Art Model had to be cancelled due to the pandemic, the festival established a segment called "Music in Place" to fill the gap. The artists will perform over the internet while sheltering in place from their own homes, using technology many of us have become intimately familiar with over the past two months: Zoom video conferencing software and Facebook Live.
The theme of Earth Day Art Model is "Living with the Earth." It's a theme that's apropos, notes Deal, because of it's relatively low carbon footprint. That is to say, they won't be burning carbon in order to travel from home to any particular performance space. Some will integrate into their performances "scientific data in the form of remote sensing, climate models, and field recordings".
Deal was inspired by all the artists and musicians continuing to express themselves, who continue to play and to continue and express themselves from their homes remotely, while sheltering in place, over the internet.
"This pandemic relates to Earth Day," he said. "It's a natural phenomena that's occurred as a result of human incursion into expanding humanity all over the planet. Now we're all locked in our houses but musicians are still playing and I need to capture that in the festival."