As Marion County enters stage 4 of Governor Holcomb's "Back on Track Indiana" reopening plan, there is some tentative good news in regards to prevalence of COVID-19 in the Hoosier state.
The second round of random statewide testing for viral infections and antibodies of SARS-CoV-2 —  the novel coronavirus that causes COVID-19 —  show a greater number of Hoosiers testing positive for antibodies, and fewer testing positive for active infections.  
"Taken together, this is evidence that the virus has slowed its spread within Indiana," said Nir Menachemi in an IUPUI press release. Menachemi is the lead scientist on the study and a professor in the Indiana University Richard M. Fairbanks School of Public Health at IUPUI. "We currently have more people previously infected than are currently infected."
From June 3 - 8, more than 3,600 Hoosiers tested for antibodies of SARS-CoV-2, the novel coronavirus that causes COVID-19.  Approximately 2,700 people were randomly selected for this study.  Another 1,000 participants were found in Allen, LaGrange, and Marion Counties, in "vulnerable populations," according to the press release. 
The IU Fairbanks School of Public Health and the Indiana State Department of Health released results from this second phase of the statewide random sample study of the prevalence of COVID-19 in Indiana on June 18. 
The researchers, after studying the results of phase 2 testing in comparison to the phase one results from late April, ascertained that the estimate for active infection in Indiana was 0.6 percent, a decrease from the 1.7 percent seen in the first phase. "The estimate for antibody positivity in phase 2 was 1.5 percent — an increase from 1.1 percent in the phase one results," stated the press release.
As with the first round of testing in late April, there were some disparities among ethnic groups. 
"For non-whites, the active infection rate in phase 2 was 1.4 percent —  lower than the 3.4 percent observed in phase 1 — and antibody positivity rates were 5.6 percent, which was greater than the 1.6 percent found in the first phase," the press release stated.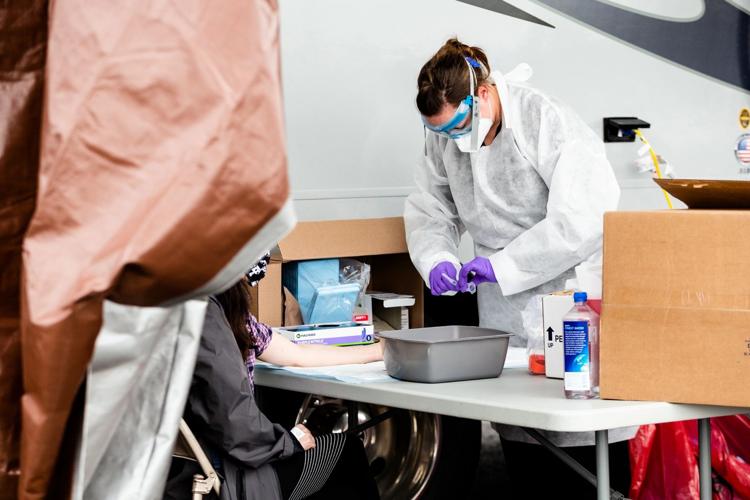 One result from both the first and second rounds of testing was virtually unchanged; In the first round of testing, in late April, 43 percent testing positive for active coronavirus infections reported no symptoms. In the second round, 45 percent were asymptomatic.   
"The reason we were able to move to Stage 4 of our reopening plan was because Hoosiers took steps to reduce the transmission of COVID-19, and these data show that those steps have worked," State Health Commissioner Kris Box said in the press release. "But we still have active transmission, and we must continue to take steps to protect our most vulnerable Hoosiers."
The question is, though, with bars, nightclubs, and cultural sites opening at 50 percent capacity —  with fewer people sheltering in place and more opportunities for people to spread COVID-19 to one another  —   what kind of results will the third round of testing yield come fall?