I was at the Herron School of Art and Design Wednesday for what might be the last time in a while because of coronavirus so I wanted to see two exhibits, Metamorphosis, by Tsherin Sherpa and Hope & Loss —  a Border Elegy by Beatriz Vásquez. 
Metamorphosis
In his work, which is rooted in the traditional art of Tibetan thangka painting, Tsherin Sherpa depicts eastern religious iconography and western consumerism butting heads. You see Buddhist deities in sunglasses, in swimsuits, and blowing bubbles.
Sherpa was on-hand, talking to a group of Herron students when I walked into the exhibition space. I caught snippets of the conversation Sherpa was having with the students, who had a lot of questions about the materials he uses: gold leaf, ink, acrylic and oil paint, and various fabrics. He talked about a particular length of red brocade hanging down on the banner on which his painting "This is not a Rorschach II" was framed. The silk for the brocade came from China; he sewed the fabric in Nepal and created the painting in California. (Sherpa divides his time between California and Nepal.)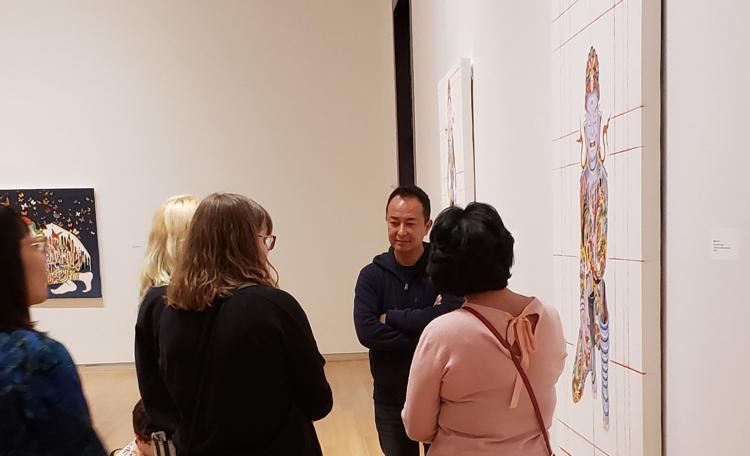 I was fascinated by the way Sherpa depicted the figures, with arms, legs, torsos, painted with dense, swirling designs, resembling body-encompassing tattoos. I was also amazed at the level of detail. When you look closely, however, it's hard to discern any particular image amidst the colorful abstraction. It made me think of viewing a landscape through a kaleidoscope. In many paintings there were what appears to be paint in the process of dripping down over the surface of this imagery. 
I asked Tsherin Sherpa about the subject of one of his paintings. I asked if a particular deity, by catching the drips of paint with his hand, was acknowledging that he was painted, not real. He seemed to ponder the question for a moment. Then he answered, "It could be," he said. "It could also be that the spirits become more and more human and the human becomes more and more spirit." 
Despite the aforementioned,"This is not a Rorschach test", many of his paintings serve as Rorschach tests. "I appreciate that people project into it," he said. "We all come with different education and backgrounds. That's why I try to talk as little about it as possible."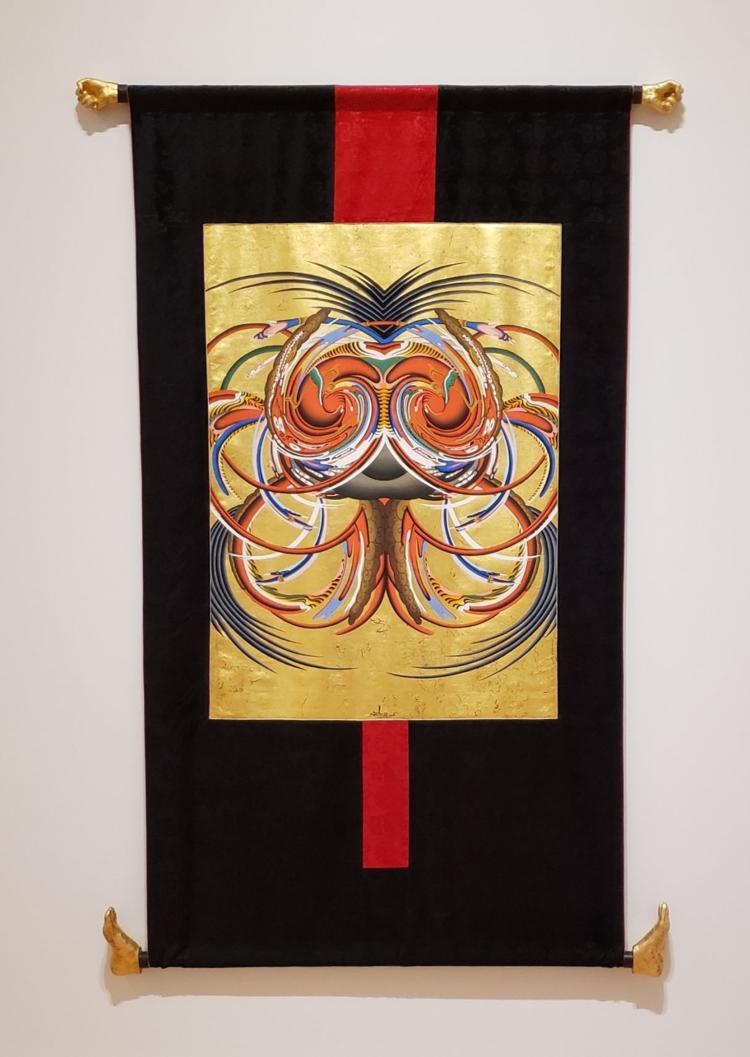 Sherpa explained that it wasn't his intention at all to make work about Buddhist religion. But on the other hand, "if we analyze everything we do, it would fall under Buddhist philosophy,"  he said.  
In the painting "Spirits (Metamorphosis)" you see two kneeling spirits, facing one another, surrounded by a crowd of butterflies, in multiple varieties. The title might allude to the butterflies, who used to be caterpillars, It could also allude to the spirits who used to be human (and might well be again).  Everything in the exhibition abounds with the wonder, and the impermanence, of life.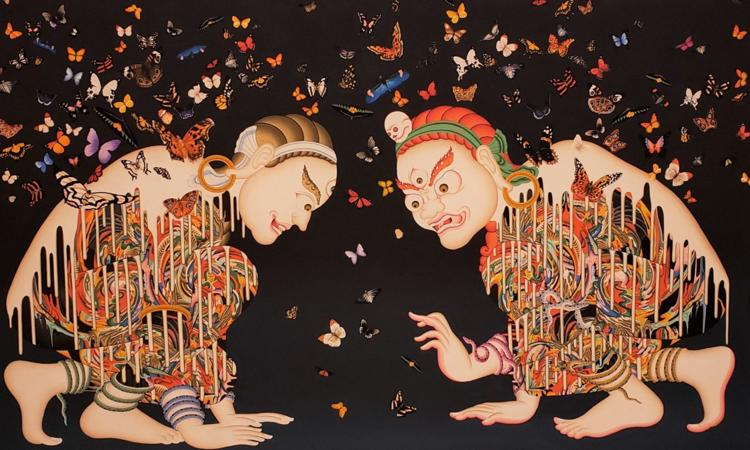 Hope & Loss —  A Border Elegy
Beatriz Vásquez also depicts butterflies in her papel picado "cut paper" art. In her large-scale, ceiling-hanging "Monarchs are Mexican Immigrants", derived from the Mexican folk art tradition, you can see the profiles of human faces — the faces of immigrants perhaps  — cut into the wings.
In her prolific work, there is a level of detail and precision that rivals that of Tsherin Sherpa. But the paper that she cuts with an X-Acto knife is a much more unforgiving medium than paint on canvas. Her work is sharply political. In "AOC" you see, in the space cut from black paper, an image of Congresswoman Alexandria Ocasio-Cortez along with the words  "We conveniently forget that large, massive swaths of the United States used to be Mexico ..."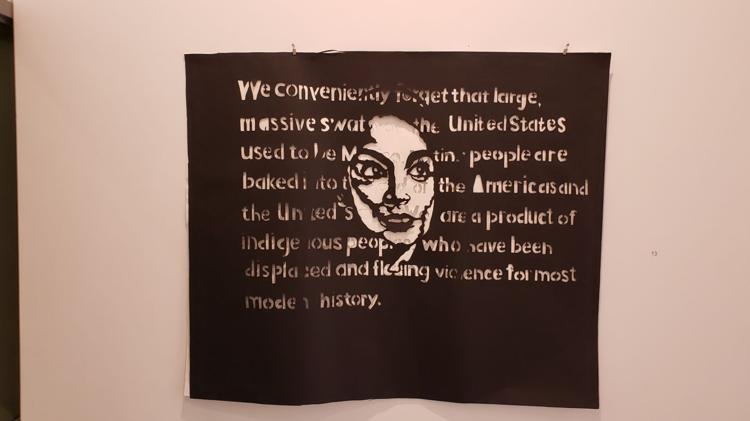 She also addresses the dehumanizing immigrant detention centers along the border. This is what you see in the ceiling-hanging "La Perrera, The Dog Pound, ICE Terminology for Human Cages."  In "Tejas // Mexican Border ", on you see whole communities carved up into vertical rectangles — in the shape of the border wall prototypes that were erected along the border in 2017. Cut into the black paper are depictions of churches, gardens, carpentry shops —  the cross-border communities affected by punitive U.S. border policies.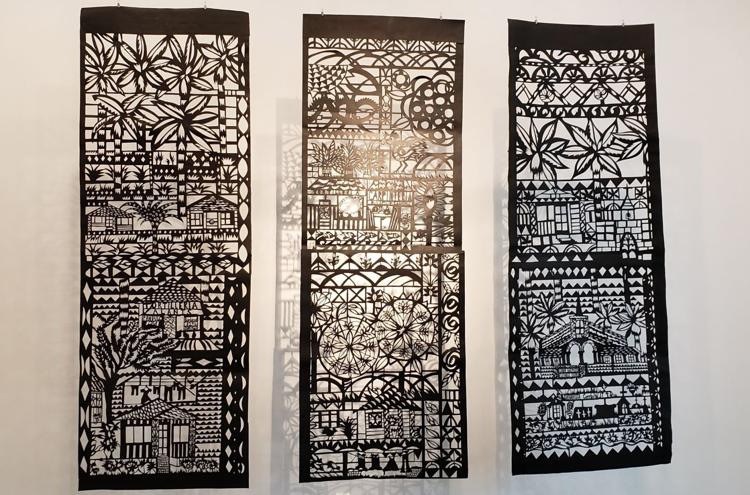 Not all of the work employs negative space. Often she uses layers of differently colored paper to achieve her effects: in "Monarch Sanctuary" you see a monarch butterfly depicted in the familiar patterns of yellows, reds, blacks, and white spots, surrounded by an abundance of flowers. Vásquez is, I think referring here to the National Butterfly Center in Mission, Texas which is threatened by the construction of Trump's border wall.  
Vásquez, a 2006 graduate from the Herron School of Art & Design, was born in Brownsville, Texas, and while growing up, she heard many stories about the hardships faced by immigrants. 
"Through my 2019 residency with the IUPUI Arts & Humanities Institute," she wrote in her artist's statement, "I returned to the southern border and my birthplace in order to investigate immigrant detention centers, document the voices of immigrants and asylum seekers, and to experience a homecoming with mi familia, on both sides of the border.  During my two-week artist residency there, my hosts were my own family. Mi Tio (uncle) Hugo and mi Tia (aunt) Olga drove me daily across the border into Matamorros, Mexico to learn about the issues surrounding the many hardships of asylum-seekers."
Concision, fragility, and political urgency  — these are the hallmarks of Vásquez's work.  
"In order for me to create, I cannot just create pretty pictures" she told me when I talked to her at her other (concurrent) exhibit at Gallery 924, "I have to come up with something with meaning."