Beatriz Vásquez was born and raised in the border town of Brownsville, TX, and has lived in Indianapolis for more than 25 years. But she also has spent time on the other side of the border, in Matamoros, Mexico.
So it's no surprise that her papel picado (cut paper) art, on display at Gallery 924 through March 27, straddles both sides of the border. Her exhibit, Feminine Bloodlines, Mexican Womanhood: Erasing Submissiveness, contends with both history and the present day, from the Aztecs to ICE.  Vásquez will also have a solo exhibit of her recent work titled Hope & Loss —  A Border Elegy at the Herron School of Art & Design's Marsh Gallery opening March 11. [Note: All events associated with this exhibition have been cancelled due to the coronavirus pandemic.]
"My practice was born out of a necessity to find identity," she writes in her artist's statement. "The process of creating became the most important part of the artwork. "Focusing on my well-being was critical to begin creating for social change, racial equity, and human rights. My healed spirit allowed me to become an artivist."  
There is a paradox in her art, deriving from a widely practiced decorative craft in Mexico, which involves cutting designs into paper with a knife — and can be a painstaking and exacting process. Her works, while physically fragile, often portrays strong personalities and enduring spirits. One of those portrayed is a great aunt, "Adelita Cardota" who had a part to play in the Mexican Revolutionary War. 
"The military would steal the women," says Vásquez, "And they would turn them into basically their servitude. They would cook ... everywhere they would go they would take the women with them ... They didn't have  any other choice but to follow them … but they also became guerrillas … They would learn how to shoot, how to fight."
Vásquez says of her aunt, "She's the only badass woman that I know in my long line of feminine bloodline. Other than me."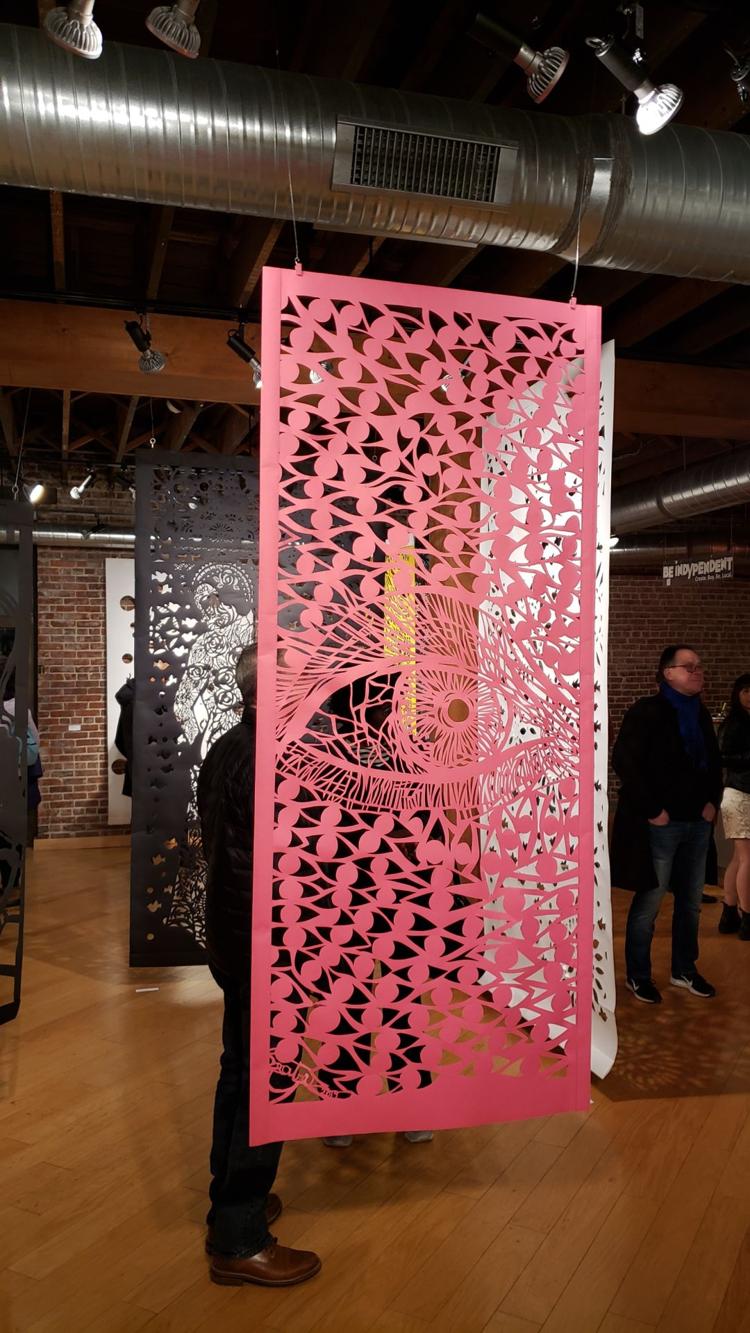 But other works of papel picado bring us into the contemporary reality of the Trump administration's war on immigrants. There is a ceiling-hanging work showing a cage, like the kind immigration and customs enforcement uses to warehouse Mexican refugee children. And there is a piece titled "Eyes for Ice" which gives a sense of the paranoia of those in the Latinx community who are undocumented or who have friends and family who are undocumented, always having to look over their shoulders for plainclothed Immigration and Customs Enforcement (ICE) officers.
Vásquez is a 2006 graduate of the Herron School of Art & Design. You may have seen an image of her work "Santa Frida" — which depicts Frida Kahlo as a saint — while driving around Indianapolis. In 2017-2018, she was a participant in the High Art Program, administered by the Arts Council of Indianapolis, which gives select artists the opportunity to display their art on billboards throughout the city along major thoroughfares, and particularly along I-465. 
Vásquez was able last year, through a residency with the IUPUI Arts and Humanities Institute, was able to see her family in Brownsville, Texas for the first time in 15 years. That visit informed her current work at Gallery 924.
"The residency gave me the opportunity to go back to the border and see for myself, what was happening is happening," she says. "It gave me the opportunity to speak to some immigrants that are asylum seekers and for me that was very important. It was also a homecoming for me."