Debra Des Vignes, founder and director of the Indiana Prison Writers Workshop, is always rooting for the underdog. Her family was often on the move during her youth, changing addresses every three or four years. 
"I felt like a nomad and an outcast most of my life, the new kid on the block, the new kid in school," said Des Vignes.
Des Vignes got her start as a TV reporter at ABC-7 in Los Angeles in the early '90s. This job required that she move frequently. She found herself "embedded" in various police departments as a crime reporter.
"I was so used to being a reporter and telling the stories law enforcement angle," she said. "But I knew there was more to the story. Having left the field TV news, now working in nonprofit communications, I called one of the facilities and asked, 'Are you looking for any volunteers?' And all the Indiana Department of Correction facilities are in need of volunteers." 
Des Vignes described the first time she entered the Plainfield Correctional Facility, in the summer of 2017, in order to teach a victim impact class.  
"You could hear a pin drop as I walked down the halls to meet the men in the class, " she said. "The first couple times you do it, it's just surreal; drab walls and they're all in Department of Correction jumpsuits. And then when you meet the men, there's laughter and there's joy —  you learn about everyday life in prison. You're hearing about the bunkmate conversations, the chow hall, solitary confinement, how they oftentimes feel alone, but are essentially are not alone."
The victim impact class that she was teaching had a pre-designed curriculum but she didn't stick to the script.
"I decided to ask the guys to write something —  write a letter, just get their creative thoughts on paper," she said. "What I realized is that there was a lot of raw talent in the room that had not been challenged. There was an interest in writing and expression. And so after that, I developed a program, the Indiana Prison Writers Workshop program; I met with some local authors and writers and developed a 12-week curriculum, turned it into a 501(c)(3) nonprofit, filled out the required paperwork on a board of directors. All that set it in motion." 
The Indiana Prison Writers Workshop was incorporated and recognized as a nonprofit in 2018.
On Nov. 8, Des Vignes took part in (Writes) of Passage, Moving Beyond Incarceration, a Spirit & Place Festival event. Other sponsors included The Indiana Women's Prison History Project and the Inside-Out Prison Exchange Program.  Des Vignes, who is a community scholar with the IUPUI English Department Writing Program, is also part of the Prison Education program, one of the incubator projects being developed through the IUPUI Arts & Humanities Institute.
(W)rites of Passage, which won Spirit & Place's 2019 Award of Awesomeness, took place at The Church Within. During the program, former inmates read aloud both the work that they had written, as well as the work of other program participants who are still incarcerated to a packed audience. 
One of those workshop participants, Phil Roberts, read a short piece about seeing his daughter for the first time after being incarcerated for two years.  During his incarceration he dreamed that she would recognize him, but this was not to be. After he stepped into the house of his daughter's mother, he saw his daughter at the kitchen table: "I take a few steps toward her and say, 'Can Da'da have a hug?' She runs off, scared, as if I am a complete stranger. Her mother encourages her to give me a hug. She replies, as tears well in her eyes, 'But, I don't want to.'"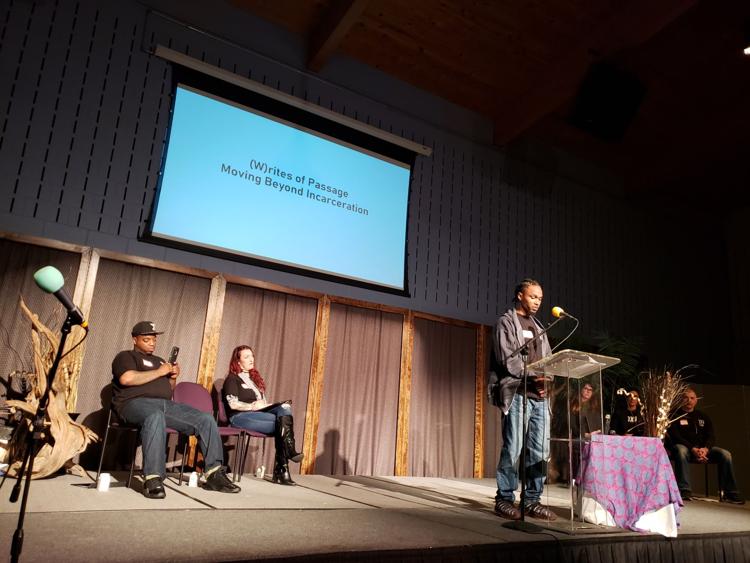 After the event, Roberts talked about becoming involved in the Indiana Prison Writers Workshop.
"I met Debra at Plainfield Correctional Facility where I was serving two years," he said. "There was a message that came over the message system to ask  if anyone was interested in joining a creative writing class, so I joined the class, and the class was every Sunday. From the first class, she gave us a writing prompt that said, "If you were a bird, where would you go? What type of bird would you be? Who would you go see? Would you fly alone with another flock of birds?" She gave us 15 minutes to do that writing prompt and I looked out the window. When she said go, I just disappeared.  Really, It was like a sense of freedom. I mean, I turned into that bird and it gave me life."
Roberts took the workshop in 2017 and was released on Oct. 1, 2018.
Said Des Vignes, "The first week he was released, I was able to be in contact with his family through an art function that we had, and he was able to reach out to Indiana Prison Writers Workshop. So I had lined up for him several speaking opportunities and different functions around town we spoke at several on incarceration."
Indiana Prison Writers Workshop also helped Roberts during his transition to life outside the prison.  
"I felt like without this class, I wouldn't have had the confidence to even try to write a cover letter so it really helped me out a lot," said Roberts. "When I did eventually write one, I handed it to Miss Deb. I had let her proofread it and she was like, 'Oh man this is this is almost too good you know so and it really did help me a lot. I ended up getting the job."
He is currently employed in a plastics recycling facility.
The Indiana Prison Writers Workshop has received help from numerous nonprofit organizations and volunteers from the central Indiana community. This support comes in the form of curriculum development, financial support, inmate instruction, and publishing  work of current and former inmates.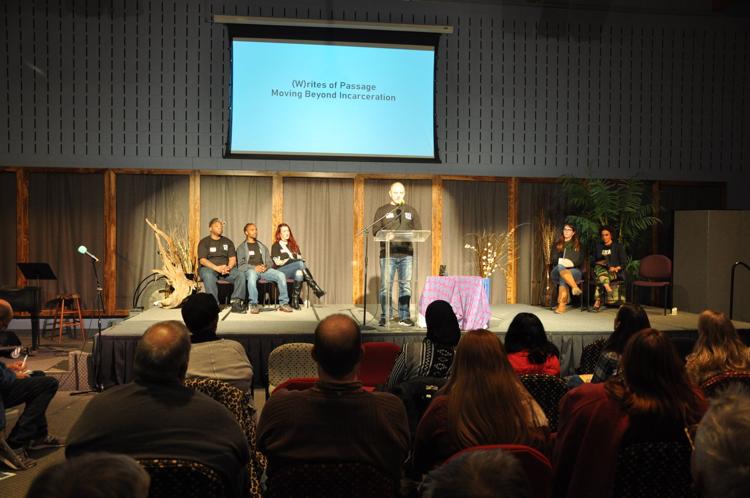 Partners and supporters include Flanner Community Writing Center, The Sun Magazine, IUPUI Arts & Humanities Institute, Indiana Writers Center, Central Indiana Community Foundation, and the Kurt Vonnegut Museum & Library.  
Des Vignes emphasized that (W)rites of Passage was a collaborative endeavor.  
"We let the offenders really, in a way, run the event, letting their voices be heard, but also helping by attending planning meetings," she said. "It was a nice collaborative effort with Inside-Out Prison Exchange Program and Indiana Women's Prison History Project. And so, the three entities, including myself, were able to compile great stories, and then pick the ones that we thought would really work for the event."