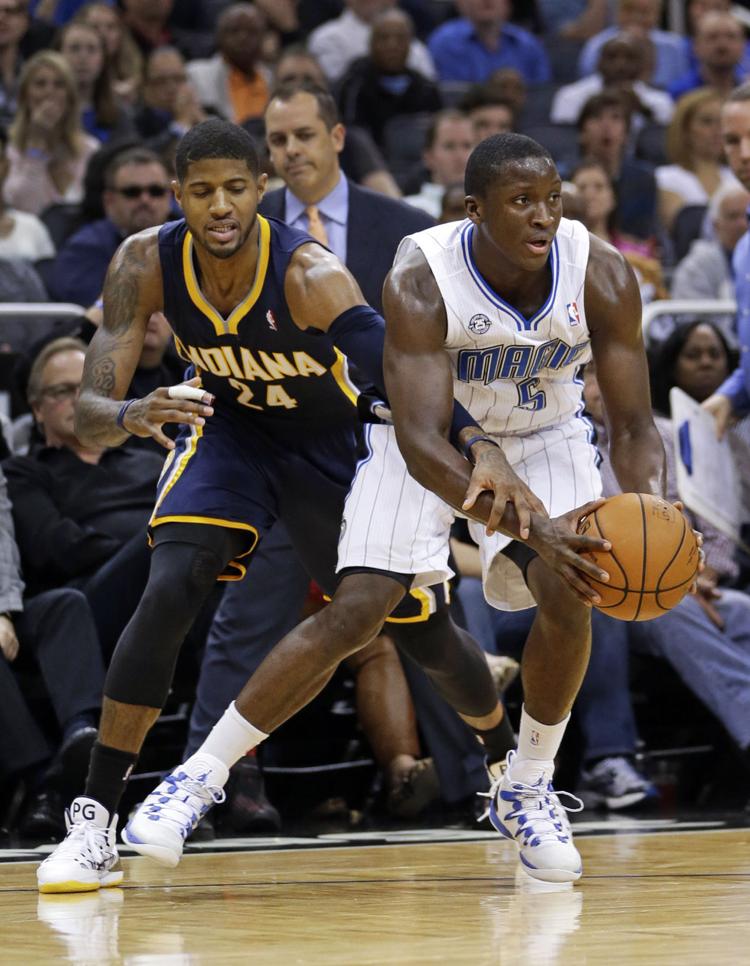 I'm upset, and I'm puzzled.
I'm upset because after nearly two weeks of constantly checking my phone and refreshing Twitter for updates on the Mexican standoff between the Indiana Pacers and the rest of the NBA, the news I'd been waiting for broke while my phone was turned off in a movie theater.
Paul George, the most talented player in Pacers history, traded on the eve of NBA free agency to the Oklahoma City Thunder
That's why I'm puzzled.
I'm puzzled because this move comes out of nowhere. Because Oklahoma City was supposedly never on the radar, never a consideration. Because only the Celtics, Lakers and Cavaliers had the ear of Pacers president Kevin Pritchard. The Celtics supposedly had the right pieces to make a deal, the Lakers had George's heart, and the Cavs had the attractive gravity of LeBron James.
And then along comes Thunder general manager Sam Presti, who had the audacity to move like a silent fart and pull off a deal that likely won't smell right to Pacers fans for quite some time, if it ever does.
For shipping out its perennial All-Star and franchise cornerstone, Indiana gets back popular IU alum Victor Oladipo as well as Domantas Sabonis, a young Lithuanian-American prospect who spent his rookie year with Oklahoma City before being dealt to the Pacers.
For the Thunder, Friday's trade was a coup. They get another dynamic talent to pair next to the newly christened MVP in Russell Westbrook and dump more than $84 million in guaranteed salary in the process. George, who has made his affinity for his native Los Angeles known, has one year left on his deal. In the likely case he winds up with the Lakers in 2018, the Thunder will still have cap space and flexibility to continue their pursuit of adding talent around their star point guard.
Indiana, however, pays a costly price to begin its rebuild. Oladipo's contract is worth $84 million over the next four years while Sabonis in entering the second year of his relatively paltry rookie deal -- he'll make just north of $2.5 million this season.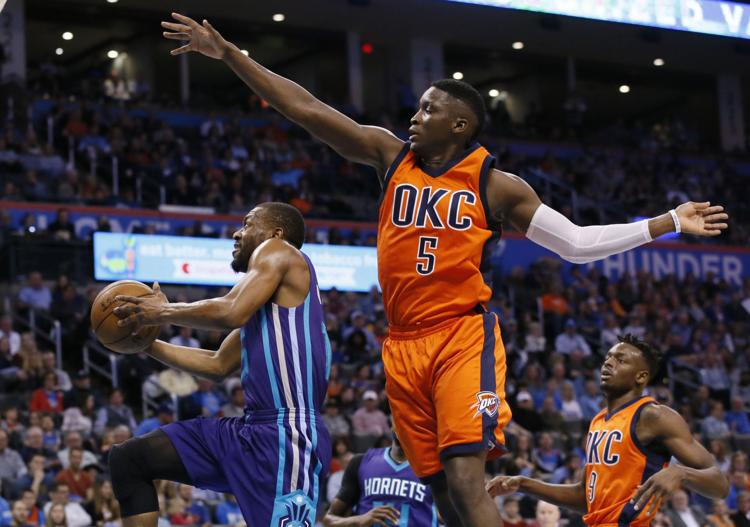 Oladipo and Sabonis are the kind of players Pritchard covets for this team. They're young. Oladipo turned 25 in May, the same month Sabonis turned 21. Both are athletic and bring versatility to a roster lacking in both. Oladipo, the No. 2 pick in the 2013 draft, is a streaky offensive threat with a pugnacious defensive presence. Sabonis, picked No. 11 a year ago, is still developing but fits a need as a possible stretch four alongside rookie T.J. Leaf.
Both fit the blueprint issued by Pritchard. The former is a possible All-Star while the latter could develop into a worthy rotation player if given the playing time and patience to grow.
But I'm still puzzled, though.
I'm puzzled as to why the market was this anemic for George.
Make no mistake, Pritchard wasn't in the best position to negotiate. The minute Paul George's agent made it known his client was hell bent on signing with the Lakers next summer, the Pacers saw much of their leverage in any potential deal vanish.
But George's value didn't vanish to zero. There were plenty of other real suitors who could have offered more on paper. The Celtics have a stockpile of picks from other teams -- including Brooklyn, the Lakers, Memphis and the Clippers -- as well as savvy vets on cap-friendly contracts and young players who could develop alongside the young center, Myles Turner.
But they weren't willing to play ball, at least not to Pritchard's liking. Though Celtics GM Danny Ainge reportedly offered three first round picks, forward Jae Crowder and another starter, none of those draft rights were for the highly coveted Nets or Lakers picks that surely would have sweetened the pot for Indiana.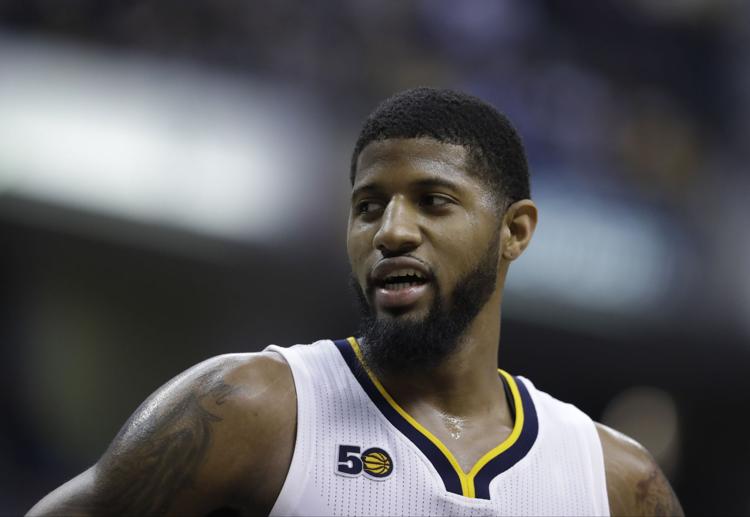 Now the Celtics are into another summer where a blockbuster move isn't made due primarily to the stinginess of Aigne, who'd rather hoard assets than turn them into something useful for a team ready to win now.
The Lakers, who would have been wise to make a deal now rather than risk George changing his mind sometime during the next 12 months, didn't have enough to offer, either. Their 2018 first round pick could end up in Boston, and this year's second overall pick that became Lonzo Ball was never a realistic option for Indiana. The best L.A. could muster was the underwhelming platter of Jordan Clarkson (I'll pass), Julius Randle (can he guard stretch fours?) and the 27th and 28th draft picks (useless and even more useless).
But the Lakers were stingy, too. They were unwilling to trade second-year forward Brandon Ingram and instead bank on Paul George not changing his mind by next summer when the Lakers can sign him outright. Is Ingram really worth risking the possible loss of George?
Other teams were interested in George, no doubt -- including the desperate Denver Nuggets. And rightly so. He's one of the 15 best players in the league, a defensive dynamo with an offensive game that was never quite appreciated thanks to nearly a decade spent playing on Pacers teams who underachieved on that side of the ball. He's a sneaky good rebounder for his position, an excellent long range shooter and a capable enough passer.
But the best Pritchard could muster was Oladipo and Sabonis. Two players that will never be as good as George in his prime. No other draft picks, no cash considerations, not one more young prospect. The cries will come from Pacers fans regarding the meager haul Indiana received for their king-sized bait. But this is what happens when a player uses his agent as a mouthpiece to zap leverage from the table. Pritchard isn't stupid. If there was a better deal to be made, he would have already pulled the trigger. Friday's deal is the best he could muster from a bad situation he didn't create.
Where do the Pacers go now? The same direction they went with this trade: younger, faster, tougher, more versatile. Such terms concern broad strokes instead of finer points, but that's what rebuilding is. It's the act of acquiring assets regardless of exact fit while planning for the future. It's about making moves to set up future moves. Worrying about the smaller details on the roster is a luxury allowed for teams who only need care about fine tuning. For the post-PG era Pacers, stockpiling pieces is the top priority. Winning will have to wait.
And they have more pieces than they did this time two weeks ago. Before the draft, Indiana's cupboard was rather bare. George and Turner were the only players of any significant value on the open market.
They've since added Leaf and Sabonis, a pair of 3-point shooting bigs in a league that requires all big men to shoot. Don't forget second round picks Ike Anigbogu and Edmond Sumner, the very kind of low-risk, high-reward players GMs have to take a chance on late in the draft. If they don't pan out, they're added to the long list of forgotten NBA misses. If Pritchard strikes gold, Indy gets a genuine asset on the cheap.
There's also Glenn Robinson III and Lance Stephenson, a pair of young, athletic wings that won't help you win now but are entertaining enough to get fans in the door and believe the future might just be bright enough worth sticking around for. Not to mention Indy's 2018 draft pick that will likely sit inside the Top 10.
The Pacers' days of contending for a championship with Paul George ended the moment George snapped his leg in half in 2014 during a Team USA scrimmage. The team has since existed in no-man's land. Not good enough to win. Not bad enough to bother improving their draft stock.
So here is Indiana, at the dawn of a new era with several players more or less on the same timeline as Myles Turner, the new face of the franchise and the new reason for hope at Bankers Life Fieldhouse. Though it may not be as fresh a start with as bountiful a harvest as some Pacers fans imagined, it's a new start nonetheless.
I remain puzzled. But hesitantly hopeful, too.