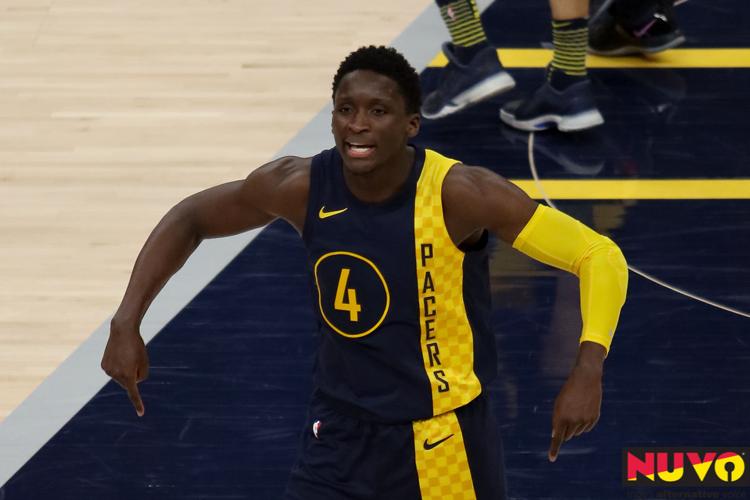 Victor Oladipo sat stoically at the postgame press conference podium following a 98-80 Game 1 win against the Cleveland Cavaliers in the first round of the NBA playoffs. When asked what the world might be saying about his team's dominating performance, he had a simple, pointed response.
"I have no idea, and I really don't care," said Oladipo, who led all scorers with 32 points in the convincing Game 1 win. "I'm just focused on my team and focused on this series, taking it one game at a time."
Although hometown fans are fully aware of the magic that is this year's Pacers squad, much of the world may have gotten its first taste of the team during the first round of the playoffs on Sunday. Who can blame them given that the Pacers only had one nationally televised game during the 2017–2018 NBA regular season, while the Cavaliers, on the other hand, had 39.
Nevertheless, the team played with the same grit in Game 1 that fans have come to expect all year. There are no plans of slowing down throughout the rest of the first-round matchup with LeBron James and company either.
"We've been playing like this all year," Oladipo said. "It just hasn't been magnified. Now everybody sees it, so it's kind of shocking to everybody, I guess you would say. But we've been playing our butts off on both ends of the floor all year."
Pacers v. Cavaliers
Victor Oladipo led the Pacers to a 106-102 win against the Cavaliers in December. 
Expectations for the 2017–2018 Pacers were rather low from the general public after the team traded away Paul George over the summer in exchange for Oladipo and Domantas Sabonis. In fact, Cavaliers owner Dan Gilbert even criticized the Pacers' trade, saying that the team "could've done better than it did" with who they acquired in the deal. Although the remarks were made last summer, they have now resurfaced with the playoff matchup, and Oladipo is still fully aware of what was said.
"I guess you could say he added fuel to the fire, but that was so long ago," Oladipo said. "I mean, it came up recently, obviously, because we're playing the Cavs in the series. But I'm aware of what he said. I can't control his opinion. All I'm focused on is myself and becoming the best Victor Oladipo possible."
Something that's helped Oladipo reach All-Star stature this season for the first time ever has been the support of head coach Nate McMillan. "Nate's been believing in me since I got traded to the Pacers," Oladipo said. "The first conversation I had with Nate, he was telling me how he believed in me and how he was going to expect a lot out of me. In my entire career, no one has ever done that." In many ways, it would seem that Oladipo's focused mentality stems from his coach.
"We haven't been paying attention to what people have been saying all season long," echoed McMillan in his postgame news conference following the Pacers Game 1 victory. "It's a new season for us, and we're not listening to what folks are saying in this postseason."
Looking ahead to the rest of the Pacers' first-round matchup with the Cavaliers, the play of Myles Turner appears crucial to the team's success. In their Game 1 victory on Sunday, Turner certainly came to play, scoring 16 points with eight rebounds and a blocked shot. "Myles did a great job on both ends of the floor," Oladipo said. "He screened at a high level, rebounded at a high level, played defense at a high level. We need him to do that all series. He played well today. Now, he's gotta build on it."
With such a young roster, it will also be imperative that the team stays composed during difficult stages of the series, especially with King James on the opposing bench.
"This team is a young team—we've got 10 new players [on the 2017–2018 roster]," McMillan said. "They've been pretty calm and poised throughout the season. This is something we condition ourselves for. We talk about being calm, clear, and connected every single night. In a situation like this where you're going into postseason basketball and you're going up against Cleveland, LeBron, and all the things that he's done, it's gonna be emotional."
The atmosphere at each of the upcoming first-round games between Cleveland and Indiana will surely be nothing shy of electric. After a Wednesday, April 18 night matchup with the Cavaliers, the Pacers will then bring the best-of-seven series back home to Bankers Life Fieldhouse, with Games 3 and 4 on Friday and Sunday respectively.