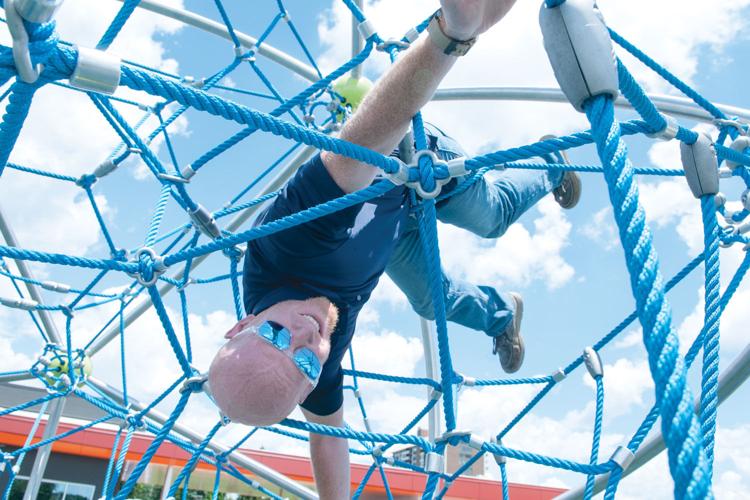 If you've been to a professional sporting event in Indianapolis anytime over the last 15 years, you've probably seen Jonathon Jones. You might have given him a high-five or had your photo taken with him. He may have sat in your lap, dipped you for a smooch or even twerked in front of you. You've probably followed his direction to cheer for the home team or chanted "de-fense" according to his signs.
Jones was with you every step of the way and you didn't even know it.
How is that possible? 
Jones has made a career of being a professional mascot in Indianapolis.
As fans, we never really think about the person inside doing all of the work. The characters are as much a part of the game experience as the game itself. But deep inside that character is a person who takes it all for the team.
Becoming a mascot
Jones grew up in Texarkana, Texas, a town that straddles Texas and Arkansas. He had zero intention of being a mascot when he started his freshman year of college at the University of Arkansas. But a smartass friend and a simple campus announcement changed his life forever.
"[At] freshman orientation, a buddy from high school comes up and we're walking down the sidewalk and we see sidewalk chalk announcements," recalls Jones. The messages were advertisements for campus activities and tryouts, including auditions to be one of the school's mascots. "We see announcements for tryouts and  [my buddy] looks at me and goes, 'Hey you're stupid, you should go try out for that.'"
Jones admits he went ahead and tried out as a dare of sorts. What he didn't expect was to try out and make the cut.
And, at first, he really didn't want to do it.
"So they had this big meeting in Bud Walton Arena [the Univ. of Arkansas basketball venue] and I thought I was going to quit. I was going to tell the cheer coach that it wasn't going to work out," says Jones. "And then about 30 blondes and brunettes in spandex come walking in and the coach says, 'this is the cheerleading squad you're on.'"
It didn't take much for him to reconsider the opportunity.
Jones became "Big Red," the razorback mascot, for the women's sports department.
Jones thought he would only commit to the role for a year. He was, after all, a freshman who had auditioned for the role as a dare from a friend. But that dare became a way of college life for Jones. He was the mascot on the cheer squad for all of women's sports, which put him in "character" all year long. And that one year commitment soon turned into two years.
Jones had originally declared engineering as his field of study at Arkansas, but then realized he hated math.  In his second year, Jones injured his ankle in costume during a women's basketball game. As a mascot, Jones was a part of the athletic department and since the injury happened during a basketball game, the school's athletic trainers handled his treatment and rehabilitation.
"So [I was] in the training room watching everything going on and [I realized] I love this. And I picked it up immediately," remembers Jones.
He changed his major from engineering to athletic training.
"In women's sports, there was usually a big waiting list to get into the program," says Jones. "But since they knew me from the character, they said, 'Yeah you're in.'"
Jones became the assistant trainer for the women's sports teams. His days consisted of academic classes until 2 p.m. then pre-game athletic training (rehabs, ankle taping, etc.) with the women of whatever team was in season. Once the female athletes headed to the field or court, Jones would head to the locker room to become Big Red. After the games he went back to the training room for post-game assistance. And to top off the evening he would clean the arenas to earn extra money. 
That second year of college changed Jones' life in another way. It was the spring of 1998 when Arkansas' women's basketball team defeated Duke in the West regional finals to go the Final Four of the NCAA Championship. The West regionals were held in Oakland, California that year. As the official mascot of women's sports, Jones went too. The 9th-seeded Lady Razorbacks were celebrating their 77-72 victory over the No. 2 Lady Blue Devils. That night also turned out to be a big win for Jones.
"At one in the morning we get back to the hotel and I just happen to run into the athletic director, Bev Lewis, and she's like, 'What are your plans for next year?'" recalls Jones.
He told her that he wanted to continue as a mascot, but maybe move to men's sports like the football and men's basketball teams. Arkansas' athletic program at the time was divided with different athletic directors for men's and women's sports. Lewis — as leader of the women's side — had a different idea.
"Well if you stay [with women's sports], we'll give you a full ride," was Lewis' response to Jones' idea of leaving to mascot for the men. Jones didn't take too long to see the opportunity laid before him.
"I remember thinking 'I can pay for school and hang out with a bunch of guys or I can have school paid for and hang out with a bunch of women,'" says Jones. 
And just like that, Jones had college paid for, thanks to Big Red and the women's athletic department at Univ. of Arkansas.
Jones had certainly made an impact as Big Red. Jeri Thorpe, Associate Media Relations Director for the university, remembers Jones back in the day.
"He had a way with the character, the fans and everything," recalls Thorpe. "It was like he knew the opponent, knew their weakness or what would bother them and then bring along a prop or do something to antagonize them. He was really good at it." 
From College to the Pros
Jones finished college in five years, maintaining his role as Big Red the entire time. As graduation approached, Jones realized that he loved the gig so much, he wanted to continue entertaining people and get paid to do it.
When it comes to paid mascots, pro football, basketball and baseball teams are where the jobs are. That's exactly where Jones wanted to be. In his last year as Big Red, Jones had someone follow him around with a handheld video camera filming his mascot antics. He then sent out tapes of his performances to sports teams with costumed mascots around the country. One day he got a call from the New Orleans Saints for an interview.
"So I drive from Fayetteville, Arkansas to New Orleans," says Jones. "I got down there and they offered me $200 a game."
Jones didn't take the job. But he did meet other guys looking for mascot work. 
"It was a group of about eight of us and we ended up making these circles around the country," says Jones. 
The group traveled to auditions together in the hopes of landing a professional mascot gig. Within a few weeks, the group had auditioned for numerous teams including the Nashville Predators (an NHL team), the Denver Broncos, and the Seattle Seahawks. Jones and one of his fellow mascot-eers were finalists together in Seattle and in North Carolina for a AA minor league baseball team known as the Carolina Mudcats.
"Scott got the Seattle job, so I called Carolina and said, 'I'll be there in two weeks,'" says Jones. "I flew back to Texas, loaded up a Honda CRX and drove to Raleigh, North Carolina with two duffel bags."
Jones laughs as he remembers his naivety in the beginning. What he thought would be the glitz and glamour of working in professional sports turned out to be anything but glamorous. 
"I remember my second day there. Someone said the staff was going to go clean out the stands and I said, "Ok, you go out and have fun,'" says Jones. "I went home and soon got a call asking where I was. I said, 'I'm at home,' and they said, 'well you need to come back.' Next thing I know I'm back there with a leaf blower cleaning the stands. I'm cleaning the bathrooms. This is not at all what I thought it was gonna be like." 
Jones only stayed in North Carolina for one season. He continued to send out tapes and hope for responses. On a flight to visit home he noticed a new stadium under construction in Texas. He scoped out a water tower looking for the name of the town so he could research the stadium's details. He discovered that Frisco, Texas was soon to be home of the next minor league feeder team for the Texas Rangers. 
Coincidentally Jones had already sent information about himself to the Rangers. The major league baseball team didn't have a mascot at the time. Jones had gone as far as creating a character for the team, sending in concept drawings for a character as well as strategic plans for the character's use in marketing and tapes of his previous performances. 
The team in Frisco was owned by a company that owned several minor league baseball teams. They flew Jones out to a team conference in Las Vegas, Nevada to learn about his ideas for a team mascot. At the same time, the Texas Rangers called for an interview to discuss his mascot concept for them. The meetings and auditions were supposed to be at the exact same time in two different states, but Jones was able to delay the meeting with the Rangers for a few days.
"One Friday morning I flew to Vegas and did the camp [with Frisco] Friday, Saturday and Sunday, took a redeye back Sunday night and landed in [North] Carolina Monday morning, drove home, changed real quick, went back to the airport and flew to Dallas the same day and tried out in Dallas on Tuesday and flew back to Carolina Tuesday night," says Jones. "Two weeks later the Rangers called and offered, 'we want you to be our mascot.'"
Jones wasted no time to get back to Texas. However once there he again faced conditions that were less than desireable.  The offer turned out to be less than what he was making with the Mudcats and in a larger city with a higher financial standard of living. He also had to get a physical and a psychological evaluation that included 1000 questions and a session with a psychiatrist.
"There were 19 questions on this thing having to do with suicide," remembers Jones. "So when the psychiatrist asked me, "what did you think of the test?' I said, " Well, I never really thought about suicide until I took your test.' I mean I'm me, I'm a mascot, I'm a goof. And she starts jotting down all kinds of notes and I'm like, 'Lady I'm kidding!'"
 The Rangers might have been set on Jones, but Jones wasn't exactly set on them. So when the Pacers called on his way back to Rangers Stadium from his meeting with the shrink, he took the call and made arrangements to come to Indianapolis for an interview the end of that same week. 
The interview with the Pacers was short, sweet and a done deal. Jones said good-bye to the Rangers and came to Indianapolis to become Bowser, a canine character who was Boomer's best friend from 2000 to 2009. Jones' first day on the job was March 17, 2003, which entailed an appearance in the St. Patrick's Day parade and a Pacer game that night.
(Editor's note: The Texas Rangers unveiled their new mascot, The Rangers Captain, nine days after Jones started in Indianapolis. The character was played by an 18-year-old high school student from the Dallas area.)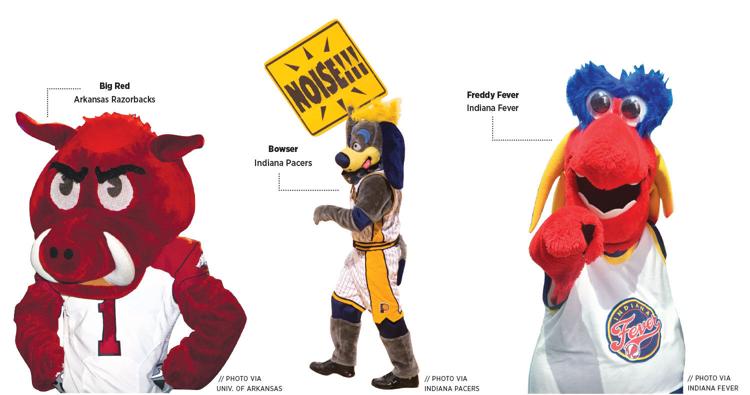 Life as Freddy and Bowser 
Jones looks back on his time with Pacers Sports and Entertainment with fond memories. He served the organization as both Bowser and Freddy Fever, the loveable, flirtatious mascot of the Indiana Fever. As an NBA and WNBA mascot, Jones found himself busier than ever and having the most fun.
"It's funny to say, but I think Freddy Fever was some of the most fun I ever had in character," says Jones. "It's a different world, but those fans are hardcore."
Mascots within the NBA are a very serious part of not only the individual teams but the entire league. They are busy all year long, from entertaining fans during the season to making personal appearances and participating in community events in the off season. Dean Heaviland, director of game operations for the Pacers, says Boomer, for example, makes over 300 appearances a year all over the world. 
"Mascots in the NBA are huge," says Heaviland. "It's the mascot that can have the up close and personal experience with the fans that the players can't. The players have a job to do and they can't always have that moment with the fans. They aren't accessible. But a mascot can and they become just as important to the fans as the players." 
The NBA maintains a network of all of the team mascots. They sometimes work together to make appearances in each other's markets (i.e. when Boomer or Freddy Fever have a birthday party and mascots from other team fly in for the festivities).  Jones had only been in Indiana a year when The NBA entertainment network provided him the opportunity to travel around the world.
"Late spring/early summer of '04, the IOC [International Olympic Committee] hired the NBA to do game entertainment for the Olympics over in Athens," says Jones. "Basketball is one of the only Olympic sports to have half times and time-outs and things like that."
The IOC wanted lots of entertainers —dance troupes, dunk teams and mascots. Jones was selected to be a part of the official Olympic mascot team of "Athena and Phevos," two characters that were created in the likeness of some antique greek dolls. Joining Jones in Athens to complete the mascot pair was Mike Zent, an actor who was Bowser from 2000 to 2003. Together, Jones and Zent became Athena and Phevos, entertaining Olympic basketball fans in Athens.
"We did four games a day," says Jones. "And this was not an American thing. This was the Olympic mascot so we did men's basketball and women's basketball regardless of country. So like Tuesday morning you would have Ghana versus Chili in women's basketball and there would be nine people in the stands. You could hear the individual clapping. And then that night you would turn around and it would be USA-Greece and there's 30,000 people there."
It was a grueling, yet rewarding experience for Jones. On one hand, keeping up the energy and the hype as an obscure character was exhausting. On the other hand he got to meet some of basketball's greatest players of the time.
"It was super highs and lows. I lost 13 pounds and ate Starbucks for a month," says Jones.
It was also a learning experience about how the rest of the world viewed America. The Athens Olympics was three years after the 9/11 attacks. The war in Afghanistan had been going on since shortly after the attacks and the war in Iraq started in 2003. America's approval rating in that part of the world wasn't exactly high.
"And we were not in the best part of Athens," says Jones. "Americans were not very well-loved over there and our liaisons were telling us not to go around screaming, 'U.S.A.! U.S.A.!' That was a new experience for me."
Jones and Zent spent a month in Athens, entertaining basketball crowds and enjoying the other sports that the Olympics had to offer. The characters they portrayed were coveted by the Greek people. Cities winning the bids to host an Olympic games have eight years to plan from the time that they win the bid until the games actually happen. The people of Greece had seen drawings of  Athena and Phavos for a long time prior to the games so when Jones and Zent arrived and donned the costumes, people were even more excited and the mascots did what mascots do — get up close and personal with the fans.
"I had grown men pushing little kids out of the way to get a picture taken with me," says Jones. "It was insane."
When it was over, Zent went back to Los Angeles and Jones returned to Indianapolis. But he wasn't home long before the NBA and the Pacers sent him out into the world again.
"[I] came back here for two weeks and then the Pacers got a call from the U.S.O. [United Service Organizations]. Some National Guardsmen from Indiana were in Kosovo," says Jones.
According to Jones, when servicemen and women get deployed, the U.S.O. goes around asking for the top three entertainment choices of the troops overseas. The organization then tries to fill those requests for deployed troops. The contingent from Indiana had requested the Indiana Pacemates.
"So the U.S.O. contacted the Pacers and said we want the mascots and the Pacemates to do a U.S.O. tour," says Jones.
So off they went. Boomer, Bowser and the Pacemates set off for a tour of Kosovo, Bosnia and Austria.
"Our first show we had about 1500 troops," says Jones. " It was a variety show. The Pacemates would do a bit and then Boomer and Bowser would come out and while we were out they [the Pacemates] would be back stage changing and we had this constant rotation for about an hour and a half show."
Jones says it was mind-blowing to think that just two weeks prior he had been in Athens at the Olympics and now he was in Kosovo performing for American troops.
"I mean we were rockstars. And they were just happy to see somebody from home. It didn't hurt that there were 15 smokin' hot girls with us," laughs Jones. "The other guy [Boomer] and I were like, 'Whatever.' We know they [the troops] weren't there for us. We are the filler while [the Pacemates] are getting changed. We knew that. We were fully aware." 
Boomer, Bowser and the Pacemates performed for the troops and were invited as special guests for events all over the region. They attended a bridge-closing ceremony where the general in charge happened to be from Noblesville, Indiana.
After the tour, the group returned to Indiana and Jones finished out the 2004 WNBA season as Freddy Fever. In the winter a year later, the U.S.O. came calling again, this time sending Boomer, Bowser and the Pacemates to England, Norway and Iceland. 
"Iceland was one of the coolest places I ever got to go, all because of this little world I live in," says Jones.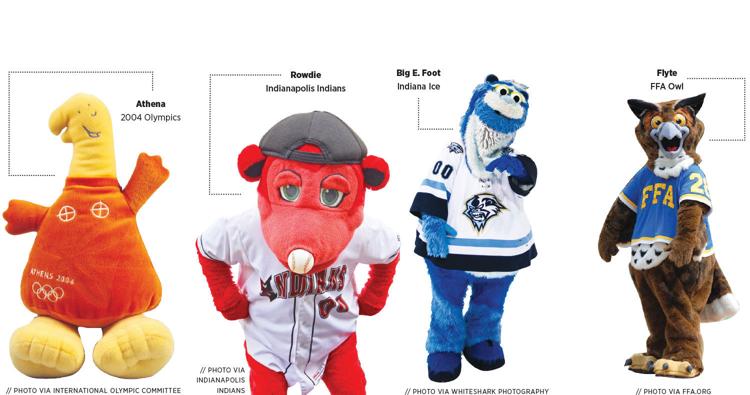 A man of many mascots
Jones stayed with Pacers Sports and Entertainment performing as Bowser and Freddy until 2009 when team management decided to retire Bowser as a Pacers character. He finished the 2009 season with the Indiana Fever as Freddy and then went out into the world to find other work. He landed the roles of Rowdie, the mascot of the Indianapolis Indians, and Big E Foot, the mascot for the Indiana Ice. Since those roles were only paid for game days, Jones had to find a job in the "real" world to supplement his income.
"I went out and got my insurance license and sold some Aflac," says Jones. "And everybody thought, 'Oh you're with Aflac. Are you the duck?' And I'd have to say no, I'm actually the insurance salesman."
But Jones utilized his talents from one world to help his success in the other.
"With Aflac, you have to cold call companies to drum up business and there are like a gillion Aflac agents in the state of Indiana. I had to figure out my own way to get into these businesses," says Jones. "So, at the Indians games, I always had an intern follow me everywhere. They would take a Sharpie and paper with them. We would go on suite visits and every time we went into the suite, [the intern] would write down the name of the company. Two or three days later, I go into that business as an Aflac agent."
Jones says he landed quite a few accounts that way, including one manager who wasn't initially thrilled with solicitors approaching her business. Jones says he never "outed" himself as Rowdie while on the job for Aflac except for that one time. Once the manager learned of Jones' alter ego, he got an invitation to her office and eventually landed the 150-employee account.
"There was actually a photo of her on her desk hugging Rowdie," laughs Jones.
His reputation as a mascot allowed Jones to work with high schools in the city, training high school kids on the ways of being a mascot. His contacts at the Pacers also led him out of the world of sports and into corporate mascots.
"A camera guy for the Pacers also was a cameraman for the FFA and they were developing a mascot," says Jones.
On the friend's recommendation, Jones met with the FFA to see what they had in mind. The FFA had the idea of a corporate mascot but didn't know how to really use it. Based on his experiences and knowledge, Jones discussed best use practices for a mascot. He illustrated how Flyte the FFA Owl could be used not only for national conventions and special events, but also for education and recruitment opportunities. He thought he was there as a consultant on what they should look for when hiring a mascot and left the meeting with a job opportunity and another mascot to add to his cast of characters.
"At one point I had five jobs," jokes Jones. "Tax season sucked. I had 1099s from the Ice, the Indians, FFA, Aflac and these other smaller gigs. My wife hated me. I don't think Turbo Tax was designed for that many 1099s."
Flyte the Owl was unveiled at the National FFA Convention in Indianapolis in October 2012. The convention organizers didn't know how Flyte should make his grand entrance until Jones stated the obvious.
"I said I should repel from the rafters [at Bankers Life Fieldhouse]," says Jones. "After all I am a bird. So I got together with the riggers that I had worked with at the Pacers who did the same thing for Bowser and Freddy and we made it happen."
Flyte the FFA Owl only lasted less than two years. (When a new director came onboard, the mascot program was closed and Flyte was sold.) But in that time Jones was a big hit visiting schools and youth programs and traveling to other states for state FFA conventions, including Michigan, Tennessee, Wisconsin, Oklahoma, Arkansas and Texas.
The Texas connection was a big deal because of the sheer size of their FFA program. With over 100,000 members Texas really didn't need any support for the national organization. But they did reach out to have Flyte come to their convention. Jones used his connections in the mascot world to bring some of the big professional sports mascots in Dallas to the state FFA convention. The Rangers Captain from the Texas Rangers (MLB), Rowdy from the Dallas Cowboys (NFL), Champ from the Dallas Mavericks (NBA) and Victor E. Green from the Dallas Stars (NHL) all attended the Texas FFA convention with Flyte the FFA Owl. 
Jones' work landed the FFA's convention on the front page of the Dallas Morning News.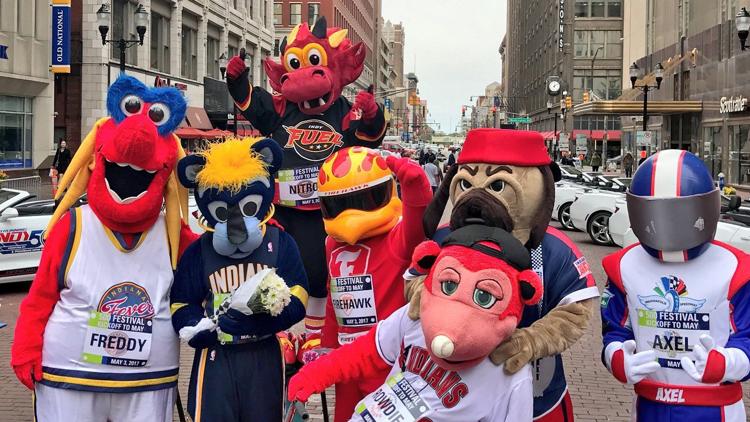 Life of a Mascot
Jones is still in the mascot life doing various characters in the sports and corporate world (although he no longer works as any of the characters mentioned), as well as consults for organizations and teams about their mascot use. He's been everything from farm animals to food to non-descript beings from some unknown world of fun. 
His adventures and experience led him to a full time position in the "real" world as the community relations manager for the Indy Fuel, Indy's newest minor league hockey team. In addition to managing the team's community image, Jones works with the sports marketing interns.  He credits his other life with giving him the foundation for his success in the real world now.
For a guy that took a buddy up on a dare his freshman year of college, Jones has led a great life for the better part of 20 years entertaining people and maximizing the marketing brand for various teams and businesses.
"It's been fun," says Jones. "And I'll still do it for as long as I can."  
---
Arkansas Razorbacks
Arkansas takes their mascots seriously. Big Red is just one in a stable of characters that include Boss Hog, a 9-foot inflatable costume mascot that frequents the men's basketball court; Sue E., a female hog with an affinity for dance and costumes; and Pork Chop, a child-size version of Big Red. The university also houses a live mascot, known as Tusk — a Russian boar that is said to resemble the wild hogs known as razorbacks that once roamed Arkansas countryside, hence the mascot name.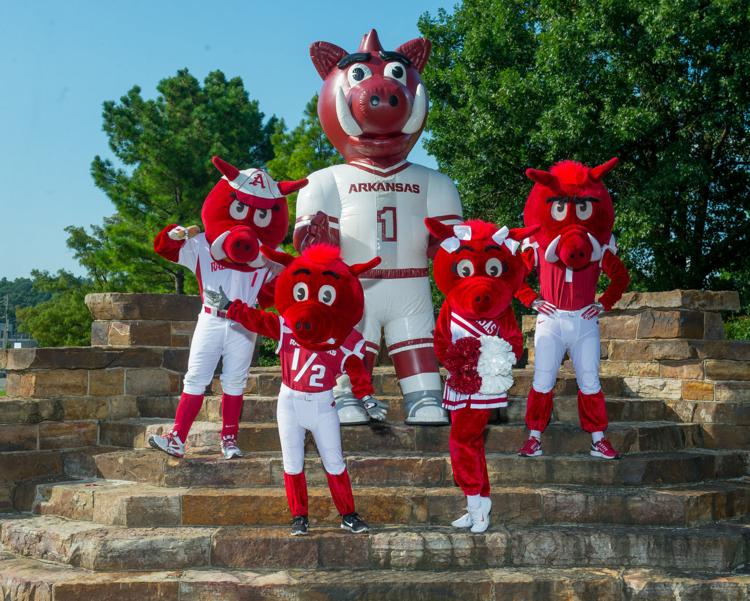 ---
 How Bowser met my wife
Jones looks back fondly at his time with Pacers Sports and Entertainment, recalling the time as some of the best years of his career. Not only did the time as Bowser and Freddie solidify his career as a mascot, but led him to another milestone in his life -- an introduction to his future wife.
Jones says Bowser was asked to attend a basketball field day at an IPS elementary school. With 800 kids expected to be there, Bowser only committed to handing out autographs to each class instead of each child. While at the event, one of the teachers caught Bowser's eye.
"She's five feet tall and she thought that I thought that she was a student," recalls Jones. "But I knew she was a teacher." 
Bowser danced and flirted with the teacher without saying a word. At the end of the day, the teacher who arranged for Bowser's visit, thanked him for coming and asked if he would break his rule of classroom-only autographs and sign just one specifically for her son. Jones broke character and said he would sign the autograph — but only if the would confirm if the teacher that had caught his eye was single.
Bowser left an autograph for the one teacher's son and his number — signed by Bowser — for the other teacher. That same night Jones says he got a phone call.
"She said, 'Is this Bowser?'[He said], 'I don't know. What'd he do?' [She said], 'You left your number for me at school?,' Holy crap it worked!" recalls Jones. 
After two weeks of talking on the phone Jones confessed that he thought it was kind of freaky that she called having never heard or seen the man beneath Bowser.
"She said, 'Ah, I figured I would get tickets out of the deal," laughs Jones. "And she was probably right."
Jones and his school teacher were eventually married October 2005 and — at her request — Bowser and Freddy Fever were attendants in the wedding. The high school buddy who dared Jones to try out for Big Red donned the Bowser mask to serve as the ring bearer and another friend — an intern with the Fever — became Freddy to be the flower girl. Jones says he even had a tuxedo made for Freddie for the occasion.
---
 Indiana College Mascots
The role of the mascot in college sports varies from school to school. Here in Indiana there are only a few mascots that get any kind of attention and not all of them are in costume. Purdue Pete, Notre Dame's Leprechaun and Butler's Blue are probably the most widely known of Indiana's college mascots.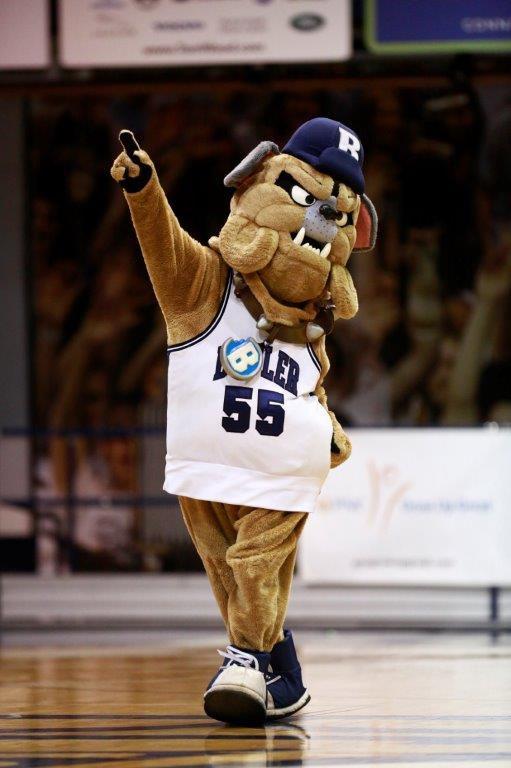 Butler University has a bulldog-costumed character. Originated in 1922, the Butler Bulldog finally got the name "Hink" in 2008. Butler students and alumni may know Hink but college basketball fans around the country have seen Blue, the live bulldog mascot adopted in 2000. (Technically there have been three versions of "Blue" over the years.) Blue travels with the men's basketball team and has made many TV appearances during tournament time. He also has a book and a line of pet products that help supplement his care and maintenance.
The Notre Dame Leprechaun is a character, but doesn't have to worry about a large head or fur. Since the Fightin' Irish image is a bearded man dressed in green, the Leprechaun mirrors that image complete with green Irish hat and short pants.
Indiana State's Sycamore Sam and Ball State's Charlie Cardinal (chirp, chirp!) are known by students and alumni but are relatively unknown in a greater universe. Indiana University is known as the Hoosiers, but there is not physical costumed representation of that image. (IU had a costumed bison in the late 1960s and '70s — taken from Indiana state seal — but the image was rejected by fans and abandoned in 1979.)