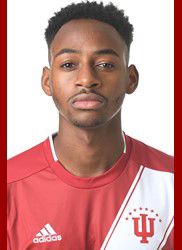 Given that Butler Men's Soccer, Notre Dame Men's Soccer and Indiana Men's Soccer all participated in the 2017 Men's Soccer Championship, with IU advancing to the Championship Final  before losing 1-0 in extra time to Stanford, it comes as no surprise that the three schools were well-represented during the first round of the 2018 MLS SuperDraft Friday night in Philadelphia.
Indiana forward Mason Toye was selected 7th overall by Minnesota United FC. Toye was named Big Ten Freshman of the Year in 2017 after scoring 10 goals in 25 games to lead the Hoosiers. Toye was the youngest player in the 2018 draft class. 
Butler Men's Soccer goalkeeper Eric Dick was selected 13th overall by Sporting Kansas City. With his selection, Dick became the highest-drafted Butler player in program history. He was named the 2017 Big East Goalkeeper of the Year while also earning All-Big-East first team honors.
Notre Dame Men's Soccer forward Jon Gallagher was selected 14th overall by Atlanta United FC. Gallagher led the Irish with 13 goals in 20 appearances in 2017. 
The third and fourth rounds of the MLS SuperDraft take place Sunday.