Get in the ring with Indy's own professional wrestlers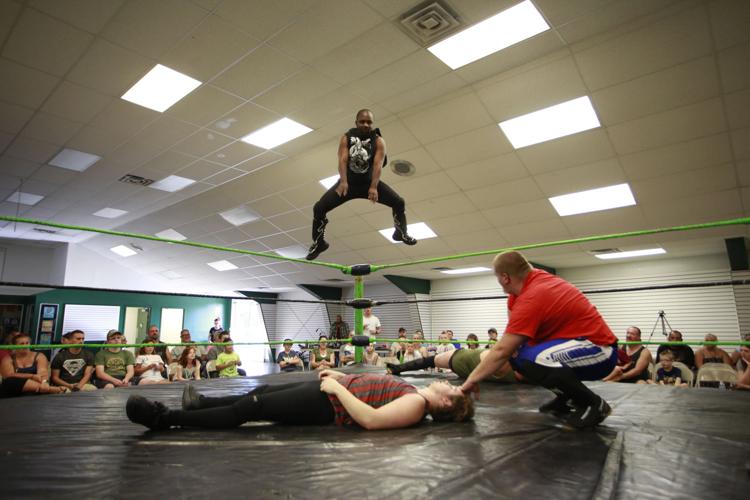 As a kid, I loved professional wrestling.
It was the time of Big Sexy the Giant Killer, Goldburg and the Latino World Order, and it was great. I regularly had trampoline wrestling matches with my friends after school, mimicking the moves and phrases of our favorite wrestlers. I was a big kid, so I got to do all the lifting moves: power bombs, vertical suplexes, the Outsider's Edge. What was bliss? Sitting in 7th period science class, planning my afterschool match and thinking about lifting my best friend Stephen above my head and throwing him as far as I could across the trampoline.
I haven't watched pro wrestling in years, although I won't turn it off if it's on TV.  But I can still remember all the moves and all the names of the wrestlers — and all of the drama.
Fast forward 18 years and I've found myself at the Johnson County Fairgrounds, on assignment to shoot the Fourth of July-themed Indianapolis Championship Wrestling match hosted by the Indianapolis Christian Wrestling League (ICWL). (Yes, both of those are things in your city.) The show is in Scott Hall — funny to me, because Scott Hall is the name of one of my favorite wrestlers from the mid-'90s — and as I walk in, I'm greeted by a woman and her two sons with red, white and blue-painted mohawks. The hall is large and football field-sized with a ring in the middle surrounded by rows of folding chairs. I'm looking for my contact, Thar, and find him with tag-team partner Hammer; both are over 50 and in better shape than me — and  both hold titles. Thar is the current ICW Hardcore Champion, and Hammer is the ICWL heavyweight champ.
I'm led backstage, where 30 wrestlers, planners, refs and spouses are working to prepare for the show. Two wrestlers are going through the motions of their upcoming match, planning each move and giving each other pointers on how to not get hurt when taking a suplex. A small group of planners sits in the corner pouring over the final details of the matches, marking out music and microphone cues. There's even a table filled with brass knuckles, street signs, fluorescent light bulbs and crutches that would be eventually broken over the heads of wrestlers like Cousin Cooter and Buddha.  
… And, then, I get a close-up look at the championship belt, in all its glory. It's almost everything 13-year-old me could dream up.
While I'm backstage, the Hall fills up for what would eventually be a three-hour event, including nine matches, two intermissions and approximately 384 body slams. During the intermissions, wrestlers come out to sign autographs for fans, and during the matches, fans hoot and holler, hurling insults at the heels, who throw them right back. Everyone in the building has a role to play.
I could write 1,000 or so more words about the majesty of these matches, but the best way to meet the dudes of ICW is by watching them. And so if a pictures is worth 1,000 words, then a picture of a local wrestler doing one of the highest frog splashes I've ever seen has to be worth at least 1,000 words and a 3-count.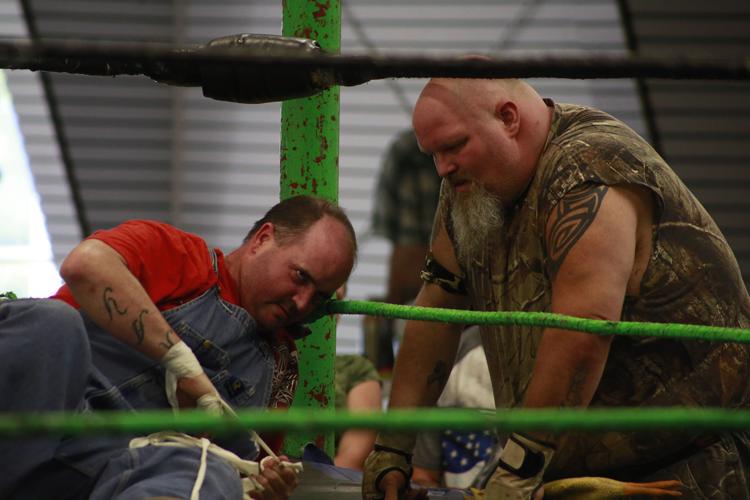 Cousin Cooter Clampett
Face or Heel // Face
Finishing move // Slop Drop
Height / Weight // 6' / 250
Age // 40
Theme music // "Chicken Fried," Zac Brown Band or "Mountain Music," Alabama
Favorite wrestler // "So many, but I'd say the Hart Family.
Occupation // V-Cell Operator
Hometown // Columbus, Indiana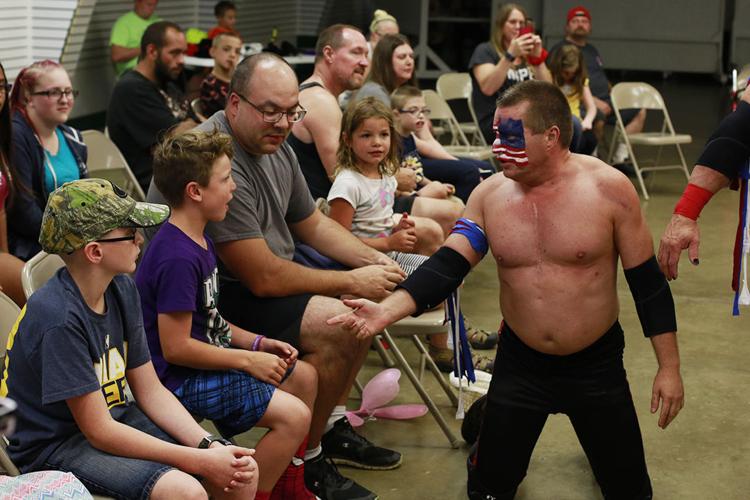 THAR
Face or heel // Both
Finishing move // Varies
Height / Weight  //  5'9" / 205
Age // 52
Theme music // "Bad to the Bone," George Thorogood
Favorite wrestler // Road Warrior Hawk
Occupation // Law Enforcement
Hometown // Greenwood
Current champ // Currently the ICW Hardcore Champion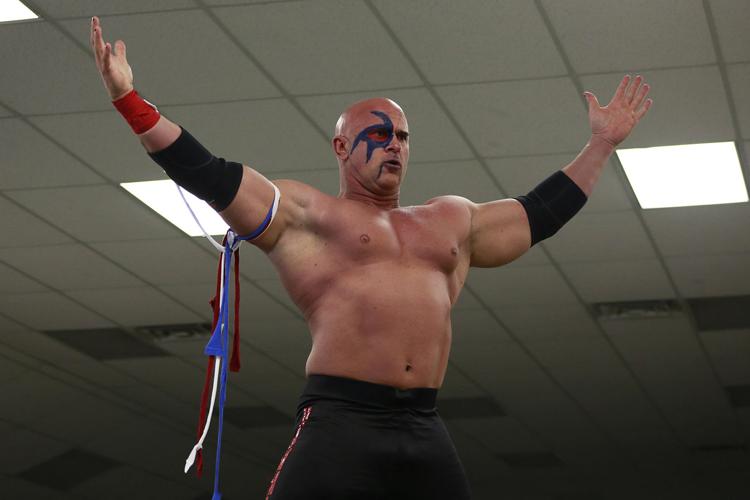 Hammer
face or heel // Neutral
Finishing move // Spine Buster
Height / Weight // 5' 9" / 230
Age // 51
Theme music // "Bad to the Bone," George Thorogood
Favorite wrestler // Dusty Rhodes
Occupation // Senior Integration Analyst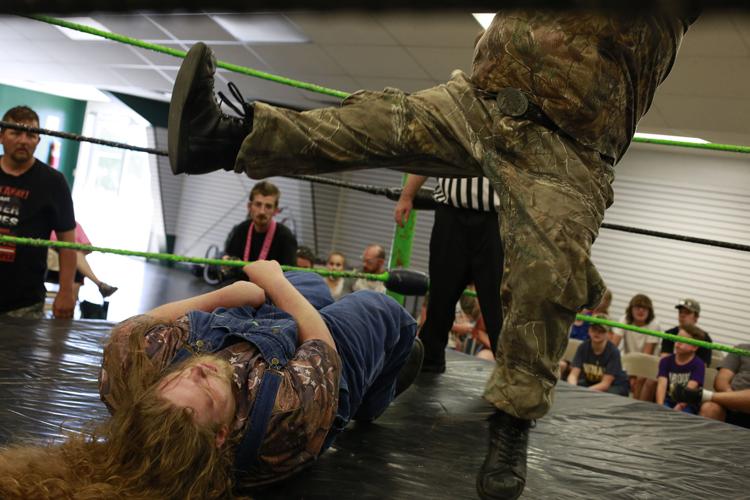 Buddha
Face or heel // Heel
Finishing move // Frog Splash
Height/Weight // 5'11" / 205
Age // 25
Theme music // "Read Me My Rights," Brantley Gilbert
Favorite wrestler // The Rock
Occupation // Warehouse Manager
Hometown // Indianapolis, Indiana
Current Tag Team // Champions with CJ as the Outsyderz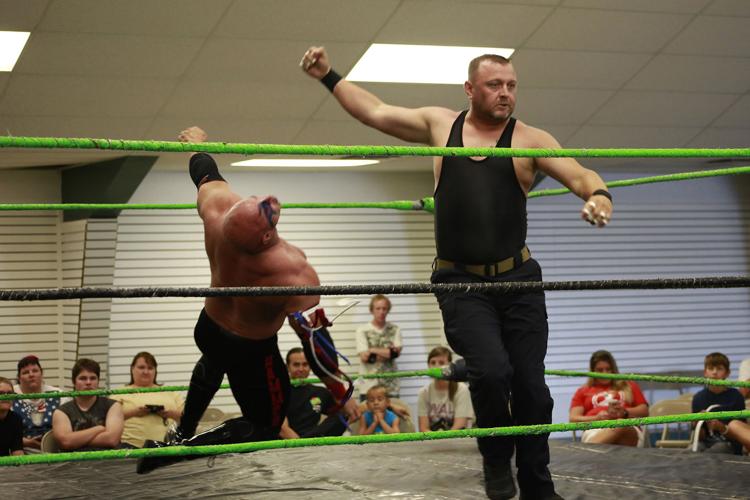 The Mercenary Russell Avery
Face or Heel // Face
Finishing move // The Last Bounty Hunter
Height / Weight // 6' / 205
Age // 36
Theme music // "Bad Man," Blues Saraceno
Favorite wrestler // "Me."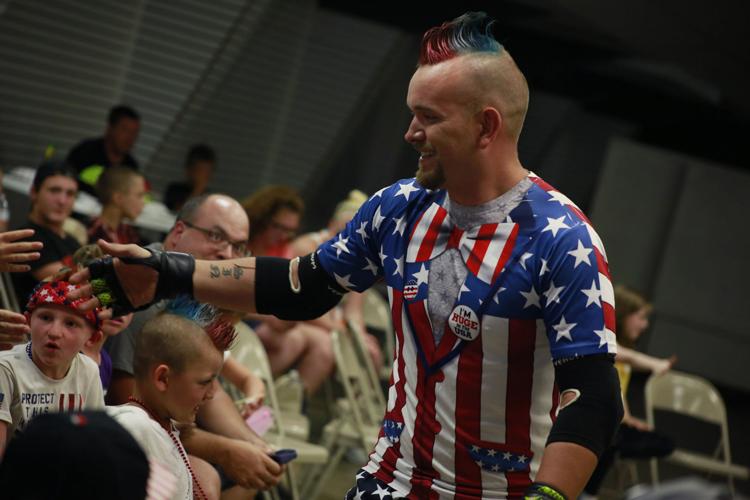 Gunner Lee
Face or Heel // Face
Finishing move // Jackhammer
Height/Weight // 6'1" / 240
Age // 29
Theme music // "I Stand Alone," Godsmack
Favorite wrestler // Bill Goldberg
Occupation // Construction
Hometown // Ellettsville, Indiana