The Poor People's Campaign, a National Call for Moral Revival will led a digital moral march on June 20, to which Shonda Nicole Gladden encouraged people of all backgrounds and faiths to join.
The moral march re-broadcasted at 6 p.m. on both June 20 and June 21.
Rev. Gladden is tri-chair of the Indiana Poor People's Campaign. She is also associate pastor at Crossroads AME Church and a PhD candidate in American studies at the IUPUI Arts & Humanities Institute.
About this "largest digital gathering in history" Gladden says, in a Facebook promo, "This is a prophetic power movement experience. This is not a response to the current climate of anti-Black and the racist shifts in our American democracy. You see, before Breonna Taylor, Dreasjon Reed, Ahmaud Arbery, George Floyd, Rashard Brooks, and others were killed we began planning to descend upon Washington DC ...
The issues the digital moral march will take on range from systemic poverty and racism to environmental devastation. As you'll see in the following interview, Rev. Gladden is engaged in both local issues and global ones.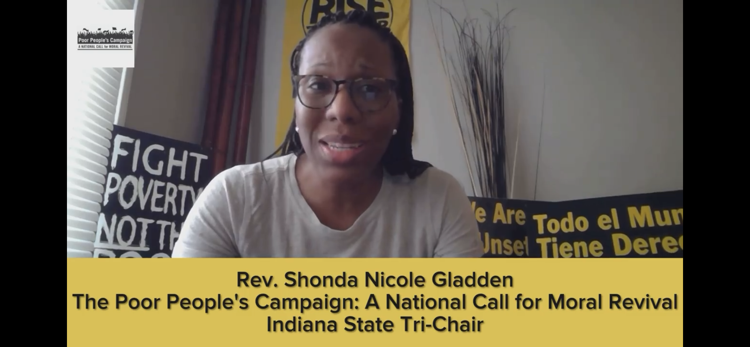 DAN GROSSMAN: Tell me about the history of your involvement in the Poor People's Campaign and why you are involved.
SHONDA NICOLE GLADDEN: I have been involved with the Poor People's Campaign, a National Call for Moral Revival for at least four, maybe five years. I started serving with The Poor People's Campaign when I was the pastor of Temple A.M.E Church in Grant County and the church up in Grant County would come down and participate in the Moral Monday event where we would, for a month, engage in civil disobedience, as well as in protest rallies to invite the lawmakers of the state of Indiana to confront very specifically the war economy, ecological devastation, systemic poverty systemic racism, and militarism. 
The key points of the work that we do with the political campaign and national call for moral revival, is to pick up the mantle, that Dr. Martin Luther King Jr. laid down when he was murdered in 1968, uniting the poor around a common set of values. [Our] moral underpinning suggests that we are a nation of people under God, and the ways that we engage in our human interaction does not speak to that truth. So we attempted to put forth a new moral narrative that looks out for the poor in our country.
GROSSMAN: When we last talked to you were concerned about, among other things, the digital divide between wealthy and poor communities, and how that would play out during COVID-19. How have you seen that play out in your congregation in your community?
GLADDEN: Within our congregation, many of our members have had access to technology, have had access to computers, as well as Wi-Fi because we do services virtually. Almost all of our gatherings are online or by teleconference. That hasn't impacted our congregation significantly, but in the community we have heard reports —  particularly from our unhoused siblings who were relying on the public library and the university to have access to the internet and computers —  that this season has been particularly difficult, because many of them are unable to have any access to employment, because they don't have access to Wi-Fi, because the Public Library has been closed, and most of the public spaces have been closed.
Some are able to have loaner computers from their university or if they're connected to educational facilities but the unhoused that do not have any formal connection to any kind of educational institution, they are really struggling because most everything has gone online, with the exception of service industries, grocery stores department stores, etc. Many people are unemployed, and without gainful income.
GROSSMAN: I went to the Collegiate School of Arts at 4501 E. 32nds St. on Monday for their meet and greet event and I talked to the school leader Sandra Towne, and she talked about the wraparound services that the nonprofit charter school will offer when they open come fall. What is your involvement with that school and why do you, I presume, think it's positioned well to serve its community?
GLADDEN: I'm so glad you talked to Sandra Towne. She is going to be a dynamic school leader.  
I've been on the board of directors of the Him by Her Foundation for the last three years. During that time, the foundation began discerning how we might facilitate the opening of a charter school. The charter school application that we submitted when I first joined the board was submitted through the Indiana Charter School Association, and we were not accepted. Since I've been on the board we have been rejected twice. And while Ball State [University] has authorized us to open in the fall, the rejections were hard and difficult because we believed as we believe now that we are poised to service our community very well. The Him by Her Foundation envisioned by Harry Dunn and his wife, Michelle Christian Dunn, six years ago [provides] resources to the local community — with Harry being a former homicide detective. [The vision was that it would] really address people who are at risk, who would [have had] potentially violent upbringings or just in vulnerable populations because of increased violence.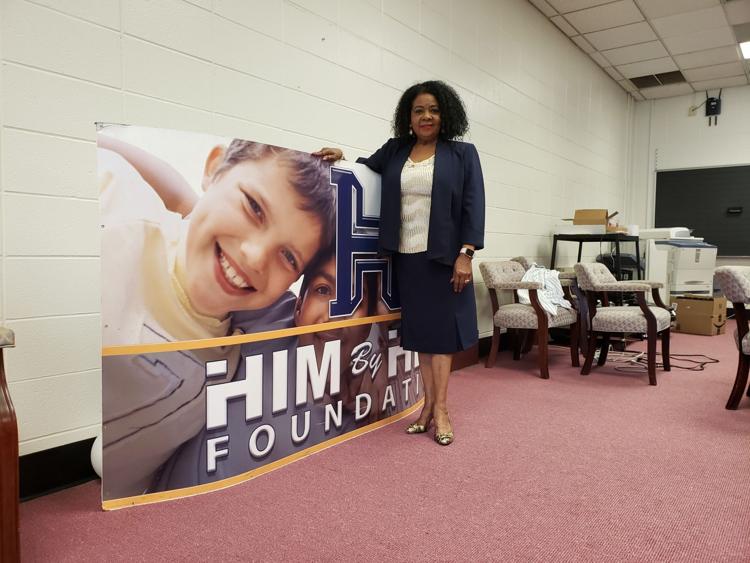 There are wraparound services such as mental, emotional, physical health service providers as well as pregnancy prevention and pregnancy care services for at risk young women. I believe there is a preschool that will be part of the tenants in the building. We have a lot of space. So as the board director, I may not know all of the ins and outs of how the school will run. But in terms of the staffing and the curriculum. But I do know that what we have put forward is an important set of governance documents. We've done the recruitment, and we've done the organizational development that is necessary for us to have a stellar charter school. 
GROSSMAN: As far as your consulting firm Good to the Soul goes, what are the adjustments, if any, you've had to make during the pandemic? Are there any innovations that you have made during this time?
GLADDEN: 
I have a wonderful staff of SOUL Stirrers, and my executive team, we continue to work through our COVID-19 pandemic. We are working with the Clinical Translational Sciences Institute, Indiana University through the IUPUI Monon Collaborative [collaborating on the Anthropocene Household Project that surveys tap water lead levels in under-resourced communities.]
This coming Saturday June, 27, we will launch a learning community for houses of faith in the new Northwest area where the senior clergy person and a lay person will be engaged in a six-month, learning journey to discern and discuss the ways that health and wellness are being addressed and or presenting as challenges in the life of their congregation, so we're looking forward to that."
We've been working actively to recruit for that for the past six months. Now we're at the point of being ready to convene this community, and it'll be virtual and it'll all be online because, Dan, we're still in COVID-19 and still social distancing. In addition to the learning community, Good to the Soul is working with a few different entities throughout the state to provide some wellness education to some of our northern congregations that are outside of the near northwest community. And then we also have had opportunities to engage in national conversation around what it means to protest in a pandemic, what it means to be the church in the midst of a pandemic. 
GROSSMAN: How are you doing personally?
GLADDEN: We are doing well. While I am leading, or helping to lead, the revival in Indiana, while I am an associate pastor at Crossroads AME Church, and while I am running Good to the soul as the CEO, I am still trying to be a full time PhD student and a mom. So, this summer I'm trying to slow some things down, so that I can get my scholarly footing underneath a little better.