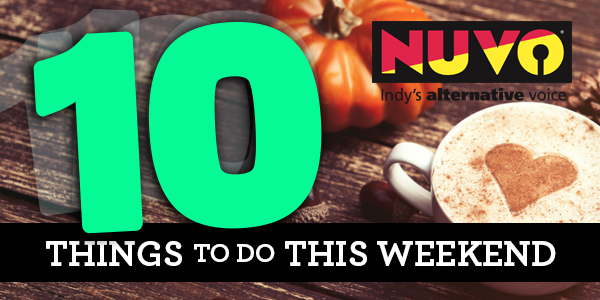 Fall has officially arrived: the temperatures have dropped, the leaves are beginning to turn yellow, orange, and red, there's a Colts game every weekend, and pumpkin spice everything abounds.
Here are ten great ways to spend the next few days around Indianapolis soaking in all that autumn goodness.
ALL WEEKEND
Indy's largest and longest-running film festival returns for another year and another impressive lineup of features, documentaries, and shorts. Throw in the extensive programming featuring filmmakers from around the world, and you've got one of the best festivals in the country. Do yourself a favor, browse the excellent Heartland website. It's easy to navigate and full of all the info you need. Earlier this week, I posted a list of 10 documentaries I'm hoping to catch before the festival ends if you're looking for a place to begin.
FRIDAY, OCT. 12
Annual Faculty Show Opening Reception
With over 900 programs and classes each year, the faculty at the Indianapolis Art Center are some of the most hardworking artists in the city. Stop by their annual exhibit and see work ranging from painting and glass to ceramics, mixed media and drawing by these talented teachers. There is also a collection of kaleidoscopes on exhibit from Bob Anker, the Best of Student Show winner, ceramics artist Robin Rossman and an exhibit featuring work by the Art Center Teaching Artist Debbie Kirby, the recipient of the 2018 Skip McKinney Faculty Award. Free; 6-9:30 p.m.
Fashion designer, Project Runway: All Stars judge and media icon, Isaac Mizrahi brings his irreverent show, Does This Song Make Me Look Fat? to The Cabaret Friday and Saturday. It's a show The New York Times called "raucously funny" featuring a collection of standards and pop songs, from Cole Porter and Charles Aznavour to Blondie and Bob Dylan. He'll be backed by a six-piece band led by jazz sensation Ben Waltzer, share irreverent stories and observations about life, and promises to distribute hand-me-down swag from his party-going career to lucky audience members. $60.
SATURDAY, OCT. 13
Aspiring writers of all ages are welcome to the Meet an Author, Be an Author event at Central Library.  You'll find books for sale by Hoosier authors, book signings, a variety of workshops and the opportunity to talk one-on-one with accomplished authors. You'll also be able to meet the winners and finalists of the 2018 Indiana Authors Award. A wonderful opportunity for writers of all levels. Events begin at 10 a.m. Find out more about the workshops here.
This is the 10th annual German Fest, though celebrations of German culture have been happening at the Athenaeum for more than a century. Come celebrate your Bavarian ancestry in the Mass Ave district with great beer and food offerings, a makers market, wiener dog races, Durstig games, and music on two stages. All proceeds go towards the maintenance and care of the Athenaeum. Noon - 8 p.m.; $12 adults; $5 kids (under 2 years free).
The good folks at Sun King are hosting a day on Georgia Street aimed at pairing great organizations with eager volunteers. Come down and learn more about how you can get involved and help make Indianapolis a better place. Better yet, do it while drinking a Sun King craft brew and chowing down on fare from BoxBurger, Tandoor and Tikka, Black Eye and Brozinni's. More than 25 Central Indiana non-profits will be on hand including Art with a Heart, Ballet Theatre of Indianapolis, Big Brothers/Big Sisters, Big Car, Indianapolis Historical Society, Indy Pride, Keep Indianapolis Beautiful, Second Helpings, The Patachou Foundation and School on Wheels. Free; 1-6 p.m.
If you dare, spend an evening at Indianapolis' famed Crown Hill Cemetery listening to spooky tales. As darkness falls on its historic headstones, you'll be immersed in spine-tingling tales of the dead and undead. Arrive early—gates open at 6:30 p.m.—to find your piece of hallowed ground. We recommend bringing a flashlight, blanket, lawn chairs, and snacks/drinks. Presented by Story Telling Arts of Indiana. Family ticket $50. Individual tickets: kids under 10 free, 10-17 years $10, adults $20.
4U: A Symphonic Celebration of Prince
Rumor has it that Questlove, a bigtime Prince fan, helped curate the music and arrangements that will be played during this official, estate-approved performance featuring a full symphony orchestra in addition to a live band. They'll perform hits and lesser known gems from deep down in the Prince catalog. In his recommendation, one of our music writers actually wrote: "I'm recommending this because I have a feeling it's going 2b a performance 2 die 4." Such a bad sentence, I can't help but repeat it here.
The latest issue of Pattern Magazine (Vol. 14) debuts with a party at the Stutz on Saturday. It's "The Art Issue" with a focus on the growing Indianapolis scene. Our own Arts Editor Dan Grossman makes a contribution, as do a host of other talented writers, photographers, and visual artists. The party starts at 7:30 and includes a photobooth from Jedediah Johnson, live style sketches by Ken and Roberta Avidor, light installation by Owens and Crawley, and a gallery of work by the artists included in the magazine. Dress to impress (and wear a hat!); the event is 21+ and they've made it clear everyone must present ID at the door. They've got several types of tickets/prices including a $10 student ticket and VIP tickets at $65 that come with swag and a pre-party.
SUNDAY, OCT. 14 
Setting a Place: Potters and Chefs
For foodies who want to also receive a handmade/fired plate with their meal, you can go to Setting a Place: Local Potters and Chefs at the Fountain Square Clay Center. In addition to being able to talk to local chefs, you'll be able to learn about this no-nonsense artspace which offers classes in pottery, and caters to both amateur and professional ceramicists.   
MONDAY, OCT. 15
In case you haven't heard, NUVO's Indy Pizza Week starts Monday and runs through the 21st. Head over to Pizza Week page and find a list of participating restaurants all over town offering special prices and special pies. The NUVO staff picked some favorite pizza places for our cover story this week, and about half of us are doing happy dances that we're getting ½ off our favorites.