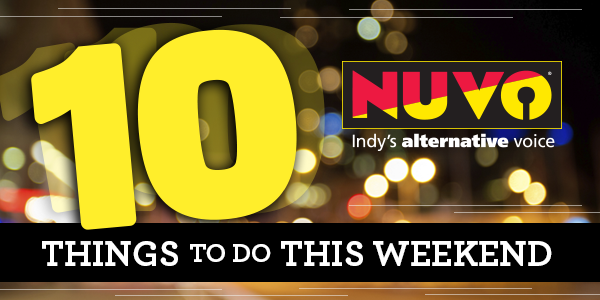 Halloween may be over, but there's still plenty of spooky and spine-tingling options to keep you entertained this weekend.
Nothing's creepier than all those damn Donnelly/Braun ads we've been subjected to non-stop. Thankfully, that ends on Tuesday. There's also a Macabre Edgar Allen Poe ballet offering and a final weekend with Rocky Horror. Beyond the spooky stuff, it's First Friday once again and opening weekend for the Spirit and Place Festival.
Here's 10 things to do between now and Monday -
The most important thing you can do this weekend is vote. Thanks to early voting satellite locations, it's never been easier. There are seven locations around town where you can cast your ballot ahead of Election Day.
Today (Friday, Nov. 2), the Marion County Clerk's office is open 8 a.m. - 5 p.m. and the satellite locations 11 a.m. - 7 p.m.
On Saturday and Sunday (Nov. 3 and 4), all seven early voting locations are open 10 a.m. - 5 p.m.  
Marion County Clerk's Office in the City-County Building.

Glick Technology Center at Ivy Tech, 2620 N. Meridian St.

Franklin Township Annex Learning Center, 6019 S. Franklin Road

International Marketplace, 3685 Commercial Drive

Lawrence Education & Community Center, 6501 Sunnyside Road

Perry Township Government Center, 4925 Shelby St.

Washington Township Government Center, 5302 N. Keystone Ave.
To vote early, you do not need a reason but must provide a valid photo ID issued by the state of Indiana or the federal government.
Lines have been long this week, so expect to wait up to an hour or longer. Read up on the candidates in our Voters Guide while you wait.
If you can't get to the polls this weekend, and need transportation assistance on Election Day, we've got information on free rides from Indygo and free/discounted rides from a Uber and Lyft.
Now that you've voted, here are 10 other things to do this weekend:
This year's festival runs Nov. 2-11 at venues all across the city. The 2018 theme is Intersections, and the aim is encourage participants to explore unique and even radical collaborative opportunities. "Think of Intersections as the place and space where the but, or, and, also, between, either, and other meets. It is the flip in the coin toss of life," say organizers.  Visit the website here and browse through the robust programming options.
FRIDAY
Arts Editor Dan Grossman has once again gathered as much information as possible about art shows opening tonight. Don't miss his 13 recommendations starting with an exhibition at Tube Factory artspace where Mexico City-born artist Laura Ortiz Vega is showing her "thread paintings" in No USA Return. We've even got a map to help guide your way.
One of our favorite photographers, Lora Olive, is showing her work this month at Central Library. This month she's showing a collection of her concert photos featuring some of the biggest names in music. You've seen her impressive images in NUVO for years, most recently the Tom Petty and Victor Oladipo cover images. Don't miss seeing her work in person.
Riot Grrl Ripoff at Radio Radio
If you find yourself in Fountain Square tonight, check out the Riott Grrl tribute at Radio Radio. Wayne Bertsch gives a preview in his Barfly this week featuring Kyra Waltz (PJHarvey), Luann Leitz (Chrissie Hynde), and Shellie Steiner (Shirley Manson). Show starts at 9 p.m., $7 cover. 21+
FRIDAY AND SATURDAY
While they took a brief hiatus last year, this production has won our Best of Indy Readers Poll for Best Local Theatre Production multiple times, and it's easy to see why. This is a stellar production in its own right that also honors the much-loved cult film and stage versions. The show continues Friday and Saturday. Dan saw it last weekend and loved it. Bonus: we've got a great set of photos from the aforementioned Lora Olive tucked inside Dan's review.
Ballet Theatre of Indiana: Macabre
The Ballet Theatre of Indiana tells some of Edgar Allen Poe's most macabre stories through dance. Don't miss the interpretations of "Mask of the Red Death," "Cask of Amontillado," and "Annabel Lee" as haunting as they are beautiful. Not recommended for children. Tarkington Theatre, 7:30 p.m. curtain both nights; tickets start at $20.
SATURDAY
One of the best jazz pianists in the country comes to the Jazz Kitchen Saturday night, and you shouldn't miss him. One of five finalists for the 2019 American Pianists Awards, Test performs two sets Saturday with Kenny Phelps on drums and Nick Tucker on bass. Six and 10 p.m. shows, $35.
SUNDAY
Basics of Self-Publishing at the Writers Center
Large publishing houses have gone the way of large record companies, and there are now only a handful signing new talent. While publishing your own book has never been easier, it's also never been easier to get ripped off in the process. The Indiana Writers Center has put together a helpful workshop to help you navigate the ins and outs of DIY publishing successfully. Find out more on the IWC website; $75 nonmembers, $48 members. 
Some of the city's funniest ladies have put together an evening at White Rabbit aimed at rallying the troops ahead of Election Day. Organizers Gwen Sunkel and Erin Carr have put together another great lineup for the benefit with proceeds going to Planned Parenthood of Indiana and Kentucky ($10).  "I truly believe that if an informed electorate feels connected to their community, they're more likely to effect change," says comic Jenna Bradley. "So, yes, it'll be a great night of laughs and money for an important cause, but also, I hope that people will leave the show inspired to support the women in their lives." You can read more about the event in Seth's feature from earlier this week.
Garfield Park Farmers Market Fundraiser
Thanks to some amazing community involvement that includes an impressive team of neighborhood volunteers, the Garfield Park Farmers Market has just wrapped up a successful third season of bringing local growers and the neighborhood together each week in one of the city's most gorgeous parks. On Sunday, Pioneer restaurant in Fountain Square is hosting a Harvest Dinner fundraiser for the Farmers Market. Tickets are $50-$75 and include a complimentary cocktail hour and a wonderful meal prepared by local chef Alan Sternberg who was named a Rising Star Chef of the Year semifinalist in the 2018 & 2016 James Beard Restaurant and Chef Awards. In addition to the amazing food, there will be live music from The Thistle Sisters and terrific company.