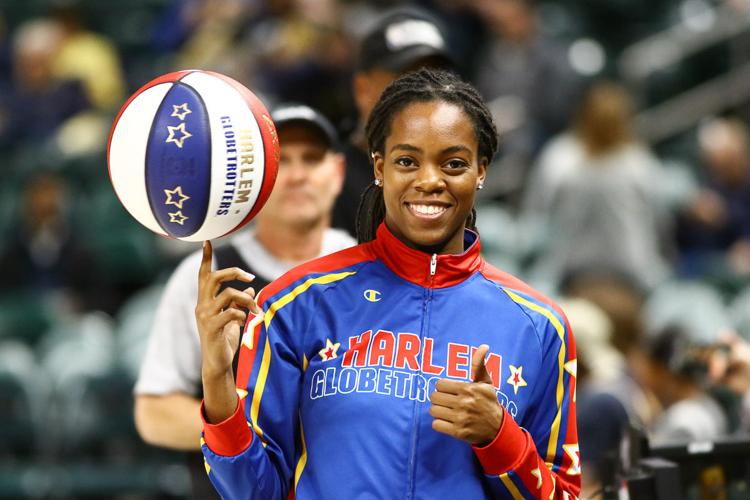 From marches to mosh pits, and celebrations of Dr. King and a Love Supreme, we've got the hottest options for a very cold weekend. 
FRIDAY AND SATURDAY
Apples in Winter
In this world premiere, Jan Lucas stars in the one woman show that will get you hungry for theater and, well, just get you hungry. That is, you get to see her prepare an apple pie live on stage, in absolutely real time, while relating the lessons of her life while savoring the scent of her pie. It certainly sounds tastier than your typical Ted Talk. Through Jan. 27
Every Brilliant Thing
As our stage reviewer Lou Harry writes, "There's beauty—and big laughs—throughout Every Brilliant Thing. Lovely human connections are made, both between the Man and others in his life as well as between actor and audience." But he also had some issues with the play, which engages with the problem of suicide.  Read his review and see what you think before deciding whether or not to go. Through Feb. 10
FRIDAY
Harlem Globetrotters
Some of us are old enough to remember seeing Meadowlark Lemon and the Harlem Globetrotters at Market Square Arena in the 1980s. TBH, it's a great childhood memory. Give your kids the same gift. Take the the family and see some truly skilled, and hilarious, basketball. Second game on Monday afternoon at 2 p.m.
Bangarang 2: Hip-Hop Showcase
Sirius Blvck hosts this monthly showcase at State Street Pub highlighting some of Indy's top hip-hop talent. The January installment features another stacked lineup of local emcees, with performances from Pope Adrian Bless, Nagasaki Dirt, Heyzeus, DisTinct, and Foxd'Legnd. Pope Adrian Bless added another chapter to his saga in 2018 with the release of Fury Road. DisTinct also turned heads in 2018 with his album The Feeling: Kuro. 9 p.m., $5, 21+ 
SATURDAY
Women's March Indiana
The March begins at Monument Circle at 1 p.m. and heads to American Legion Mall for a rally featuring multiple speakers until 3 p.m.  A record number of women were elected to Congress this year—a trend that depends on you standing up for your rights and the rights of all women. Bundle up and join the sisterhood. Planned Parenthood of Indiana and Kentucky are offering a pre-march reproductive rights training at 10 a.m.  Register here for more information.
A Love Supreme -- John Coltrane Tribute
In this special performance presented by Indy Jazz Fest, you'll get an earful Indy icon Rob Dixon leading the Indianapolis Jazz Collective—sax Steve Allee, piano Steve Houghton, drums, Jim Anderson, and Ernest Stuart on Trombone, in an interpretation of John Coltrane's supreme contribution to jazz, A Love Supreme, recorded in Dec., 1964. (jazzkitchen.com)
Oreo Jones Album Release
Over the course of his storied music career, Indy hip-hop troubadour Sean "Oreo" Jones has rapped about everything from Reggie Miller to the Fountain Square Family Dollar. With his latest album, however, Jones turned a new experimental page, and gets much more soulful. Saturday night he celebrates the release of his debut full-length under the name Michael Raintree, headlining a lineup at the White Rabbit Cabaret that also features Parris LaDame, White Moms, DEHD, and DJ Gabby Love. Check out Seth's interview with Oreo  from this week's issue.
MONDAY: Honoring Dr. Martin Luther King, Jr.
Dr. Martin Luther King, Jr. Park
Visit the park named in Dr. King's honor and spend time reflecting the purpose of the day and power of peace at the "Landmark for Peace" monument. It was here, in 1968, Robert F. Kennedy delivered the news of Dr. King's assassination at was supposed to be a campaign rally. Dedicated by former President Bill Clinton in 1995 to honor both Dr. King and the late Mr. Kennedy for their contributions to our nation. FREE
On MLK Day at Rhythm Discovery Center, from 10 a.m. to 5 p.m., not only can you check out this very cool rhythm and percussion museum, but you can have Clint Breeze and the Groove do a tune up on your basal ganglia during their 2 p.m. performance. FREE
MLK Day means a free day at The Children's' Museum which is a must if you have little ones! In addition to the dinosphere and all the other awesome indoor activities, you can celebrate the day by listening to storyteller Portia Jackson tell you how it was for children during the Civil Rights Movement and bounce to the rhythm of The Griot Drum Ensemble. FREE
The MLK celebration typically held at the Walker Theatre Center will be held at the Indiana History Center while the Walker is undergoing renovations. Enjoy a full day of hands-on events designed for the entire family in the History Center's Madam Walker Legacy Center Bring new or gently used winter clothing items to benefit HealthNet's Homeless Initiative Program. FREE
Admission is FREE to any of the park venues during MLK Day.  All you have to do is bring a canned food or non-perishable item for donation to Gleaners Food Bank for admittance to each of the park venues including the Indiana State Museum, Eiteljorg Museum, and Indianapolis Zoo.