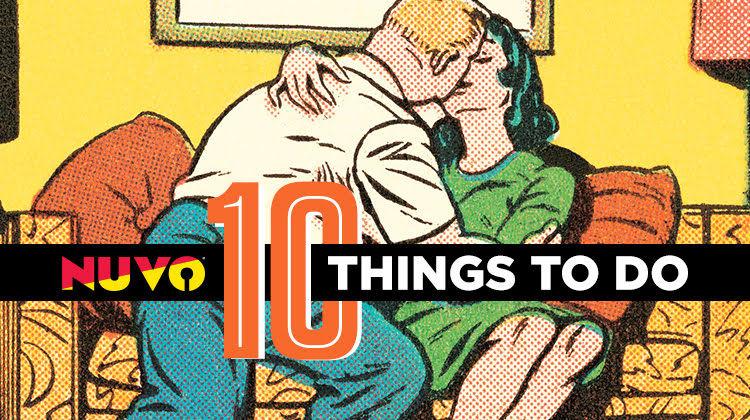 Another weekend has rolled around, and that means it's time to survey the options and make some plans. The NUVO editorial team has done the hard work for you and narrowed the list to these 10 great options featuring everything from killer jazz to mind-bending magic—with some monster trucks thrown in for good measure.  
FRIDAY
Don't miss your chance to see the most contemporary of contemporary art, in a relaxed setting, by some great local and national artists. This particular exhibition at the Indianapolis Art Center focuses on paper as a medium, featuring work in collage, decoupage, origami, and sculpture. 6 p.m. Free.
Be a part of a mind-bending, reality-twisting interactive theatrical show brought to you by husband and wife team Christian and Katalina. (Think Candid Camera meets the Twilight Zone). Be prepared to have your perceptions challenged and your expectations turned upside down. Hilton Hotel Downtown. Show starts at 8:30 pm. Tickets $25. Arts Editor Dan Grossman caught the show a few months back and had a blast. 
Originally started as a trio, Direct Contact has now grown into a local jazz juggernaut, as notable guests players like David Allee, Rob Dixon, and more regularly perform alongside Pavel and company. Having recently released an album titled D'la Calle, Pavel and Direct Contact perform two shows at the Jazz Kitchen Friday night. $10-15
Indianapolis band S.M. Wolf headlines this lineup of Midwest rock 'n' roll at Square Cat Vinyl. Fronted by Adam Gross and his unmistakeable howl, S.M. Wolf released an impressive album titled Bad Ocean in 2018, which served as a fulfilling follow-up to 2015's Neon Debris.  Hailing from Detroit, Handgrenades also released a series of singles in 2018, with "Heads and Tails" being the latest. 8:30 p.m., $7, all-ages
SATURDAY
Head to the Artsgarden for another of the great Art and Soul events happening throughout the month in honor of Black History. On Friday, from 12-3, violist Derek Reeves will provide the music.  Art & Soul, an annual celebration of African American art and artists in Indiana, features a diverse lineup of music, storytelling, dance, and visual art. All events start at 12:15 pm and are free and open to the public.
When the Center for Black Literature and Culture (CBLC) opened at Central Library in 2017, it became a place of both windows and mirrors. Consequently, both some looking out and some reflecting will take place at the Meet the Artists Gala Opening, where the African American artists whose works are on display will be on hand. Music, dance, spoken word performances are scheduled, as well as a fashion show. 5:30 p.m - 10 p.m. Free. 
Hoosier Dome hosts a night of pop punk featuring a stellar lineup Saturday night. On tour from Chicago, Better Love, and Old Sol headline, while local favorites (and 2017 Best of Indy finalist!) Summerbruise leads a pack of opening bands including TheMiddleClass. Show starts at 6 p.m.;  all ages venue; $8-10
SATURDAY AND SUNDAY
This weekend, high-powered monster trucks will be flying through the air at Lucas Oil Stadium in what has become a yearly tradition for Indianapolis. In addition to the regular monster truck festivities, a Pit Party is scheduled each day before the performances where attendees can get up close and personal with the vehicles and get autographs from the drivers. $37+
The GHDT dance company gives a nod to the Western movies of old Hollywood with its all new production complete with cowboys, gunslingers, bandits, townsfolk, lawmen and saloon girls. This interactive performance will feature music from popular Westerns and elaborate period costumes of the era. Come in your Western finest: cowboy boots, and chaps arre perfectly suitable attire for audience members. The show runs through Feb. 24., including matinee perofrmances on Sundays. $35
ONGOING
Star Trek has captured the imaginations of sci-fi fans around the world for generations at this point. The new exhibit at the Children's Museum looks at the impact of Star Trek on culture, society, art, technology, fashion, and more through more than 100 rare artifacts and set pieces and props from the TV series, its spinoffs, and the films. Free with museum admission ($18-22). Through April 7.
This "aggressively outrageous" musical, performed by Actors Theatre of Indiana, revolves around eight-year-old Tina Denmark, who is sure shoe was born to play Pippi Longstocking and will do anything to get the part in her school play, which includes offing the lead. Studio Theatre, Center for the Performing Arts, $25+. (Through Feb 17)
If all you know of Anne Frank comes from watching the George Stevens dramatic film from 1959, which comes off like Leave it to Beaver in Amsterdam, you're due for a re-see. This closer-to-the-truth version of Anne Frank's coming of age while in hiding during the Holocaust is great material for contemporary stage. Indiana Repertory Theatre, $25+. (Through Feb. 24)