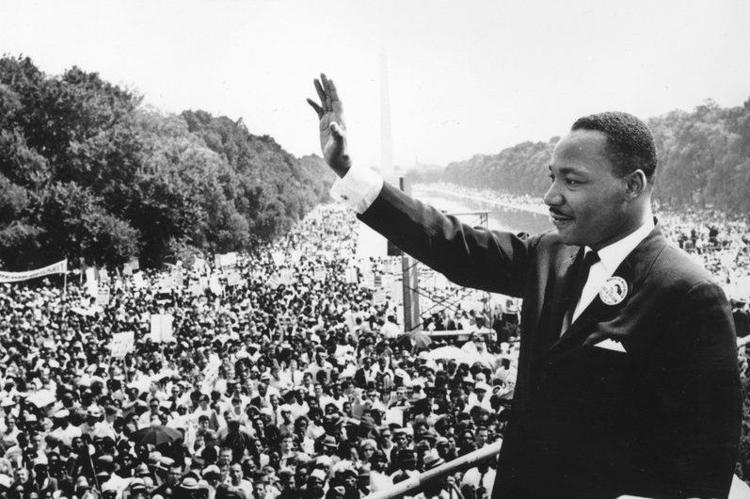 While the holiday honoring the birthday of Dr. Martin Luther King, Jr. has typically centered around a day of service and giving back to the community, the frigid temperatures make outside activities difficult. The good news there are still ways you can give to our community via clothing, can good and book drives while also enjoying family activities that celebrate the spirit of Dr. King. 
For starters, however, take the time to read or listen to Dr. King himself. 
Visit the park named in Dr. King's honor and spend time reflecting the purpose of the day and power of peace at the "Landmark for Peace" monument. It was here, in 1968, Robert F. Kennedy delivered the news of Dr. King's assassination at was supposed to be a campaign rally. Dedicated by former President Bill Clinton in 1995 to honor both Dr. King and the late Mr. Kennedy for their contributions to our nation. Multiple programs and speakers throughout the day. FREE
There are many FREE, family-friendly events at most city parks for the MLK holiday. Watkins Park is hosting a day of service for those who want to help do cleanup and repair work; the Frederick Douglass Park will re-open with a sneak peek at the newly renovated Family Center. There are also movie screenings, Dr. King peace projects, walks, panel discussions and community events across several Indy Parks locations.
Unleavened Bread Cafe is collecting children's books for families seeking services at the Julian Center. Drop off new or gently used books throughout the day, the cafe is located at 30001 Central Ave. Mayor Hogsett will be on hand accepting donations from 1:30-3:30 p.m.
Some of us are old enough to remember seeing Meadowlark Lemon and the Harlem Globetrotters at Market Square Arena. TBH, it's a great childhood memory. Give your kids the same gift. Take the family and see some truly skilled, and hilarious, basketball. Bankers Life Fieldhouse, 2 p.m.
On MLK Day at Rhythm Discovery Center, from 10 a.m. to 5 p.m., not only can you check out this very cool rhythm and percussion museum, but you can have Clint Breeze and the Groove do a tune up on your basal ganglia during their 2 p.m. performance. FREE
MLK Day means a free day at The Children's' Museum which is a must if you have little ones! In addition to the dinosphere and all the other awesome indoor activities, you can celebrate the day by listening to storyteller Portia Jackson tell you how it was for children during the Civil Rights Movement and bounce to the rhythm of The Griot Drum Ensemble. FREE
The MLK celebration typically held at the Walker Theatre Center will be held at the Indiana History Center while the Walker is undergoing renovations. Enjoy a full day of hands-on events designed for the entire family in the History Center's Madam Walker Legacy Center Bring new or gently used winter clothing items to benefit HealthNet's Homeless Initiative Program. FREE
Admission is FREE to any of the park venues during MLK Day.  All you have to do is bring a canned food or non-perishable item for donation to Gleaners Food Bank for admittance to each of the park venues including:
---
Be a part of the story: become a member, lend your ideas, and your support.
---