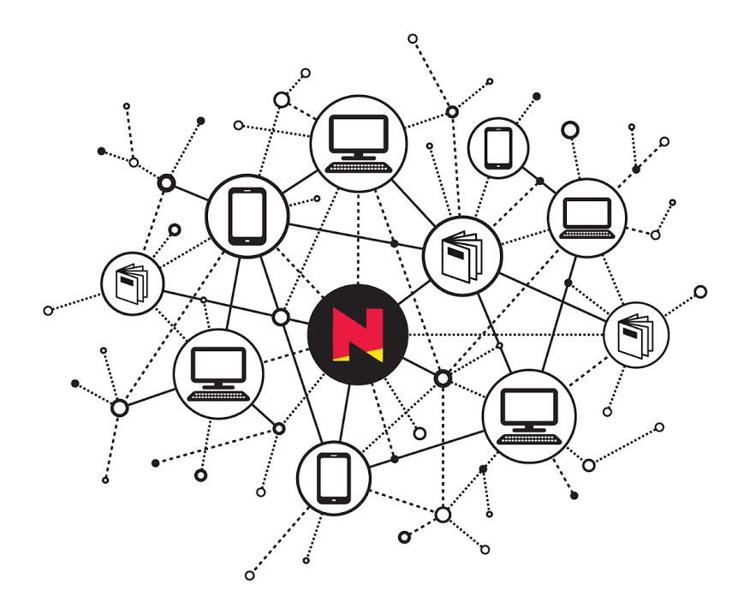 It's never easy to change something you've been doing the same way for nearly 30 years, especially when that something is tied to a tradition like local newspapers that goes back to the founding of our city and beyond.
But the newspaper business is much different than it was when Indianapolis began in 1820, and  the majority of those changes have occurred since we got in the game in 1990.
As an alternative newsweekly, NUVO began as part of a journalism counterculture, a way for voices outside of the mainstream media to be heard. "Giving a voice to the voiceless" was the mantra shared by the more than 150 alternative newsweeklies that would eventually appear in urban areas across the U.S. between 1960-2010.
More than a third of those alt-weeklies have now folded, the majority in the past 10 years, the biggest two alts in the country among them: L.A. Weekly and The Village Voice.
When The Village Voice was closed down in August of this year, owner Paul Barbey issued a statement regretting he wasn't able to save the 63 year-old paper.
"As the first modern alternative newspaper, [The Village Voice] literally defined a new genre of publishing [. . .] it has connected multiple generations to local and national news, music, art, theater, film, politics and activism, and showed us that its idealism could be a way of life.
"In recent years, the Voice has been subject to the increasingly harsh economic realities facing those creating journalism and written media. Like many others in publishing, we were continually optimistic that relief was around the next corner. Where stability for our business is, we do not know yet. The only thing that is clear now is that we have not reached that destination."
It's no secret that a lack of financial stability has rocked journalism since the advent of the internet with newspapers big and small feeling the heat. There isn't a newspaper in the country that hasn't struggle with an answer to how to stay profitable, if not simply afloat, amid all of these changes.
Because they are free and 100 percent supported by advertising, alternative newsweeklies took the hit the hardest as classified advertising evaporated due to sites like Craigslist and other types of advertising dropped off when local businesses were lured to Facebook as an alternative.  
At NUVO, we've been maintaining the same weekly newspaper strategy while looking for alternatives that will take us into the future. While our overall readership has remained consistent over the past three decades, the number of digital readers continues to increase and print readers decrease, with a good number reading us both online and in print.
The trick has been to allocate enough resources to improve our digital offerings while maintaining our loyal base in print. What's become clear in the past two years is that we simply can no longer do both at the same time and expect quality results.
Like many of you, we are big fans of print and have every intention of NUVO continuing as a print product focused on Indianapolis news, events, and culture. The weekly publication schedule, however, no longer seems sustainable or preferable for us or the majority of our readers and advertisers.
Beginning this week, the print edition of NUVO will be published every two weeks. We'll be increasing the page count, adding more content and advertising, and focusing on telling stories that better reflect what's going on in our city. We'll have more event recommendations and previews, as well as longer, more thoughtful features in news, arts, food and entertainment.
Cutting back on frequency frees up a tremendous number of resources that we can now allocate to our digital platforms, and that's where the exciting news comes in.
One of the biggest changes that has occurred in journalism over the past decade is increased interaction with readers. With the advent of social media, readers have found a way to connect with writers and editors in ways previously unavailable while messaging tools and other apps have made it possible for information to shared more easily, more widely, and more efficiently.
While accusations of media bias have always existed, they've reached a fever pitch lately and not without good reason. The traditional model of journalism excludes the reader until the final product is delivered in the form of a story imagined, pitched, researched, written, and edited with very little, if any, reader input or transparency.
Trust us, has been the implication, we're journalists. You can take our word for whatever it is we're branding as the truth.
One of our immediate goals at NUVO is to discard that tradition and adopt what we see as the only true option for sustainability and future success.
Earlier this year we applied for and received a grant from an initiative called the Community Listening and Engagement Fund backed by The News Integrity Initiative, The Democracy Fund, the Knight Foundation and the Lenfest Institute for Journalism. Called CLEF for short, the initiative aims at helping local newsrooms become more responsive through technology.
To that end, we received grant funds to acquire and implement two platforms that will help make our journalism more public-powered. Hearken is a tool optimized for web-based interaction and GroundSource is optimized for mobile interaction. In both cases, these technologies will be crucial in our shift to make our newsroom more public-powered.
We've already begun using the Hearken tool as a way to solicit and answer questions from readers that then shapes our coverage. If you read any of our midterm election coverage, you were reading stories suggested and requested by our readers.
Over the summer, News Editor Rob Burgess solicited reader input as he put together a list of questions for candidates in all of the Central Indiana elections. The response was tremendous, and we were able to post answers candidates in every race generated by our readers on the topics they cared most about.
We also provided a question box on every page of our web site were readers could ask us any questions they had about the upcoming election or the voting process. From the dozens of questions we received in weeks leading up to the election, we were able to provide valuable information to specific readers, as well as create articles with the answers in case other voters had the same unanswered questions.
While some of these questions were practical (When does early voting start? How do I find my polling place?), others were more complicated and required research on our part
The best example comes from the numerous questions we received about how to choose which judicial candidates to vote for. On the surface, this seemed like a fairly easy one to answer. But the voting process for judges in Marion County is new this year and many voters were understandably confused.
Our initial article inspired a reader to do some digging of her own, and she shared the results of her investigation with us, as well as government documents she received as a matter of public record. Working with that reader, we reached out to several others who helped provide resources that we could add to original reporting.
By Election Day, we had updated that article at least three times with additional information. It was by far the most collaborative of our coverage, as well as most read and most widely shared article among all that we published leading up to the election. The feedback we have received was overwhelmingly positive, as readers thanked us helping them understand a really complicated topic in order to make an informed vote.
That's the goal. That's the direction we want to take with as many stories as possible moving forward.
In addition to a lot more questions and answers between our readers and writers, we are also incorporating several other ways for readers to be more involved in our storytelling process. We are actively seeking contributions to our Op-Ed section, making it easier for readers to submit articles, photos, and events on the website, and introducing tools so readers can leave their own reviews for movies, concerts, or restaurants alongside our writers.
Membership will also play a big role in our future, and we're continuing to improve the ease with which readers can support us financially via donations and create opportunities for those members to interact more frequently with NUVO staff as we shape our coverage. Sure there will be improved swag, but the majority of our focus will be on how to create as interactive a relationship as possible with our allies.
With all of the changes, some things at NUVO will remain the same. We're still a bit old fashioned when it comes the responsibility we have as members of the Fourth Estate to keep government honest. We still believe the media should be scrupulously independent, that we should be a watchdog, not a lapdog, reporting on government actions, not seeking government favors.
Since we first began publishing in March 1990, we have taken seriously the responsibility to tell the truth. Our goal now is to continue telling the truth as responsibly as possible and to be as transparent as possible while doing so.
The truth about NUVO is that we are simply a collection of Indianapolis residents who believe there is a need in our city for an alternative to the corporate media that dominates our landscape one focused on issues of social justice, as well the arts.
Over the past three decades, hundreds of people have spent time being a part of this collective as writers, photographers, editors, designers, along with dedicated marketing, promotions, sales and administrative staff. All of them have shaped NUVO individually and collectively
At any given time, the NUVO staff is made up of a handful of curious, open-minded, and passionate men and women who love storytelling and love telling stories about Indianapolis. Moving forward, we want to invite more of our friends, neighbors, and community members into this process.
We continue to be grateful for the support that has carried us through the past three decades, and we're excited about the future and how we will evolve in order to remain Indy's best source for local, independent journalism for decades to come.