Like it or not, the holidays are synonymous with shopping. And if you've got to shop this season, you should at least do it well.
Indy has a lot of great neighborhoods and cultural districts with ample retail offerings, but none can rival the resurgence in recent years along the Mass Ave corridor. 
In one of the city's most historic districts you can now find a local source for nearly every person on your gift list. We've made it easy for you, here's a list of 20 local shops offering everything from clothes to cupcakes, books to boxers, arranged by block.
Note: Many Mass Ave shops are closed on Monday and Tuesday, but may have extended hours during the holidays. Check websites and social media pages for the most up-to-date information.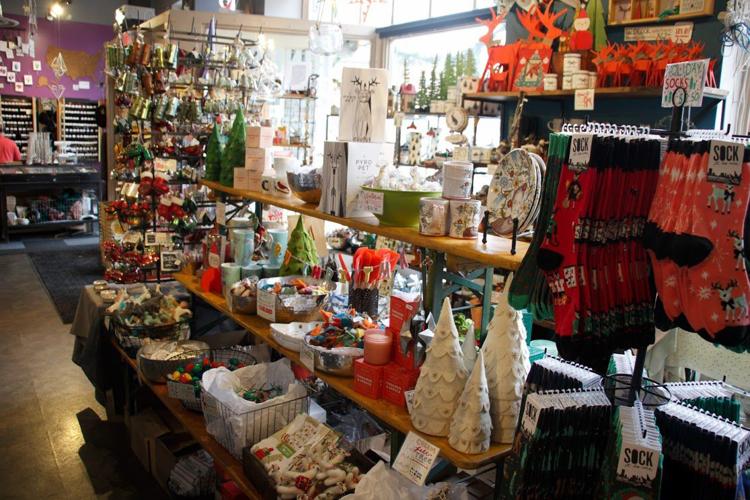 400 Block of Mass Ave
434 Mass Ave.
Gifts/Home
When Kristin Kohn opened her shop in 2000, she became a key figure in the most recent wave of Mass Ave revitalization. Nearly two decades later, Silver in the City is still the place to go downtown for beautiful jewelry, as well as home goods and gifts with personality and panache. It also happens to win our Best of Indy Readers Poll for Best Gift Store nearly every year—including this one.
444 Mass Ave.
Pets
Got a fur baby that deserves a special gift for the holidays? Or maybe just a treat for being such a good boy while you were out shopping? Three Dog has treats so lovely you'll be tempted to eat them yourself. Toys, leashes, and foods are also here, if you can tear yourself away from the bakery case.
3. Global Gifts
446 Mass Ave.
Gifts/Home
Lots of gorgeous gift items here from all over the world. The bonus is each purchase supports fair wages, gender equity, and safe and dignified working conditions for artisans in over 40 countries. Buy yourself something, too—like holiday decoration items that would look perfect on your tree or mantle.
423 Mass Ave.
Sweets
The cutest and tastiest shop on Mass Ave, take a box of these beauties to your holiday party or give as a special gift to friends, neighbors, or co-workers. Gift cards make good stocking stuffers and are less messy to wrap. The gals have locations all over town so find one near you this season.
5. Macaron Bar
425 Mass Ave.
Sweets
Dedicated to the art of the French macaron, this boutique bakery brings a certain je ne sais crois to your gift list with flavors like lavender, salted carmel, and pistachio. Tuck a couple of tickets to the Indianapolis Symphony's upcoming A Night in Paris concert (Jan. 2019), and you've won Christmas.
6. Pumkinfish
429 Mass Ave.
Gifts/Home
A newer kid on the block, Pumkinfish offers a wide array of gifts and goodies, many with local origins. Find items for kids, pets, the garden, the kitchen, and even the bath, plus original art and handmade goods. A hassle-free place to pick up a snack or drink while shopping, as well.
(no website)
431 Mass Ave.
Women's Fashion
A small boutique that packs a big punch in designer fashioner. These are pieces you'll pay a lot for, but get your money's worth in terms of quality and classic style. Best of Indy winner in the ladies fashion category this year, Sage is definitely swoon-worthy and worth the splurge.
8. Nurture
433 Mass Ave.
Baby/Child
This is where you need to go for the new baby on your list. Whether it's a niece or nephew, grandkid, or your very own bundle of joy, Nurture is brimming with beautiful, fun, and original clothes, gifts, and layette items—plus toys, books, and games any kid will adore.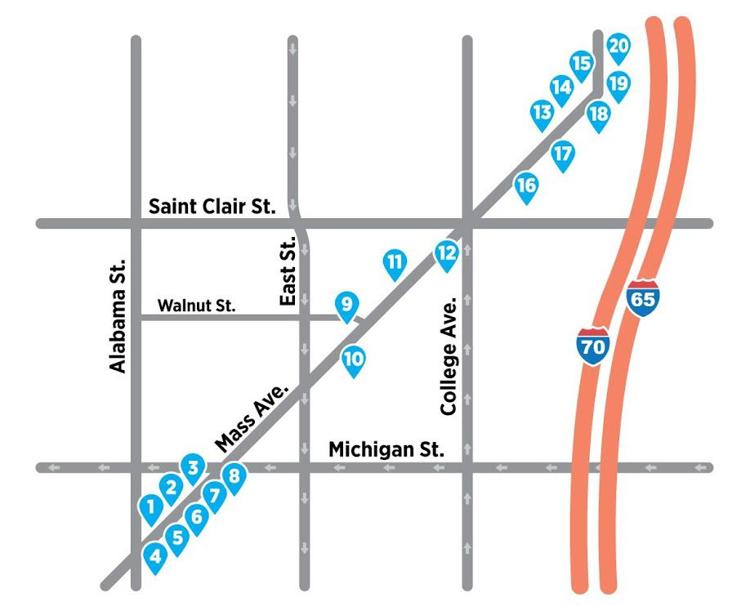 600 Block of Mass Ave
9. Chatham Home
517 E. Walnut St.
Home/Decor
Just around the corner from Mass Ave on Walnut Street is one of the city's most original home stores. Mixing classic lines and modern flair on everything from sofas to lamps, Chatham Home inspires creative place-making just as perfect for a Mass Ave loft as a Midtown bungalow.
10. Watt's Blooming
615 Mass Ave.
Flowers
Stop in for your holiday arrangement and centerpiece needs; pick up something for a hostess gift; or place thoughtful orders for someone who's holidays would be infinitely brightened by flowers. Watt's Blooming also lets you select your own individual flowers if you want to BYOB—build your own bouquet.
700 Block of Mass Ave
11. Decorate
716 Mass Ave.
Home/Decor
Amy Minick Peterson has opened one of the freshest home stores in the city with Decorate. While "curated" is the mot du jour, in this case it's deserving. Peterson has a keen sense of style that is of the moment without being trendy and the selection in the shop reflects both her warmth and wisdom.
753 Mass Ave.
Men's Fashion
Got a man in your life who deserves better than Wal-Mart tightie-whities? Think of Toolbox like Victoria's Secret for dudes—designer underwear, swimwear, gift items and more personal "adult" items. Wide range of sizes and styles and very friendly staff should make this your go-to for guy gifts.
800 Block of Mass Ave
880 Mass Ave.
Sweets
Since 1998, Elizabeth Garber and company have been providing Indy with premium, specialty chocolates, truffles, caramels, and unique desserts that live up to the hype. Stop in for gift certificates, take a box to-go, or sign up someone you love for the Chocolate of the Month Club.
14. Mass Ave Wine
878 Mass Ave.
Wine/Spirits
Downtown's destination wine shop and for good reason. Owner Lisa Cunningham personally selects all the wines for the shop and the selection represents nearly every corner of the globe. High-end wine-lovers are bound to find exactly what they're looking for; but many bottles are under $15 and perfect for the budget-minded.
884 Mass Ave.
Pets
In addition to all kinds of treats, City Dogs stocks top of the line food for all breeds of dogs. They've also got the pet supplements and supplies needed to keep downtown dogs healthy and happy, plus the toys and accessories to keep Fido looking stylish, along with all manner of canine grooming supplies.
811 Mass Ave.
Artist Supplies
Strumento means tool in Italian, and if there's an artist in need of tools on your list—this is where you want to be. Located inside the Art Bank Building, here you'll find quality pastels, paints, pencils, and all types of paper. An uber-friendly staff will help order anything they don't carry.
845 Mass Ave.
Women's Fashion
Five years ago, Indy native Felicia Kiesel decided to quit dreaming about owning her own boutique and actually make that dream a reality. The result is a shop as fun, fashionable, and festive as Felicia herself. Jackets, tees, dresses and accessories the girly-girl on your list will love.
18. Crimson Tate
845 Mass Ave.
Fabric
This tiny shop is a treasure trove for anyone who enjoys working with fabric—particularly quilters. Purdue grad and Fabric designer Heather Givans has created a wonderful and welcoming shop specializing in quality fabrics, patterns, notions, and sewing classes. Gift certificates available.
19. Homespun Modern
869 Mass Ave.
Gifts/Home
Homespun is an outgrowth of the INDIEana Handicraft Exchange which began in 2010 as central Indiana's first contemporary craft fair. Owner Amanda Taflinger deserves the lion's share of the credit for making the local makers movement here in Indy a viable commercial reality. Homespun is the bomb, and so is she. Stop in for the best Hoosier-centric art and craft in town.
900 Block of Mass Ave
20. Indy Reads Books
911 Mass Ave.
Books
One of the very few independent bookstores in the city, Indy Reads sells books to fund literacy programs in the community and does so primarily with donations of gently used books. Lots of new stuff too—and a terrific selection with everything from kids to cookbooks, feminism to fiction. There's a sweet pay-what-you-can section for used treasures, too!