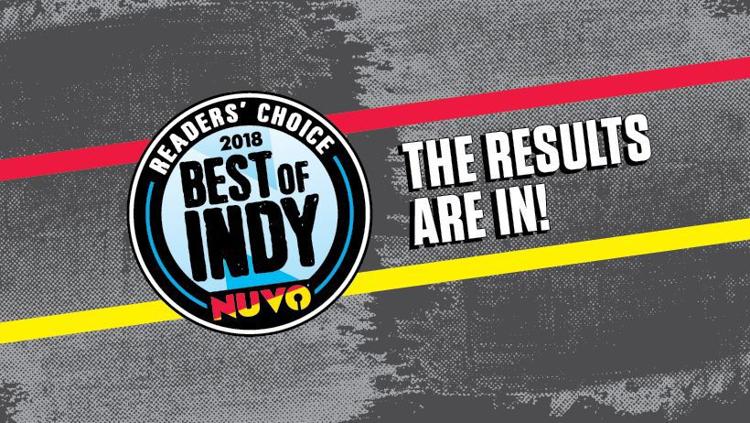 We published our annual Best of Indy issue a few weeks back, and, despite our best efforts, it contained a few errors, omissions, and unintentional insults that need correcting/clarifying.
RE: BEST PUB FOOD
We mentioned in the intro to the Food and Drink section of the issue that Sinking Ship won multiple awards including Best Pub Food, then somehow managed to leave that category out of the list of winners that followed. Here's what we've added online where it should have been to begin with:
Best Pub Food: The Sinking Ship
While they're known for excellent vegan fare, carnivores shouldn't feel left out. All the food is great, including the meat, and much of it locally-sourced. We're fond of the burgers and names like Nicholas Cajun and Chuck Norris. Runner-up in the vegan/vegetarian category and winner for late-night munchies, the kitchen stays open until 2 a.m. making the Sinking Ship a good choice any time of day for meat-eaters and abstainers. Honorable mention: Broad Ripple Brew Pub, Chatham Tap
RE: MISTAKES AND MORE MISSING STUFF
A nice lady from Traders Point Christian Church emailed to let us know it's Traders Point, not Trader's Point. So we've made that correction.
Kurt from Broad Ripple sent an email pointing out that we didn't include the numbers for the radio station winners, just the call letters. That was another omission that should have been there from the start, so we've added them in the appropriate spot in the online article.
Additionally, he felt we should have included the addresses/locations of the winners.
"While your BOI issue did contain some quality information, I was taken aback at the lack of any location information to go along with the reviews. Why would you rave about these establishments, but not include any location info? How am I supposed to know if a an intriguing restaurant is actually within a reasonable distance, in Indy, or way out in the remote nether regions, such as the towns with color names? (Greenwood, Greenfield, Brownsburg, etc...)  That is why I choose to live in the city, so I DON'T have to drive 45 minutes just to get to a decent restaurant."
Good point, Kurt. In the online version, we link to the website of every winner, but that doesn't help those reading the print version. It's a debate we've had several times, with some arguing that everyone looks things up on their phones anyway, so even if they were reading it in print they'd google it before going. Others have argued Kurt's exact point. Next year, we'll include the addresses.
RE: DUMB JOKES AND UNINTENDED INSULTS
In our description of this year's Best Neighborhood winner we cracked a joke about Fountain Square that made it appear we were insulting local musicians, which we most definitely did not intend to do.
We wrote:
Best Neighborhood: Fountain Square
Times have changed, and now all the cool kids are hanging out at the corner of Virginia and Shelby smoking cigarettes and listening to shitty music, just like they used to in Broad Ripple. Despite this, Fountain Square is getting its due for being one of the best places to live in the city, something locals have known for generations. While there may be a lot more restaurant and bar choices these days, visit in the daytime to get a sense of why so many people are eager to call it home.
And damn, did that piss off a lot of people.
This email from Sonya is representative of several others I received, plus many online comments:
"It is quite clear that the article was written in a very passive aggressive manner.  What was the purpose of it? Simultaneously praising our community and putting down the music we are proud of is detrimental to the musicians and supporters, and misleading at best to your dwindling number of readers. It is offensive and rude to belittle the hard work put forth by so many to build a community made up of diversity, art and music. NUVO used to be a part of the art and music scene here in Indy. The only good things left about it are BARFLY and every single word Seth Johnson writes. Good luck ever getting support from anyone in Fountain Square again."
The honest reply I sent Sonya was that the insult to Fountain Square music and musicians was totally unintentional, and we are truly sorry.
The line was meant as a wisecrack about teenagers hanging out on the corner, smoking cigarettes and listening to "shitty" music the older generation doesn't like or doesn't get. It was not referring to local musicians or clubs, just those generic "cool kids" that every generation has. Beatniks, Hippies, Punks, Hipsters, whatever you want to call them. It was meant to imply that the cool kids have finally caught on to what the long-timers have known for generations - that Fountain Square is one of the best neighborhoods in the city and lots of people are eager to call it home. It was our hope that the reset of the paragraph would make that clear.
Clearly that was not the case, and I'm sorry. Any insult to the musicians and clubs in Fountain Square was completely unintentional and we regret that the joke diminished what we meant as nothing but praise for the Best Neighborhood in Indy.
RE: MORE UNINTENDED INSULTS
Perhaps no group is more upset about our Best of Indy issue than supporters of Indianapolis Animal Care and Services, formerly known as Animal Care and Control.
In praising another organization, Indy Humane, for winning Best Place to Volunteer, we wrote:
Best Place to Volunteer: Indy Humane Society
Indianapolis has a tremendous problem finding homes for all the unwanted pets that turn up at shelters in droves. Thanks to the good folks at Indy Humane and the network of rescue groups they work with, an increasing number find new homes rather than meet their maker at animal control. They ALWAYS need volunteers, so don't be shy.
I received several emails objecting to the fact that we made it sound like animal control is just a place where animals go to die. Many people felt it that was an unfair representation of IACS and the work they do.
Hello! I'd like to comment about whoever writes these descriptions. While Indy Humane Society *is* a great place to volunteer, IACS doesn't need dragged under the bus to make them sound better. First, it's not "Animal Control" anymore and hasn't been for a few years. It's Indianapolis Animal Care and Services.  I foster and volunteer for IACS and have volunteered for Indy Humane and fostered for FACE. I would like to inform the person that wrote this that it takes a village to make this whole city great for pets and taking care of the unwanted. If they were up to speed on the huge changes IACS has undertaken just in the last few years, they'd never write something as horrible as this [...] It takes volunteers, fosters, rescue groups and places like Indy Humane working *with* IACS to help them achieve their goal of no kill. I mean, can you imagine? Our city shelter, being labeled no kill? We are not far off from the mark! And with comments like this, it can stop people from wanting to work with them to achieve that goal. -- Dara
Mostly though, people took to our Facebook page and left negative reviews expressing just how upset they were about the entry:
Nuvo is the Lena Dunham of local news. They are self-important and make broad, inappropriate and harmful statements that they must later apologize (half-assedly) for. Their 2018 Best Of was offensive to not only the people of Fountain Square, but to anyone who puts their blood, sweat, and tears into rescuing animals at Indianapolis Animal Care Services. Their research is poorly done as the referred to IACS first as Animal Control, and then multiple times as IAAC, and then corrected to IACC. None of these are correct. The editor them blamed autocorrect on her smart phone for these issues. Personal accountability, much?  TL:DR; Nuvo is trash. -- Kelsey
Recently saw your Readers Choice award for Best Place to volunteer. Tasteless to say that animal control is where animals "meet their maker." Get educated and help your community and the animal problem versus making ignorant comments. Iacs is open admission and takes in over 14,000 animals per year in our city. And they have a live release rate over 90%. Do better. For your readers, the community and these animals. -- Amanda
Get your facts straight. Indianapolis animal care services IS NOT a place where animals go "to meet their maker". There is not a group of harder working staff ANYWHERE in this city. Their live release is 90% for Christ's sake. I don't work there but I am in their often, picking up foster animals and supplies. How about you send one of your reporter's in there to shadow the staff for 8 hours. For crying out loud..... They no longer even have a need for an actual euthanasia room as it isn't needed. How about you recommend volunteering and even more importantly, fostering for IACS. That's a gift to the community and not this inaccurate information you are publicizing. -- Bobbi
It seems NUVO doesn't want to actually investigate and report the truth of a situation. They just want to do lazy reporting and perpetuate stereotypes. Very disappointed in their latest blurb regarding Indy Humane in which they note that "many animals meet their maker at animal control." Why don't you go down to Indianapolis Animal Care Services personally and see the hard work the employees and volunteers are doing to save lives? -- Dawn
I adopted my amazing dog Ruby from one of these said shelters you report the animals go to to meet their maker. I know wonderful people who work there and volunteer endless hours volunteering to ensure most of these animals are placed in amazing homes. To allow this article to go through your editors hands and actually be printed is a total lack of fact checking and actual research and reporting. Don't claim to be an editorial when clearly it's not done. Go back to being what you gained your fame for...telling us of upcoming concerts and great places to eat.-- Grant
Disgusting to see your lack of support for Animal Control. This "news" page is pathetic. -- Joseph
Absolutely disgusted with the recent statement made in one of your articles about Indianapolis Animal Care Services. And the subsequent half-assed apology made by an editor. -- Kasey
The half-assed apology Kasey refers to was one I sent to Kristen Johnson, an employee of IACS, who had posted her objection the piece online. I also responded to several supporters and volunteers of IACS who reached out to me via email, Facebook and Twitter with the same apology:
I'm truly sorry what we wrote has upset you and supporters of IAAC.

Indy Humane won an award 100 percent determined by reader votes. In praising that winner, we noted that because of volunteers at Indy Humane and other rescue groups, an increasing number of animals are finding homes rather than being euthanized at animal control. In other words, we were saying IACC dramatically reduces its kill rates in large part due to volunteers at places like Indy Humane and other rescue groups. It is a key component to IAAC's success.

In saying that one group is doing a great job at helping to reduce kill rates was not meant to diminish the work of others or disparage the work of IACC. Our point was that without these groups, more animals would die. Because of them, fewer animals die. No blame or criticism of IAAC is intended in that statement.

I hope this helps to clarify our remarks. I am genuinely sorry that what we wrote has been construed as a criticism of IAAC and the work you do. That was not the intention.

To be clear, let me repeat that it was never our intention to disparage Indianapolis Animal Care and Services and I regret that our poor word choice had that effect. I also deeply regret that the careless wording and ensuing reaction has detracted from Indy Humane's win and all the hard work that lead to NUVO readers voting them Best Place to Volunteer. We've edited the sentence in question and deleted the phrase "rather than meet their maker at animal control" in the online version.
An all of these cases, better editing would have eliminated the trouble before we went to press, and that responsibility falls squarely on me.  I can only vow to do better next year.
We appreciate the winners, the comments, and the objections where we fell short. Thanks for reading.
Laura McPhee, NUVO Editor