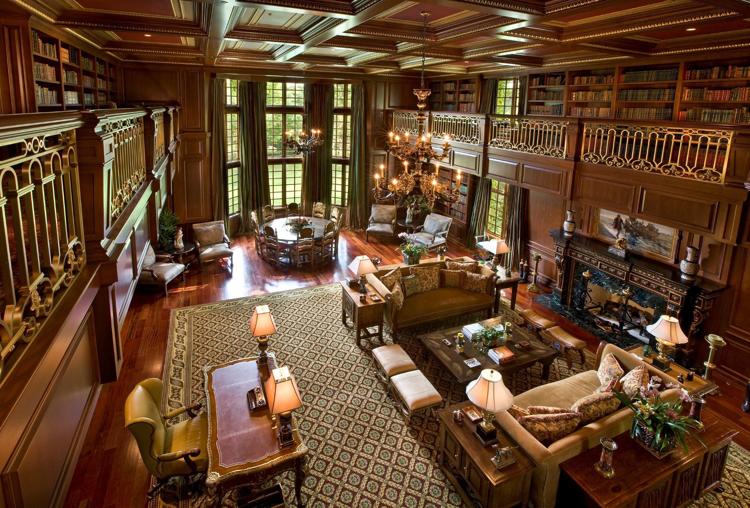 On October 20, I visited the Asherwood estate, the former home of Mel and Bren Simon and, believe it or not, my former home as well. The Simon estate is located in Carmel off Ditch Road, between 96th and 106th St. and includes land once owned by my parents, the place where our family lived for more than a decade as I was growing up.
Just two days earlier, The Great American Songbook Foundation announced it would sell the 107-acre Asherwood estate—donated to them by Bren Simon in January this year—effectively ending speculation that the estate might be used to house an American Songbook Museum.
Before the property is put on the market, however, the contents will be auctioned off.  Accordingly, there will be estate tours Nov 10, 11, and 16 in front of the Nov. 17-18 auction.
Auction proceeds will benefit the Foundation, formed in 2007 by Michael Feinstein dedicated to the celebration and preservation of the music of the Great American Songbook.
Chris Lewis, the executive director of the Great American Songbook Foundation, met me upon arrival, just outside the service door of the 50,000 sq. ft. mansion.
"Mrs. Simon put no restriction on the gift," Lewis said when I asked him about the upcoming auction. "Her only instruction was it be used to advance the mission of the Songbook Foundation. We've always had a long term goal of building a museum. I think that the natural assumption was you're going to build a museum; you've been given a house, here's your museum."
But the oversight committee that the Foundation formed in the aftermath of the estate donation came to the conclusion that the museum "would not fall within the purview of their mission," Lewis said. He also mentioned the enormous cost of upkeep of the property, around $1,000,000 per year, which was a factor in the decision to sell the property.
Lewis acknowledged that the Foundation's current location at the Palladium at the Center for the Performing Arts is not ideal, as the foundation's vast archive need to be stored in an offsite warehouse.
Said Lewis, "our ultimate dream is to build a freestanding museum that would have archive space, fully built to purpose as a museum, with archive space, education rooms and theater [...] that celebrates American music where you can create and feel and experience music in a variety of ways."
Lewis then led me into the mansion, built in 2000, after Simon's original building on the property burned down. What followed was a whirlwind tour through the seven-bedroom, 51,000 square foot house, although these metrics don't really begin to describe it.  Let's just say that no expense was spared.
Try to imagine you're walking through a English Tudor style interior with Murano chandeliers everywhere but when you cross a demarcation line you're in a spa that's all Ottoman Empire.  
We saw the therapy pool with the underwater treadmill, the jacuzzi, dry sauna, wet sauna, and two massage rooms, and then checked out some of the guest suites. One had the decor of a safari hotel, another was decked out like a cabin at the Grand Canyon Lodge.
Lewis showed me the spacious screening room, with its ceiling mural of Orpheus being torn limb from limb, by Indianapolis-based painter Steve Paddack. I tried to imagine Oprah Winfrey, Barack Obama, and the Clintons — who were among the Simons' many famous guests—seated here, watching Hoosiers perhaps or Bedtime for Bonzo. (My imagination, I gotta say, works in mysterious ways.)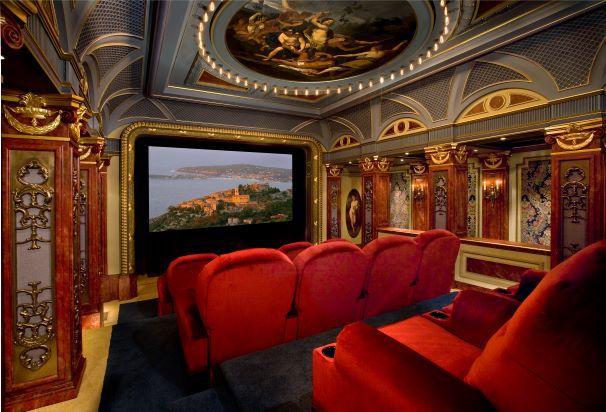 The most austere thing on the property, visible outside through the windows, was the chapel adorned with the Star of David which evoked in my mind an ancient, Middle Eastern synagogue. Lewis told me that it was built to commemorate the untimely death of the Simon's son Joshua Max Simon in 1999. (Mel Simon died in 2009.)
Lewis also led me down a long hallway hung with paintings, many of them reminiscent in terms of style of a painting Mel and Bren Simon donated to the Indianapolis Museum of Art in 1995,  "Dream of Spring" (Rêve de printemps), by the 19th century French academic painter William-Adolphe Bouguereau depicting a young woman in a tree-shaded setting, surrounded by naked child angels.
The home's pièce de résistance, in my opinion, is the library with its 10,000 leatherbound volumes, second-story interior balcony, miles of shelf-space, and gold-adorned coffered ceiling.  
It was in the library where I met Arlan Ettinger, the president of the New York-based auction company Guernsey's. Ettinger has been running auctions like the one planned for this estate for more than 40 years including, he said, the Rosa Parks archive and the first auction of artwork from the Soviet Union during the Cold War.
"So we get these really meaningful projects," Ettinger said. "It's really gotten to the point where most of our events have some kind of nonprofit connection."
Ettinger was familiar with Carmel before Guernsey's began organizing the auction.
"I'd gotten to know Mayor Brainard, through something completely unrelated and found him to be quite a guy in terms of what he's accomplished here in making this almost a utopian setting," he said. "If Hollywood had crafted some perfect place it sort of would look like Carmel."
As he expressed his admiration for Carmel's roundabouts I happened to glance out through the window at the 18-hole conventional plus three par golf course to the south of the mansion.  It was a surreal sight because I was actually looking out at what was once part of my childhood home.
That is to say, the home where I grew up once stood where the Simon golf course is now. In 2000, my parents sold their seven-acre property to the Simons.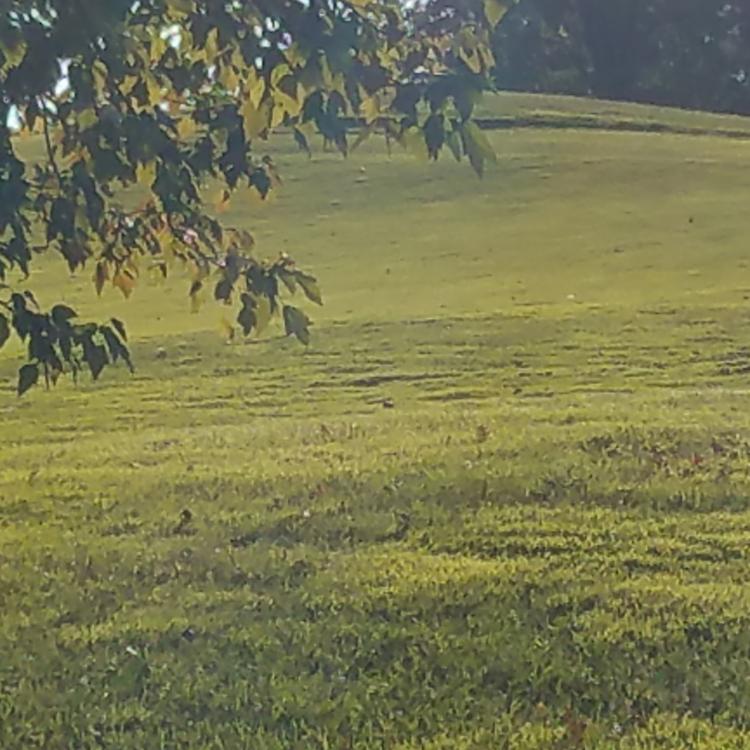 With Lewis' permission, I ended my visit to the estate with a walk through the course. It was the same land where my dad once kept cows, cows that he bought and sold at auction, on the fenced-in part of our property in order to keep the grass down. In 1978, one of those cows died so my Dad figured that he'd have to bury it. So he did. But he didn't dig the hole deep enough so the cows hooves stuck up above ground level. You can probably guess what happened next. He found out later that you're supposed to call a renderer when your cow dies. It's not legit to bury it on your own property.
Where the house once stood was now a grassy hill with a steep grade. I took pictures with my phone to send to my parents who live in San Diego, and my sisters Alice and Becky, who live in Laramie, WY. and Dallas TX. respectively.
This was a homecoming of sorts, but not the kind I ever imagined when I was growing up. It's not that you can't ever go home again, exactly, but nobody ever said it wouldn't be a mindfuck.